---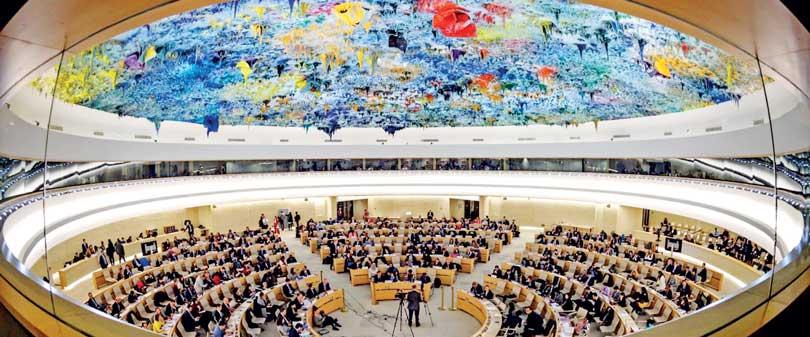 We never had an ethnic civil war in our country. It was not a fight between Sinhalese and Tamils
The first-ever resolution in Geneva that was passed after we won the war on May 27, 2009 was a positive one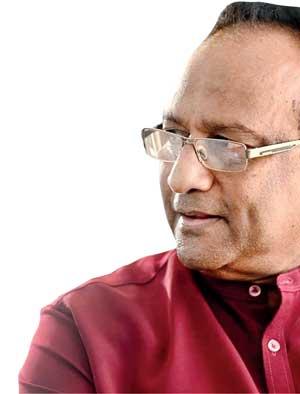 Following is an article written by Public Security Minister Rear Admiral Sarath Weerasekera in response to 'Nothing But the Truth' column by Sanjeewa on April 7 under the headline 'Principled Pragmatism:

Sri Lanka's Last Hope'.

Sanjeeva Fernando, in his article "SL's last hope" published in Daily Mirror on March 31, says that "in our mediocre intellect, we think that we have lost in Geneva" and attributes the defeat to the "disastrous policy" adopted by Mahinda Rajapaksa regime. He also ridicules the Foreign Minister who said that "we welcome the majority of 25 of 47 members in the council to have expressed not to vote against Sri Lanka". Anyone even with his/her mediocre intellect should realise that this Resolution against SL is very unruly, unfair, intrusive, highly politicised and country-specific. Yet Sanjeeva thinks it fit to insult the FM who says more than 50% of the membership in HRC didn't support the Resolution, which is a fact.

Sanjeeva also says that one of the reasons for the "defeat in Geneva" was because MR regime threw the LLRC and Paranagama Commission's recommendations to the dust bin. He also refers to the fight against LTTE as a "brutal ethnic civil war".

We never had an ethnic civil war in our country. It was not a fight between Sinhalese and Tamils. It was a fight/war between the legitimate government forces and a terrorist outfit categorised as the most ruthless terrorist organisation in the world! In fact, the "Sinhalese" soldiers rescued 295,000 Tamil brethren from the clutches of the LTTE who kept them as a human shield! Can that happen in an ethnic war?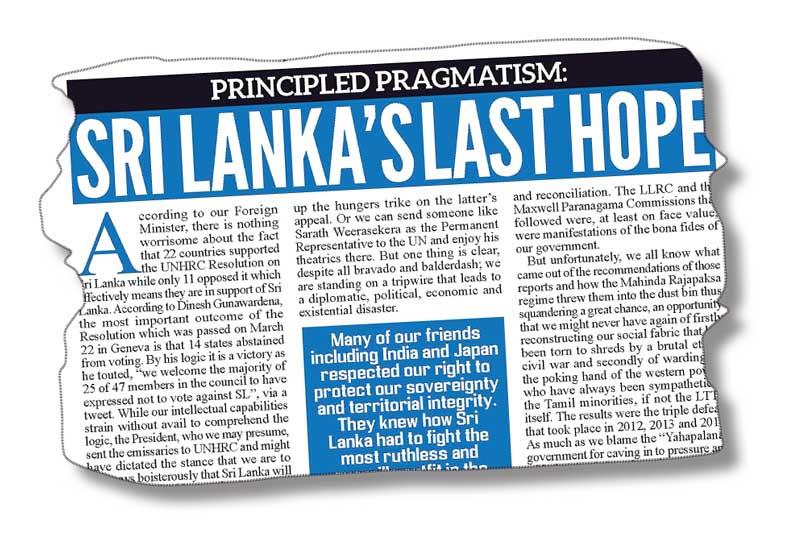 MR regime never threw out the LLRC and Paranagama Commission's reports. In fact, they implemented most of the recommendations in it. But the HRC or the UNSG never wanted or allowed to carry-on with her local mechanisms established after the war. Seven and a half months before the final report of the LLRC was released, the Darusman Committee appointed by UNSG, in its final report, rejected the LLRC stating that it was "deeply flawed"! And one of the recommendations of OISL report was to abolish the Paranagama Commission! Sanjeeva says that we could have warded off the poking hand of western powers if we had implemented the recommendations of LLRC and Paranagama Commission. But one of the main conclusions of LLRC was that the government forces never committed any war crime and recommended that the forces should be commended for rescuing such a large number. Sanjeeva, must pick it up from MR's dust bin and show it to his Western masters to check their reaction to it.

Finally, Sanjeeva asks in desperation, "now we are back to square one, can we walk out of UNHRC as Donald Trump or Netanyahu did? Or do we send Sarath Weerasekera and sit back in eager anticipation of some amusement in the midst of all despair?"

Theresa May, the former PM of the UK said that she would go to the extent of even amending the HR laws when it comes to the protection of her soldiers fighting terrorism. The current PM is formulating laws in that direction. Donald Trump said he would even go to the extent of invading Hague if his soldiers are sent to ICC. That's how other leaders protect their men even when they have invaded other countries. The patriotic citizens of those countries are also behind such leaders. But we fought the terrorists in our country who were massacring innocent civilians and when they were falsely charged with war crimes in Geneva the FM of Yahapalana regime accepted with appreciation that we committed war crimes and co-sponsored the Resolution against us without the approval of the Parliament, Cabinet or the President. I haven't seen people like Sanjeeva protesting against such a treacherous act, but now they emerge and criticise the present government for withdrawing from that co-sponsorship!

Sarath Weerasekera (SW) went to Geneva not to amuse people back home but to submit solid proof showing that our war heroes never committed any war crime. The 30/1 resolution was passed in Geneva without a vote or a debate. There were eight charges levelled against us in OISL report and SW went to Geneva and submitted the document called "A factual Appraisal of the OISL report: A rebuttal to the Allegations against the Armed Forces" prepared by a team of experts in the country proving with documentary evidence that all charges were false.
Also in Geneva, SW submitted seven reports submitted by the six world-renowned war crime experts (Sir Desmond, Sir Jeffrey Nice, Prof. Michael Crane, Prof. Michael Newton, Maj. Gen. John Holm's and Rodney Dickson QC) in which they have categorically mentioned that our forces never committed any war crime.
SW also met with Lord Naseby, Sir Jeffrey Nice and Maj. General John Holm's in UK and got certain petitions authorised by them before submitting same in Geneva.

The first-ever resolution in Geneva that was passed after we won the war on May 27, 2009 was a positive one commending Sri Lankan forces for defeating the most ruthless terrorist organisation in the world and condemning the atrocities committed by LTTE. But things started to turn around when the Darusman Committee charged that our forces killed at least 40,000 civilians in the last phase of war, purely based on the evidence given by pro-LTTE cadre. The wartime despatches of Col. Gash, the MLO in UK HC in SL and the statement made by Col. Lawrence Smith of the US Embassy in SL confirmed that the figure 40,000 was a highly exaggerated one and the actual figure was nowhere near it.
MR regime never threw out the LLRC and Paranagama Commission's reports. In fact, they implemented most of the recommendations in it

The western countries and separatist Tamil Diaspora were all against MR for finishing LTTE against their wishes/ demands. A conspiracy thus begun and USA brought resolutions connected with war crimes / human right violations and got it passed in years 2012, 2013 and 2014 and the rest is history.

This is the time we all must shed our differences and stand together against this conspiracy. We are a nation that has protected not only the rights of human beings but also that of animals and birds! If anyone has clear evidence of HR violations/ war crimes let him prove it. We must never allow any country or organisation to interfere in our affairs on the pretext of protecting human rights.

Rear Admiral Sarath Weerasekera VSV, RWP USP