---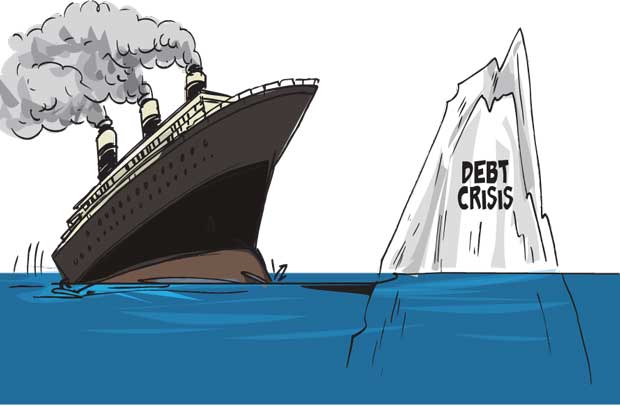 Despite the promises of large-scale Foreign Direct Investments-many have promised but few have come- Sri Lanka is facing a major economic crisis over the repayment of foreign and domestic loans, most of them obtained on high commercial interest rates.

So grave is the crisis that Central Bank Governor Indrajit Coomaraswamy and Deputy Governor Nandalal Weerasinghe were requested to attend last week's Cabinet meeting, where they gave Ministers a clear picture including a Power Point presentation of the debt iceberg that might hit Sri Lanka and what we would need to do to avoid a Titanic catastrophe.

President Maithripala Sirisena and Prime Minister Ranil Wickremesinghe –heading a National Government for the first time since Independence - have been repeatedly stressing the need for Good Governance, accountability and transparency as an important combination of the moves to face the economic crisis.

While the Prime Minister and economic experts are trying to work out large projects, where Chinese and other companies will make huge investments on concessionary terms and to relieve the foreign debt repayment burden, Government politicians, especially need to set the example by avoiding wasteful expenditure, luxuries and extravagance.

A simple and humble lifestyle or alpechchethavaya is essential. If politicians want to do big business, they could go elsewhere. But if they come into a Government of the people for the people and by the people, they must be able to sincerely, selflessly and sacrificially work for the common good of all the people.

For too long politicians have plundered and pillaged the wealth and resources of the people, with the last regime probably being the worst. This beautiful country has given so many blessings such as a tropical climate, free education and health.

Now, the ruling party politicians especially need to ask what they could give back to the country and not what they could grab. If they do not, the economy may crash and the people will throw them out.
President Sirisena, with justifiable pride said last week that of Sri Lanka's six Executive Presidents, he was the first to fully declare his assets. We urge the President to insist that all Cabinet Ministers, MPs, Provincial and Local Council Members should do this. In addition, there needs to be transparency and accountability in transactions involving public money.

The sovereign people now have a good opportunity of checking the integrity and sincerity of Government politicians, officials and even of Opposition politicians.

The vibrantly independent Right to Information Commission is now getting into full gear. We hope that Government leaders, instead of merely boasting about the Right to Importation, would make available adequate financial and human resources for the Commission to work effectively and ensure the people's Right to Information.

At present the Commission works on an allocation of Rs. 3 million made from the President's Fund. This is both inadequate and improper because the Commission may even need to probe complaints relating to various units in the Presidential Secretarial. Instead a substantial Supplementary Estimate needs to be made from the national budget, while the Mass Media Ministry moves fast to appoint thousands of Information Officers to public authorities and other institutions having dealings with them so that the people would have access to information on matters ranging from the carpeting of roads to big contracts.

Frauds and corruption that allegedly took place during the former regime have still not been fully probed and action taken, though some progress has been made. Meanwhile, frauds and corruption are still allegedly continuing.

If official investigations are slow, then civic-minded citizens could act through the Right to Information Commission to name and shame politicians or officials, who are still robbing from a debt-ridden country.