---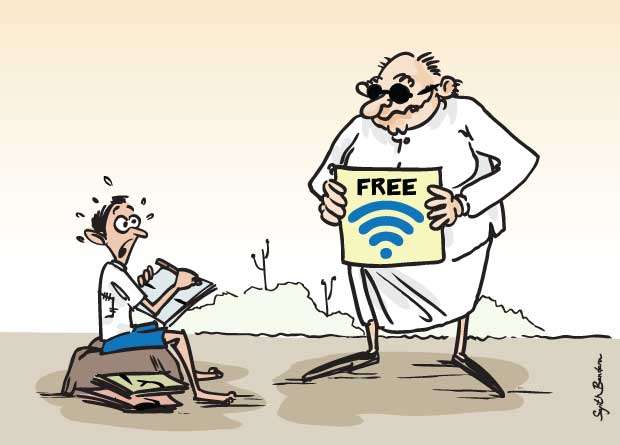 PEACE AND GOODWILL are what the Season of Christmas is all about, but sadly while people the world over are preparing for Christmas, our politicians are dishing out ill will with the unchanged political climate and the state of the country in PIECES NOT PEACE!!! THE ALL IMPORTANT DECISIONS THAT HAVE TO BE TAKEN ARE POSTPONED AND POSTPONED OVER AND OVER AGAIN, THERE IS ABSOLUTELY NO RESPECT FOR THE SANCTITY OF ANY RELIGION, ALL THAT MATTERS IS THEMSELVES; THAT THE DECISIONS THEY MAKE MUST BE ATTENDED TO FIRST REGARDLESS OF THE FACT THAT THEY ARE EMPTY AND HOLD NO SUBSTANCE!!!
---

Out of touch with common man
Ranil is being crucified for having shares in a PLC Company; are the people of this country really expected to believe that NONE of the other Ministers has SHARES in other companies??? If the finger is being pointed at Ranil, then look all around, see what the others have that they have not declared, they would surely surprise you!!! Why do they always look for the speck in another's eye, neglecting the plank in their own??? Sadly, it is true that Ranil is totally out of touch with the 'Common Man' finds it difficult to identify with the people of this country and their needs; he is incapable of addressing them!!! When the 'Pohottuwa' won, what did Ranil promise the poor man, WIFI, DENIMS INSTEAD OF SPAN CLOTHS, BRACELETS FOR THE YOUNG MEN, showing total disregard for their basic necessities!!!
---
The village school
Although it is the season of goodwill and giving; besides the people in town being dissatisfied there is something akin to desperation in some of our remote villages and the appalling conditions they live in!!! Apparently, in quite a few of these remote areas beyond Ratnapura and Badulla the schools are hardly enough to house the number of children; the absolutely basic necessity of toilet facilities are most often not available, in some schools, girls and boys have to use the same toilet and more often than not the toilets are not equipped with water!!! What do the people in these abysmal conditions need WIFI for??? Has the Minister of Education ever visited these areas, shown the slightest interest in what needs to be done??? Some of the roads in Colombo are made, broken and made again, who looks into or cares about the roads in our remote village areas??? In most of those areas, THERE ARE NO ROADS, the villagers and school children have to swing, at the risk of their lives on ropes or wires from one bank to the other if they have to cross a river!!! Has any Minister or even the MP of the area ever visited or done anything about this terrible death-defying manner in which some people of our country have to risk their lives on a daily basis, for the simple reason that they have no roads??? Some of the important schools in Colombo have it all, gyms, playgrounds, auditoriums, badminton courts, tennis courts; a poor school in a village area does not even have basic water facilities!!! These are the MORONS WE BROUGHT INTO POWER!!!
---
School in the jungle
We have learned that in a far-off school in the Polonnaruwa area, where they are desperately poor, the school had requested Rs. 500,000 for urgent repairs and maintenance; this was turned down by the President and he spent Rs. 600,000 instead, on the Rajasingha Maha Vidyalaya!!! In the extremely poor area, the children and their parents have to light ALI VEDI to frighten the elephants away every day so the kids could go to school!!! What an absolutely frightening spectacle the poor children have to contend with every day, yet because they are eager to learn they do contend with it, the brave tykes that they are!!! It would be something worth looking at if even one of our illustrious Ministers or MPs braved what these little kids go through!!! Their bodyguards would probably be the ones who fall prey to the wandering beasts!!!
---
Basic ingratitude
The Supreme Court ruling came in and they still find it so difficult to accept what they cannot change!!! Everything they did was UNCONSTITUTIONAL and an unanimous decision of the Supreme Court said so, but they remain stubborn in their dogged determination to send Ranil home, beginning with the President, who claims he is not ready to work with Ranil at any cost – shouldn't Ranil be the one we are flogging for putting this man in the seat of power???
Is he Maithri conveniently forgetting who put him there??? Basic ingratitude is what it can be called, but even that does not constitute such ruthless inhumane behaviour!!! In the face of such base ingratitude, Ranil was still gracious enough to say that he trusts the President will respect the judgment!!!
---
Failed miserably
According to a video which is going viral, we certainly don't have to thank the UNP for anything and least of all Ranil, for having got us into the mess we were in!!! Our thanks and gratitude should go to the Judiciary for upholding Democracy and the Rule of Law; this is what has given us hope for the country!!! The UNP by itself has nothing, absolutely nothing to crow about; they have not kept a single promise they made; they failed, failed miserably to deliver the promises they made in 2015!!! We, the people, certainly deserve better!!!
---
Do a stock-taking
We are waiting with bated breath for his Cabinet, perhaps the crooks in suits will again be appointed to positions of power!!! Ranil has to be careful, very careful about the Cabinet he appoints, the people can no longer be fooled and they are watching him!!! Notwithstanding Maithripala and the chaos he caused, the Cabinet must be changed drastically, take away all the crooks, the smiling faces who are so empty inside and replace them with men of steel, guts and backbone!!! The former Cabinet had very few of substance, take away all the unnecessary nonfunctional Ministries and keep to those which are absolutely necessary!!! What do we need such a huge Cabinet for, a Cabinet that is DELIVERING NOTHING??? What happened is a serious wake-up call for all our Politicians, they have to be big enough, honest and sincere enough to admit they failed and begin to put our country back on track!!! They have to sit down and take stock of what THEY HAVEN'T DONE AND WHAT THEY NEED TO DO, BEGINNING NOW!!! REMEMBER YOU WON NOTHING – JUSTICE PREVAILED, IF NOT YOU WOULD ALL BE HOME – DON'T EVER FORGET THAT!!!
---