---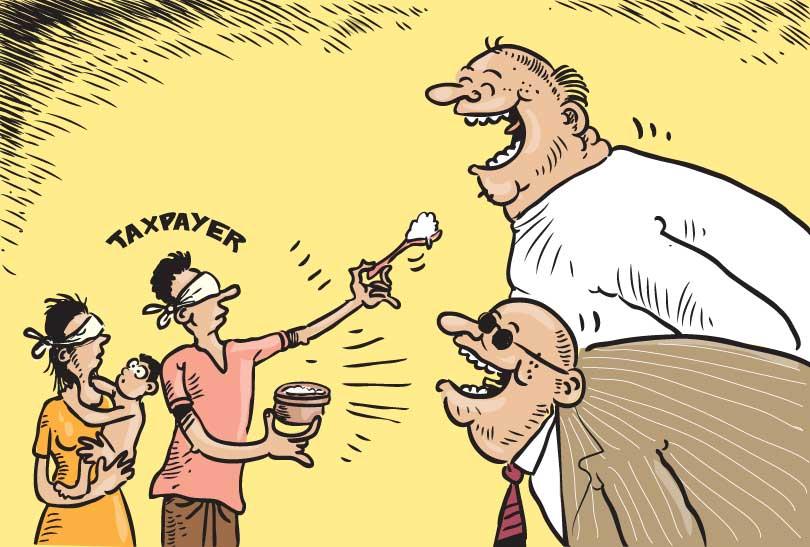 As technology continues to advance dramatically, shrinking the world to smaller and smaller proportions of a global village, in our little corner of the world, Sri Lanka still remains happily entrenched in the grip of pontificating politicians, who cannot go beyond the narrow confines of their self-centeredness to see the pain and suffering all around them!!! We are being told no power and water cuts for the New Year!!! What's the big deal??? Whatever time of the year, is it not the common man who suffers from all these power and water cuts??? Absolute basic infrastructure facilities that are being denied to us!!!
---

No one cares
Our hospitals, mental institutions, charitable institutions, prisons, slum dwellings, street children, pavement dwellers – the list is interminable and so is our national shame; but, does anyone care??? While other high-profile suppressions of human rights have stirred international outrage and punitive sanctions, the plight of broken humanity in our country will remain forever a tragedy!!! Why??? Because no one cares!!!
---
Water not everywhere
High ranking officials, starting with the President and Ministers are continually visiting foreign countries at the taxpayers' expense but what reward has Sri Lanka reaped from these many jaunts abroad??? Have we emulated or even tried to put into action any of the noteworthy examples seen in other countries??? If people in other countries had to put up with the interminable power and water cuts that we are subjected to, there would probably have been anarchy!!! Why would our politicians worry, they are NEVER SUBJECTED TO THESE MINOR DISCOMFORTS – MINOR TO THEM BUT TO THE COMMON MAN – M A J O R!!! Can every house or humble dwelling afford to have water tanks??? 24 HOUR CUT, WHERE IS THE HUMANITY IN ALL THIS, ESPECIALLY WHEN THE WATER IS NOT EVEN TURNED BACK ON IN 24 HOURS!!! WHO CARES, WHO GIVES A DAMN???
---
State of the State
The burning question is why has the Government let the country come to this sorry state of affairs??? This is not the first time we have been subjected to power cuts and water cuts; it has been an unfortunate recurrence with no one bothered about the inconvenience caused to the general public!!! The amazing thing is that with an upcoming general election, the Government still has no plans to mitigate or do away with these unfortunate tragedies that we, the people, are subjected to!!! As we have said before, these two elements are ABSOLUTE PURE BASIC NECESSITIES; YET NOTHING IS BEING DONE TO RID THE COUNTRY OF THIS SCOURGE PERMANENTLY!!! Maybe, a temporary job here and there, just to keep people happy and that's all that we will get – no permanent solution!!! How can there be when no one cares enough to look for and apply a permanent solution!!!
---
Why wait till emergency?
When we talk about individual human rights here, we are referring to the singular right of every human being to live with dignity in an environment of cleanliness, coupled with the absolute basic infrastructure facilities of lights and water and the responsibility of the government to provide that basic right!!! Apparently, the Communications Director of the PUCSL, Jayanath Herath, has said that the CEB cannot initiate power cuts without prior permission!!! Who gives them the permission then, or who thinks he is big enough to take these decisions without prior permission??? With Ravi talking about no power cuts and water cuts, it is amazing though that the Ministry of Power and Renewable Energy has notified that the continuing power crisis would continue till mid-April!!! A CEB Official added that the CEB was forced into taking action as they had to protect the National Grid!!! The Ministry's media spokesperson, Sulakshana Jayawardena has said that the process to purchase emergency power is underway!!! WHY EMERGENCY??? WHY WAIT UNTIL IT BECAME AN EMERGENCY??? DON'T THESE BUFFOONS WHO GOVERN US AND WHO HOLD THESE ALL-IMPORTANT MINISTRIES UNDERSTAND THAT THESE ARE NOT ISSUES THAT CAN BE PLAYED AROUND WITH OR EVEN POSTPONED, THEY ARE OF SUCH VITAL IMPORTANCE???
---
Buffoons
Do these burning social, moral and civic issues ever penetrate the priority lists of the rich and powerful??? Of the buffoons who govern us??? They probably might if they do have priorities other than themselves!!! Perhaps if a bomb wreaked havoc in the city today or the country was engulfed or threatened by some natural disaster, the powerful, the rich and the famous might pause long enough to reflect on their own mortality and the resounding reality that power and wealth alone cannot save them!!!
---

Prince to beggar
If our people could develop not only a sense of national pride but also take personal pride in all that they do; if the leaders of our country could focus on the reality that today's prince could be tomorrow's beggar; perhaps there could still be some hope for our country!!!
---
Drugs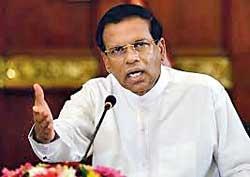 Our President has focused on and implemented desperately needed action against Drugs, Liquor and Narcotics!!! He deserves our unreserved thanks and praise for such a bold and courageous step taken in this regard!!! He has diligently sought out and publicly condemned all areas and avenues where drugs, especially cocaine, have been found!!! Actually, he has left no stone unturned in his quest to rid our country of the drug menace!!! The whole country should rise as one to salute this man who had the courage of his convictions in going against the Drug Menace, as he has done!!! It is possible that his visit to the Philippines redoubled his efforts to rid our country of this scourge; something that NO ONE ELSE, ABSOLUTELY NO ONE, WITH ALL THEIR PRESTIGIOUS POLITICAL HISTORIES HAVE HAD THE COURAGE TO UNDERTAKE AND CARRY THROUGH!!! Maithripala Sirisena feared no man in his single-minded quest to rid our country of this drug menace!!! Laudably, he has even introduced the Death Sentence, what a man, what courage indeed!!! Parents need no longer fear the scourge of drugs in schools but likewise, it is the sacred obligation and bounden duty of every citizen of this country to unreservedly report any person, area or thing connected to drugs!!! The President has rid the country of DRUGS, IT IS OUR SACRED DUTY TO PROTECT IT AND KEEP IT THAT WAY, REGARDLESS OF WHOEVER THE DRUG BARONS AND KINGPINS ARE, LET THEM ROT IN HELL OR LET US SEE THEM HANG AS THEY DESERVE!!! A SRI LANKA FREE OF DRUGS, WHAT A VICTORY, WHAT AN UNPRECEDENTED VICTORY TO PRESERVE AT ANY COST???
---