---
The news that took center-stage or made media headlines during the past few days was that of 55-year-old senator Kamala Devi Harris being nominated by the Democratic Party as its Vice Presidential Candidate and rewrote history with her acceptance speech at the party convention last Wednesday where she promised to be a champion for the voiceless and forgotten Americans, who are struggling in the midst of a pandemic and an economic crisis.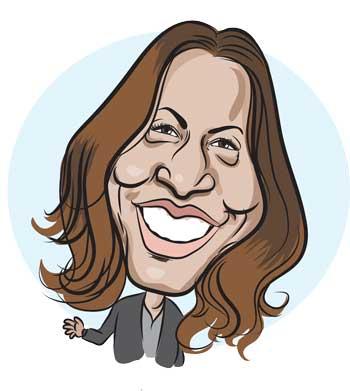 She introduced herself as the daughter of Indian and Jamaican immigrants and would strive to restore the principles of inclusivity after four years of divisiveness under President Donald Trump; she cited the example of her mother, who she said taught me and my sister Maya to "be conscious and compassionate about the struggles of all people" and to believe that "the fight for justice is a shared responsibility." Ms. Harris said that was why she became a prosecutor, who tried to reform the criminal justice system from within.

She said she and former Vice President Joe Biden share "a vision of our nation as a beloved community -- where all are welcome, no matter what we look like, where we come from, or who we love." Although Americans may not "agree on every detail," they are "united by the fundamental belief that every human being is of infinite worth, deserving of compassion, dignity and respect," she said.

Ms. Harris has often argued that President Donald Trump's tactics have torn the nation apart as he forced the separation of families at the border, vilified immigrants, excoriated his political opponents and urged government officials to "dominate" peaceful demonstrators in the streets after the death of George Floyd at the hands of a Minneapolis police officer.

"There is no vaccine for racism. We've got to do the work," she said. "For George Floyd, for Breonna Taylor, for the lives of too many others to name, for our children and for all of us."

"We've got to do the work to fulfil that promise of equal justice under the law. Because, none of us are free until all of us are free," Ms. Harris said.

Born to her Indian mother Shyamala Gopalan Harris and her Jamaican father Donald Harris on October 20, 1964 at Oakland, California, Ms. Harris is an alumnus of Howard University and a former Attorney General of California and since 2017 a United States senator.

What makes news is the fact that Ms. Harris is the first South Asian American of colour to be nominated to such an important post.

She said Trump's failure to take the virus seriously, to get coronavirus testing up and running, to offer a national strategy for ending the pandemic has led to 16 million people without jobs, "a crisis of poverty, of homelessness" that is "afflicting Black, brown, and indigenous people the most" and "more than 165,000 lives cut short, many with loved ones who never got the chance to say goodbye."

Ms. Harris traces her inspiration for "fighting injustice" to her mother Shyamala Gopalan, "an Indian-American immigrant, a rights activist, and breast cancer researcher." In her acceptance speech she called her mother, who died of cancer in 2009, "the most important person in my life."

She capped it all with the use of Tamil in her speech boosting her growing fan-base in India, particularly in the tiny eastern Tamil Nadu village of Painganadu where her grandfather PV Gopalan was born in 1911 and which Ms. Harris visited once as a child with her grandmother.

Standing at the Democratic convention podium last week she said her mother had "raised us to know and be proud of our Indian heritage", adding: "Family is my uncles, my aunts and my chithis."

Her use of the word chithi, which in Tamil lovingly means "auntie", sent reverberations through South Asian households in the US and those watching 8,000 miles away in India.

We congratulate Kamala Devi Harris on her nomination as the Vice Presidential Candidate of a major political party in the United States of America. She makes us fellow South Asians proud and wish her well as she navigates her way through the many challenges she might have to overcome on her demanding journey to the White House.