---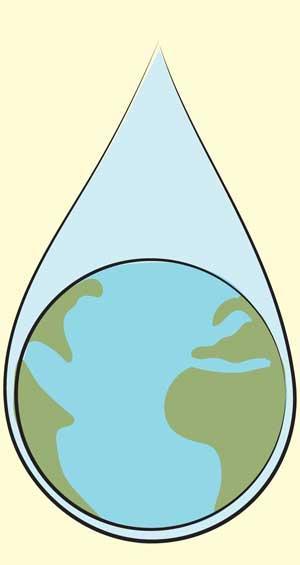 Water is freely available and we gladly give a glass of fresh water to anyone who asks for it. History has taught us that what is freely given is often not fully appreciated. So is it with water. We often waste water without realising that in about two decades the world could be facing a stormy fresh water crisis. In recent decades, the world's big powers including the United States have gone to war in Iraq, Syria and other countries. They say the reason is to fight terrorism but independent political analysts say the real agenda is to gain control of the fuel resources in those countries. The analysts say that in about two decades the world might run short of fresh water and it is possible that big powers will go to war to gain control of fresh water resources. Sri Lanka could be one of the victims because we have 12 major rivers and more than 90 small rivers.
Earlier this week, the United Nations marked World Water Day to focus on the importance of fresh water. In a statement the UN says the day is meant to raise awareness of the 2.2 billion people living without access to safe water. It is about taking action to tackle the global water crisis. A core focus is to support the achievement of sustainable development goal 6: Water and sanitation for all by 2030.
According to the UN, water today is under extreme threat from a growing population, increasing demands of agriculture and industry, and the worsening impacts of climate change. As societies balance the demands on water resources, many people's interests are not being taken into account.
The 2021 theme is, "what water means to people, it's true value and how we can better protect this vital resource". The UN says the value of water is much more than its price – water has enormous and complex value for our households, culture, health, education, economics and the integrity of our natural environment. If we overlook any of these values, we risk mismanaging this finite, irreplaceable resource.
The idea for this international day goes back to 1992, the year in which the UN Conference on Environment and Development took place in Rio de Janeiro. That same year, the UN General Assembly adopted a resolution by which on March 22 of each year was declared World Day for Water, to be observed starting in 1993.
Later on, other celebrations and events were added. For instance, the International Year of Cooperation in the Water Sphere 2013, and the current International Decade for Action on Water for Sustainable Development, 2018-2028. These observances serve to reaffirm that water and sanitation measures are key to poverty reduction, economic growth, and environmental sustainability.
In a message UN Secretary General António Guterres says, "The value of water is profound and complex. There is no aspect of sustainable development that does not fundamentally rely upon it. For me, water means protection. A well-managed water cycle – encompassing drinking water, sanitation, hygiene, wastewater, trans-boundary governance, the environment and more – means a defence against ill-health and indignity and a response to challenges from a changing climate and increasing global demand".

World governments need to implement mega policies to save water. Unfortunately in our country there are allegations of large scale deforestation for the private sector to start major development projects. Widespread protests have erupted against this and we hope government leaders will reconsider these policies which are apparently meant to help their close friends. What we as individuals could do to save water is on a minor scale though we need to remember that little drops of water make the mighty ocean. For instance, when we wash rice, vegetables, fruits and other cooking items in a pan we could save that water and use it to water the plants. We could also cut down our shower bath times by five to ten minutes. Some enterprising citizens have also installed equipment to send the shower water to the cistern. Other responsible citizens have also installed rain water harvesting systems in their houses. They are following the proclamation of Prakramabahu the great who said that not a drop of rain water should be allowed to go waste without being used for some good purpose or as American Marine biologist Sylvia Earle has said, "No water, no life"