---
August, September dates

discussed for polls
Bills from 2019 presidential

election not paid
My US citizenship oath nothing to

be ashamed of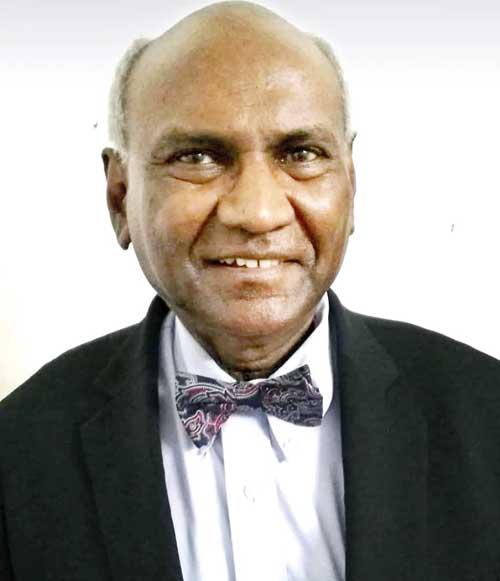 National Elections Commission (NEC) member Ratnajeevan H. Hoole has not been in good terms with NEC Chairman Mahinda Deshapriya in recent times and this has been evident in statements Hoole has made to the media. In an interview with Dailymirror, Hoole opens up on his issues with Deshapriya, concerns over the proposed dates for the parliamentary election and several other matters. Excerpts:
Q There was a lot of debate with regard to the postponed parliamentary poll and now the NEC has picked June 20 to hold the election. Why June 20?
Many have asked why we chose the President's birthday. I was not aware it is his birth date. Superstition is suggested because the President who did well on November 16 (1+6=7) had set April 25 (2+5=7) for the parliamentary election.
However, on the morning of April 20, as soon as I came to my commission office, Chairman Mahinda Deshapriya (MD) took issue with me over my letter to the commission which he claimed I had given to the press. I responded that a newspaper had it and asked me to confirm I had written the memo, which I did. I added that after that, since it was public anyway, I gave copies to a few who asked for it.
Fortunately, as the argument heated up, Nalin Abeyesekere, PC (NA), crashed in and he was upset that the chairman asked me to agree to May 28 and he knew nothing of it till he read my memo (I feel free to discuss this because a senior journalist who called me that noon recounted every detail of our conversations on the 20th, telling me "I have three good sources in the commission offices.")
NA held, and I agreed, that we had postponed the April 25 date because of COVID-19 which as of the twentieth morning had got worse and there was no reason to go back on that. Both NA and I said the June 2 deadline for the new Parliament to meet was impossible and a new date should be as late as possible due to COVID-19. MD insisted on a rationale for a date. It was time for our 11 o'clock meeting but I insisted on finishing this matter before leaving my office. All three agreed it should be September 2 (five years after Parliament had met) or August 17 (five years after Parliament had been elected).
"The press too played a subservient role. You folk call the Chairman Head of the Commission. The Commonwealth Secretariat calls him Chief. Editors continue to call him Commissioner when there is no Commissioner. You thrive on sucking up"

After the meeting, MD reopened the date and wanted July 15 with no particular rationale. Then, after another meeting, as if to give a rationale, he had a handwritten paper on which he marked dates April 27 (curfew listed as stated by the government), May 2 to ensure COVID-19 was easing and then 7 weeks (5-7 weeks for campaigning as in the Act) taking us to June 20.
At the commission, he banged the table and said he owes his loyalty only to one country and he never went about swearing allegiance to another. Was he meaning Basil and Gotabaya Rajapaksa or me? I must note that my US citizenship oath "to support and defend the Constitution and laws of the United States" has nothing for me to be ashamed of, and I can proudly do that for any democratic state. In contrast, MD was a member of the JVP in its most violent days, committed to overthrowing our democratically-elected government.At that point, I was so relieved to get away from the madness of a May election that I was happy to agree to June 20 and be done with it.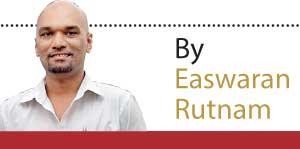 Then in the evening, medical experts met us and were emphatic that no one knew where COVID-19 was going. Dr. Paba Palihawardene, Deputy Director General of Health Services, said "it is highly likely" that COVID-19 would last at least for two years with ups and downs. Dr. Jasinghe was non-committal asking us to decide and that curfews are being lifted.
Later, the commission met again to draft the gazette. The chairman drafted it and gave it to NA who assumed it was as agreed. I had to study the Tamil draft which had the date May 30 for the election. It had to be redone with the right date.
As reported in Dailymirror, (22.4.2020), "the EC yesterday agreed to review [the poll date of 20.4.2020], Chairman Mahinda Deshapriya said." There was no commission meeting from 20.4.2020 6:00 p.m. till now.
SLMC's Rauff Hakeem and Nizam Kariapper have declared our decision unconstitutional. Not quite. Yes, Article 70(5) is violated. It is violated not by us but because it is impossible for the new Parliament to meet by 02.06.2020 given COVID-19. Even where curfew is relaxed, only 50% of the workforce is to be called. And then we must keep a one-meter distance. How when during elections we commandeer a workforce as large as 300% of the norm? Violation of 70(5) is a fait accompli. The doctrine of necessity justifies that violation.
Q With some restrictions likely to still be in place by June as a result of coronavirus, do you really think the environment will be conducive to hold an election or is it too soon?
New ways of bypassing these problems of restrictions are possible. But for innovative solutions, laws need to be amended. Examples are internet voting, multiple voting days to ease staff shortages, real powers to punish polls-law violators (at the commission no one knows of anyone who has been punished since the enactment of the 1981 Act, except for little boys who put up posters), making it necessary for the Attorney General to act within a timeframe when we refer a matter to him. And that requires Parliament to be back.
Q Should the old Parliament be convened, in your opinion, on or after June 2 since the election has been postponed from the original date?
It really is the easiest solution. To be a democracy, we need a Parliament of our representatives. Today itself if the President would cancel his gazette of 02.03.2020, everything that flowed from it – particularly the dissolution of Parliament and nomination papers filed – would be nullified. Parliament can then make right all unlawful measures like curfew declaration and the drawing of funds that have been drawn without Parliament.
Q The election is likely to cost more than earlier estimated with election staff having to need protective gear. Has the commission done an estimate on this?
No. We need to decide on new measures. Our offices have been mostly shut during the pandemic. This is why the election to enable Parliament to convene by June 2 is impossible. Even our bills from the presidential election of November 2019 have not been paid.
Q You have been very outspoken in recent times on matters related to the work of the commission. And this gives the impression that all is not well among the three members. Is that the case?
Nowhere do we have three people sitting down together and having the same ideas. But it is important to have trust and courtesy to be able to work together. My main issue is the chairman continuing as a one-man commission. As you know, he was commissioner before the 19th Amendment. After his retirement age, he was kept on extension till 19A was ready.
The intention, if you carefully read the law, is to have three members with one as chairman. The only difference was that the chairman had an extra vote if there is a tie, an unlikely event with three members. The commissioner with czar-like powers could not settle into being a co-equal chairman.
The press too played a subservient role. You folk call the Chairman Head of the Commission. The Commonwealth Secretariat calls him Chief. Editors continue to call him Commissioner when there is no Commissioner. You thrive on sucking up.
Then, the Cabinet messed up the commission. They gave a car to the chairman and only a travel allowance to the two members. This was hardly enough for a few meetings. So the other two members could not travel to the commission on a daily basis nor to faraway meetings. Only the chairman could order a commission car for us and we developed a dependent relationship. Nowadays to come during curfew and COVID-19, I need the chairman to arrange my transport. It seemed that the government and press preferred to deal with one man.
Almost all decisions were by the chairman. Staff who were used to a commissioner still treat the chairman as commissioner. He did their performance evaluations without showing us. He gives press conferences where there is no agreement as a commission on what is to be said and we two sit on either side like dummies.
"Nowhere do we have three people sitting down together and having the same ideas. But it is important to have trust and courtesy to be able to work together. My main issue is the chairman continuing as a one-man commission"

The association of all 25 regional assistant/deputy commissioners has been struggling with issues. Here is their email from August 2018 to the two members but we have not got the appointment they wanted:"This is to kindly inform you that we have made a written request to the Secretary - Elections Commission to get an appointment from two commission members. Even though we made the request to meet you, we did not receive any positive response up to now. Instead, we receive several calls from the chairman regarding this appointment and dictating terms for this meeting.
"Mainly, we do not want to be governed by the chairman's arbitrary decisions and unethical pressure. This pressure has penetrated our family lives as well. The communication and physical gaps we had with two members is the main reason for these issues according to our knowledge. We never wanted to maintain a gap but someone did.
"Even now, the chairman is trying to limit our representation which is going to meet you. At least we beg you to give us a reasonable time to talk freely. Almost all other District DCs and ACs are willing to express their views on this meeting.
"Our request letter with the Secretary, which we have a doubt whether it communicated to you sirs."
A meeting was fixed in Colombo on a Sunday. I went there and found the chairman had moved it to Kandy and without transport I could not go.
"This gap" is to have selected subservient staff in Colombo. A minute was generated that the commission devolves its powers to the staff. Since corrected minutes are not given to us, my corrections never came back to me. These selected staff take decisions the chairman dictates. The worst manipulation was the appointment of the Commissioner General through manipulated selection criteria, a closing date advanced and sending the interview invitation late to a good candidate. But Mr. Abeyesekere who was on the interview team withdrew. The chairman now has suggested that the CG be allowed to run the elections.
Although MD denies it, I am informed by senior staff that the gazette dissolving Parliament in October 2018 was prepared by Director Channa de Silva, the two went together to the Presidential Secretariat up to the gate where de Silva alighted from the car and returned, leaving MD to proceed alone.
Q Is NEC really independent as it is supposed to be or is there bias?
You be the judge.
Q There had been calls in the past for the commission to be given more powers. Is that still a key requirement?
We do need more powers, but as writer Tisaranee Gunasekera told me, with independent commissions we also need independent members.