---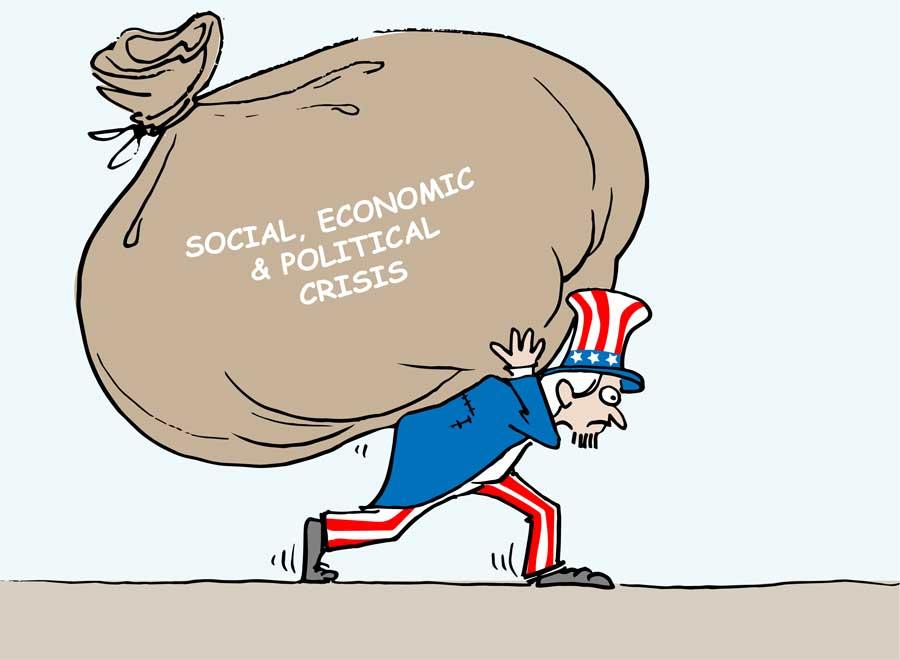 A series of devastating storms which unleashed frigid Arctic temperatures on Texas has killed around 47 people and left at least 2.7 million households still without power. A bizarre situation - one in which, the biggest energy-producing state in the US has been left without power for so long. Media reports indicate nearly 12 million faced water quality issues. Hospitals ran out of water.

The Washington Post reported storms and power outages pummeling Texas are shutting down water and heat at hospitals across the state, forcing some facilities to turn patients away and take drastic steps to conserve resources.

Health systems are reporting hundreds of their employees staying to sleep overnight because of perilous road conditions. Many patients who are ready for discharge are stuck because they have no power at home. And many others are showing up at hospitals in search of a warm place to sleep or to keep lifesaving medical equipment powered. A hospital in Houston relied on buckets of rain water from the roof to flush toilets. Elsewhere, staff members cleaned themselves with hand sanitizer instead of soap and water.

The New York Times database shows there were at least 2,620 new COVID-19 deaths and 71,874 new cases reported on February 18. As of Friday evening, more than 28,017,700 people in the United States have been infected with COVID-19.

The NYT in its report of February 19 said, deaths in the US remained extraordinarily high, with more than 2,600 announced last Thursday (Feb 18) alone. The report forecast that in the coming days, the country is likely to reach 500,000 total deaths.

On a more hopeful note the paper noted, that over the past week, there had been an average of 72,848 cases per day, a decrease of 44% from the average two weeks earlier.
So what ails the United States of America, the richest, militarily and economically most powerful nation in the world? It is not for us little Sri Lankan's to judge the world's mightiest power, but certain ground realities stare us in the face.

For instance on October 1, 2020, the United States debt (the sum of all outstanding debts owed by the federal government), surpassed $27 trillion. About two-thirds of this debt is held by the US public. According to Investopedia of April 2020, China takes second spot among foreign holders of the US debt with $1.07 trillion in Treasury holdings, just behind Japan.

Yet, the US spends more on defence expenditure ($ 732 billion) than the combined military expenditure of China, India, Russia, Saudi Arabia, France, Germany, United Kingdom, Japan, South Korea and Brazil. The combined military expenditure of those ten countries amounting to $ 726 billion!

US defence spending in 2020 according to the Peter Peterson Foundation accounts for 15 percent of all federal spending and roughly half of discretionary spending. rt.com reports China "aggressively invests in infrastructure at a constant pace, as a public good and a means to economic development. The result is that, despite being a developing country and in poverty a mere 40 years ago, its transport network and public infrastructure are already beyond that of the US.

This truth was exposed when the COVID-19 struck. Within months China was able to bring the virus under control. To date, according to the COVID-19 Tracker 'worldometer' China has a total of 89,824 infections with 4636 deaths, whereas in the US, the figure stands at 28,017,700 and numbers are still rising. Perhaps it was in recognition of China's infrastructure spending, new US President Joe Biden said "China will eat our lunch".

The Peter G. Peterson Foundation points out America entered this crisis with US$23 trillion in national debt and trillion-dollar annual deficits growing as far as the eye can see..." It adds, "...for a wealthy nation like ours, borrowing huge amounts in good times to fund consumption (rather than investment) makes no financial or economic sense".

While it's not for us; Sri Lankans to point fingers, perhaps a greater investment in national health, will see the US better prepared to face pandemics and unexpected human crises. The Chinese example in combating the virus is a good example.