---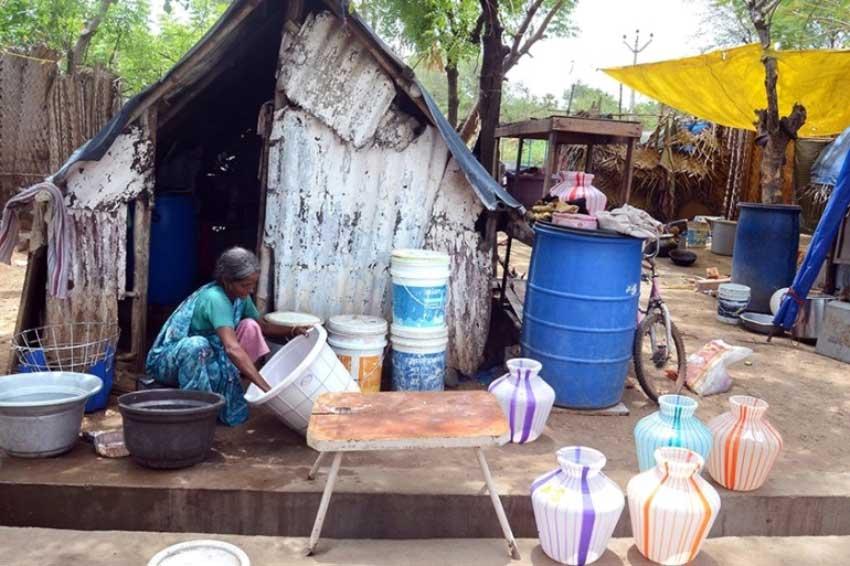 A Sri Lankan Tamil refugee cleans utensils outside her house in a refugee camp in Perambalur district, about 250km (155 miles) from Chennai
Confirmed media reports from India state that about 3 lakhs of refugees entered India between 1983 and 2012; due to the effects of the ethnic conflict. At present as many as 94,069 Sri Lankan refugees are living in various parts of Tamil Nadu and are spread out in 107 camps in 15 districts, according to the newspaper India Today

Tamil Nadu has a history of agitating when Tamils in Sri Lanka are discriminated against or undergo severe hardships. During the ethnic conflict scores of Tamil citizens fled to South India and most of them are still living in refugee camps under trying circumstances. Their plight has been further highlighted by the fight that they are putting up to stay alive during the pandemic.

According to reports published in Indian newspapers scores of Tamils in refugee camps are agitating and some have returned to Sri Lanka to escape from the challenges posed by the pandemic. These returnees in general have obtained the services of human smugglers to return to their motherland; they have travelled using illegal transport methods and paid much money to return home. Reports also reveal that the conditions at these refugee camps are pathetic with no proper testing being carried out to detect whether people have contracted the virus.
The South India state of Tamil Nadu has been the home away from home for battered and marginalised Sri Lankan Tamils who are less affluent. Confirmed media reports from India state that about 3 lakhs of refugees entered India between 1983 and 2012; due to the effects of the ethnic conflict. At present as many as 94,069 Sri Lankan refugees are living in various parts of Tamil Nadu and are spread out in 107 camps in 15 districts, according to the newspaper India Today.

The Tamil community living in Sri Lanka has that mental connection with South India. South Indian films, cuisine and attire have been close to the hearts of Sri Lankan Tamils. The lifestyle, environment and houses in Kerala are much similar to what exists in Sri Lanka. Tamil film artiste Vijay is a household name among Tamil movie goers in the island nation. Actor Vijay has been supportive of Tamils battered by the civil war. But in real life the Sri Lankan Tamils have been very much fighting their own battle.

The biggest blow for them came when the Citizenship Amendment Act (CAA) passed in 2019 in the Indian Parliament left out Sri Lankan Tamil refugees from the equation. The act expedited citizenship for persecuted immigrants (One criterion to meet was that migrants can't be Muslim), in India who had arrived from countries like Pakistan, Afghanistan and Bangladesh.

If there is a little voice dedicated to Sri Lankan Tamils in India it's coming at present from South India politicians. Political party leaders want immediate medical intervention for the Sri Lankan refugees in these camps.

On the contrary the Government of Sri Lanka (GoSL) has issued travel bans. The Sri Lankan Navy is engaged in around the clock sea patrols to nab those making an illegal entrance to the island. These measures have been stepped up due to human smuggling activities and the rapid spread of the Covid variant identified as B.1.6712.2 in neighbouring India.

Those refugees who have arrived from India have been sent to quarantine centres. Their return highlights one thing; Sri Lankans in India have to come back home and find out a way of being counted.

Just to draw some light from the tourism industry, foreigners from German, Switzerland and Japan who visited this island befriended locals and even offered them help. The majority visitors offered these locals money and expertise to start new businesses or improve existing ones, but never encouraged Sri Lankans to migrate to their countries. India applies the same thinking or theory.

India already has its hands full regarding migrants and has had to deal with Pakistanis, Tibetans, Afghans, Nepalis, Burmese, Sri Lankans and the Rohingya issue.

President Narendra Modi, doing election rounds for the assembly elections, has underscored the need for Sri Lankan Tamils to experience justice, enjoy peace, have equity and dignity. Sri Lankan Tamils have habitually become a hot topic in the face of Indian elections. The repatriation of Sri Lankan Tamils in India was done effectively till 1995. According to Indian Home Affairs Ministry records around 99,469 were repatriated to Sri Lanka till 1995 (source Indian Newspapers). After 1995 no organised repatriation of Sri Lankan Tamils in India has taken place.

In the past both India and Sri Lanka entered into agreements in 1964 and 1974 and both countries conferred citizenship to scores of people. But the real blow to the Sri Lankan Tamils who have nurtured the 'Indian residency dream' saw their hopes being shattered by the CAA, passed in Indian parliament. What's important to note here is that one of the biggest forces to back that Act was All India Anna-Dravida Munnetra Kazhagam (AIADMK) which has been a huge supporter of Tamils fighting for an identity in Sri Lanka. But the act failed to offer any solace to Sri Lankan Tamil refugees in India.

Just after the last presidential elections President Gotabaya Rajapaksa carried out humanitarian efforts to bring back Sri Lankans who were jobless and battling the pandemic overseas. However the GoSL hasn't shown much interest on offering a solution to the Sri Lankan Tamils sheltered in South India refugee camps. Unlike members of other communities who migrated to European countries in search of greener pastures these helpless Sri Lankan Tamils escaped to neighbouring India to save their lives from guns and bombs during the bloody ethnic conflict. Shouldn't the GoSL facilitate their return back home?