---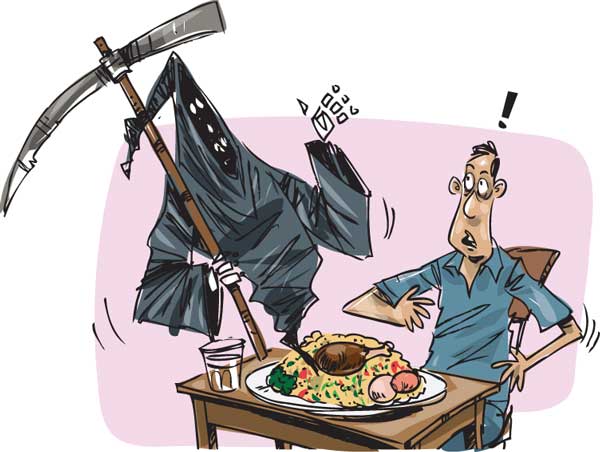 With the World Health Organisation's South and Southeast Asian Regional Council holding its session in Colombo, the spotlight is on the epidemic of non-communicable diseases (NCDs) and a Colombo declaration was adapted on Monday calling for strengthening of the delivery of services for these diseases at the primary health care level.

The Regional Council's 11 member states are Bangladesh, Bhutan, South Korea, India, Indonesia, Maldives, Myanmar, Nepal, Sri Lanka, Thailand and Timor-Leste—comprising more than 1 fourth of the world's population. According to estimates from the region, a staggering 8.5 million people are killed annually by NCDs including cardiovascular diseases, cancers, diabetes and chronic respiratory diseases.

"This is a critical moment for health systems and the people they serve across the South-East Asia Region. NCDs are already taking an unacceptable toll on populations, with the burden projected to rise in coming years. To avert this possibility, services for these diseases must be made available at the primary health care level, and high-risk populations must be provided opportunities to access screening and treatment," said Dr. Poonam Khetrapal Singh, Regional Director for WHO South-East Asia.

"This is an important opportunity to reaffirm commitment to the global goal of reducing NCD-related premature mortality by one-third by 2030, and to actually map-out how we will get there. Implementing effective policy solutions is vital to addressing the personal and social tragedy caused by NCDs, as well as their impact on economic development," she says. To fund the primary health care approach for addressing NCDs, which is foundational to the Declaration, health ministers committed themselves to advocating for innovative financing methods, including dedicated taxation of health damaging commodities such as tobacco, alcohol and unhealthy foods and beverages. This will both reduce exposure to NCD risk factors as well as mobilize more resources for NCD prevention and control.

According to Dr. Singh, while policies aimed at providing high-tech care at central hospitals could have results, their impact will always be limited and will almost always be reactive. Primary health facilities are not only better equipped to provide the holistic, patient-centred focus that preventing and managing an NCD requires, but they can also enhance equity and access to NCD care – an aim central to the Sustainable Development Goals.
Health care workers at the primary level must be given the knowledge and skills to provide NCD and associated risk factor care. This means providing comprehensive training for front-line health workers in NCD screening and management strategies as well as enabling them to provide effective advice on NCD prevention, including healthy lifestyle messages. A team-based approach that harnesses a range of skill sets is required, and may include developing additional cadres of health counsellors or social workers, the Regional Director proposes.

In Sri Lanka, patient-friendly nutritionists have pointed out that since the imposition of the globalised capitalist market economic system some 40 years ago Sri Lanka's simple diet and life style patterns have changed. Ship loads of artificial food items, processed rubbish or junk foods are being dumped here mostly by transnational companies. At the same time, lifestyles have changed with people sitting for long hours before the television having press button gadgets and smart phones which have positive factors, but most people are tempted to make more use of the negative. As a result, the good old bicycle which is ideal for exercise has to a large extent been discarded as an out of fashion village contraption. For cardiovascular ailments including high cholesterol and diabetes, a largely vegetable diet is known to be the best.

According to former Food and Agriculture Organisation (FAO) expert Ranjit Seneviratne, at last the real cause of diabetes has been revealed. It is fat molecules inside our muscle cells. This prevents insulin from opening the "door" as it were to let glucose or sugar in to energize muscles. Blood sugar is simply a symptom like a head-ache. If sugar is prevented from entering muscle cells then it must remain in the blood.
As Dr. Neal D. Barnard, M.D., a respected nutrition researcher says—in America the beef industry has contributed to more deaths than the wars of this century, natural disasters and automobile accidents combined. If beef is your idea of "real food for real people" you need to live close to a good hospital.