---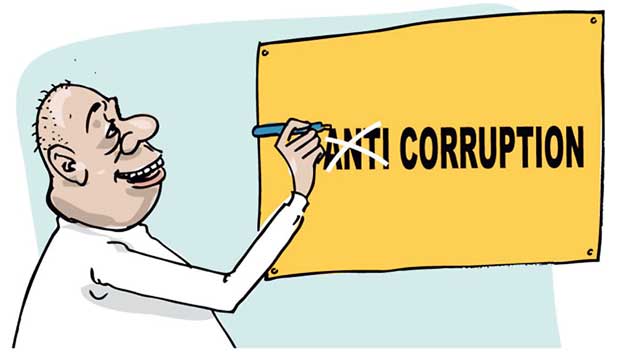 Sri Lanka has ratified the United Nations Convention against Corruption. However, in 2016, Sri Lanka ranked 95 in the Corruption Perception Index (CPI), dropped down the rank by 12 slots when compared to 2015, a report released by Transparency International said. The report indicated that high levels of perceived public sector corruption prevails throughout the country.
The current Government assumed power sporting the slogan that corruption would be eliminated. Yet, it's hard to see effective measures being taken by the current authorities in order to prevent corruption by promoting transparency through effective implementation, enhancing a healthy environment for civil society to operate in and enacting codes of conduct for public servants.
The civil society is repeatedly demanding the Government to punish the corrupt by immediately adopting a zero-tolerance policy regarding corruption in public services, pursuing prosecutions and enforcing the law without further delay.
Former Head of the Sociology Department at the University of Colombo, Prof. Siri Hettige opined that the growing inequality, persistent poverty and the exclusion of the most vulnerable have worsened over time due to the alarming corruption issues in Sri Lanka. He stated that it's essential for the country to achieve sustainable and equitable development by addressing real needs of the people, but mismanagement due to corruption prevents us from doing so.
According to him, unequal development, unsustainable consumption, poor governance and increasing inequality are the main courses and consequences of corruption
According to him, unequal development, unsustainable consumption, poor governance and increasing inequality are the main courses and consequences of corruption. Corruption is prevalent in all areas of public life. As a result, we are unable to solve critical problems faced by the wider public, he said.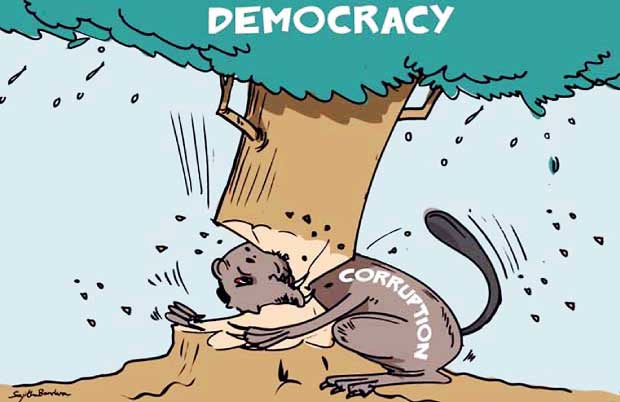 Abusing positions

Corruption is basically abuse of power or position, whatever that position is, to make private gains and benefits. It may be petty corruption or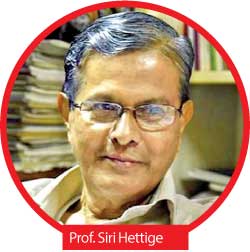 manipulation of the whole financial system. If everybody is trying to use their positions and trying to take something that is not theirs, there would be anarchy, lawlessness and injustice in the country, he opined.
He added that the whole discussion regarding corruption is two dimensional. The first is the legal dimension where emphasis is on the need to enforce the law and strengthen the legal institutions as a remedy. Some see corruption as a moral issue which should be morally condemned by naming and shaming those who are involved in it.
He further remarked that both the above mentioned approaches are limited in terms of their impact. "It is the sad truth that corruption in this country has become endemic and pervasive. It has also penetrated the entire socio-economic, political and cultural systems in the country. No one has been spared, he said. Corruption is present even in religious establishments. There is corruption in the law enforcement sector and the business world. Corruption has made significant inroads in politics, public service and also in academia.
"It is hard to pinpoint a certain group of people as entirely responsible for corruption. When a cancer has spread across your body, you cannot remove one part of the body and save the rest because the damage has already been done to the whole body. People need to understand why it happened in that way, pointed out Prof. Hettige.
He stressed that the authorities should take a rational and scientific approach towards addressing the corruption problem.
Failed leaders

Asked how the previous Governments have failed to take the necessary steps, he replied that none of the leaders has been able to manage public affairs in this country in a rational manner over the past several decades. Politicians have taken the upper hand in all decision making and others have been sidelined. The result has been ad hoc decision making, with no effort been made to develop and implement policies based on scientific evidence.
"The economy in this country has not been managed well. The authorities have just let the economy evolve on its own according to the market forces without any state management. People are forced to do anything to increase their income, in order to cope with growing economic and social pressure caused by poor governance, he said.
Had we adopted a policy of zero tolerance during corruption, like Singapore, we would have arrested this crisis earlier, Prof. Hettige said. "In the early 1970s, there was so much intolerance of corruption on the parts of some of the leaders at that time. But, this situation has changed since the late 1970s.
"The successive Governments in the recent past didn't manage the development sector in a systematic fashion. The country needs strong productive sectors. Otherwise, the country cannot produce basic necessities of the people. For instance, if the agricultural sector isn't strong enough, it isn't going to produce agricultural goods in order to meet the peoples' requirements for food. The same is true with industrial production," he added.
He was of the view that Sri Lanka now has a stagnant agriculture sector and a weak industrial sector
He was of the view that Sri Lanka now has a stagnant agriculture sector and a weak industrial sector. He said that the people have been moving away from these two sectors and are increasingly concentrated in the services. In fact, there are too many people in some services such as transport, retail trade and education.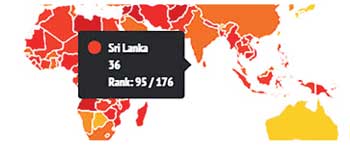 "The financial sector is bloated. Many companies import stuff from other countries without producing anything within the country, he said. But, ironically, they receive awards for their so-called innovativeness.
Speaking on the health sector, he emphasised that coherent public policies based on evidence should be developed and implemented in order to overcome health problems of the country.
When it comes to the transport sector, there are many problems that aren't addressed. The number of vehicles has increased exponentially in recent years calling for continuous expansion of the road network. The Government needs to take bold decisions to solve these problems, he said. In conclusion, it's necessary to emphasise that no amount of moralising is going to help arrest the present trends in corruption, he stated.
"As long as our Governments refuse or fail to adopt sound, long- term measures to solve economic and social issues, more and more people will be tempted to rely on illegitimate ways to achieve their life goals. A clear case in point is transport. As long as public transport continues to be in its present sorry state, more and more people will be forced to earn enough money to buy their own vehicles," he added.