---
On May 15th, the United Nations marks the International Day of Families. In Sri Lanka also the families – recognised worldwide as the nucleus of society -- need to play an effective role in restoring normalcy, inter-religious and inter-racial unity in diversity after the April 21 Easter Sunday massacres.

According to the UN, all over the world families have been transformed greatly over the past decades in terms of their structure and as a result of global trends and demographic changes, the United Nations still recognizes the family as the basic unit of society. The International Day of Families provides an opportunity to promote awareness of issues relating to families and to increase knowledge of the social, economic and demographic processes affecting them. It has inspired a series of awareness-raising events, including national family days. In many countries, this day is an opportunity to highlight different areas of interest and importance to families.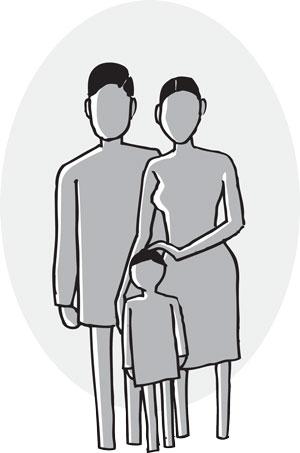 The 2019 Theme is "Families and Climate Action: Focus on SDG 13". This goal targets Improving education, awareness-raising and human and institutional capacity on climate change mitigation, adaptation, impact reduction and early warning. The goal also calls for the integration of climate change measures into national policies, strategies and planning.

The UN says that in the 1980's, it began focusing attention on the issues related to the family. In 1983, based on the recommendations of the Economic and Social Council, the Commission for Social Development in its resolution on the Role of the family in the development process (1983/23) requested the Secretary-General to enhance awareness among decision makers and the people of the problems and needs of the family, as well as effective ways of meeting those needs.

For Sri Lankan families, the UN's 2019 theme is important and they need to get actively or pro-actively involved in the battle against climate change or global warming. World religious leaders have identified this battle as a priority issue, next to poverty alleviation. But in the coming days and weeks, Sri Lankan families need to give priority to active involvement in the moves to restore normalcy after two small ISIS linked terror groups caused a catastrophe when suicide bombers attacked three churches, three five star hotels and two other locations in Colombo.

Public schools have reopened but the attendance is below normal partly because some parents are afraid to send their children while there are also other extremist groups which are trying to persuade parents to refrain from sending their children to school. Government leaders say these extremist groups have some hidden political agendas. Catholic private schools are still closed for security reasons and the Archbishop of Colombo, Malcolm Cardinal Ranjith, told a news conference on Thursday, the Bishops were still studying the situation before reopening Catholic private schools. He said that depending on the security situation, the reopening might be on May 14 or after the Vesak weekend, which would mean May 20. The cardinal was speaking after he and other bishops met President Maithripala Sirisena to discuss the security situation but the prelate declined to divulge details of that meeting. The cardinal, who is playing an inspiring role in maintaining inter- religious and inter-racial peace and harmony also announced that Sunday masses would resume tomorrow. A multi-religious group is nominating him for the Nobel Peace Prize this year.

While children learn much in schools and in their places of worship, their basic formation takes place in the home and family. That is why parents and other elders by example need to teach their children the importance of practicing or living their religious virtues and values. These include love, mercy, compassion and forgiveness in a spirit of meekness and humility while having the grace to share with others and care for them. They also need to learn to serve others selflessly, sincerely and sacrificially. While doing this, we need to respect the faith and beliefs of others. If tens of thousands of families train their children to do this, the April 21 catastrophe could turn in to a blessing and we could see the emergence of a beautiful new Sri Lanka where all things are new.