---
Social media busy-bodies have again begun their dastardly deeds of maligning the COVID-19 infected workers at the Brandix Garment Factory in Minuwangoda. Similar incidents were reported in the wake of SriLankan airlines crew volunteering to airlift Sri Lankans stranded in the Middle-East and the Welisara Navy personnel, who contracted the virus in the line of duty while rounding up infected drug addicts at Ja-ela. In the case of the Brandix cluster, the source of the infection has still not been identified and more alarming is the news that there had been 33 others who had shown symptoms of the disease prior to the detection of the 39-year-old garment factory supervisor. A news item published in the Daily Mirror quotes Army Commander Shavendra Silva, who is also the Head of National Operation Centre for the Prevention of a COVID-19 Outbreak (NOCPCO), as saying these employees could have contracted the disease sometime between the 10th and 20th of
last month.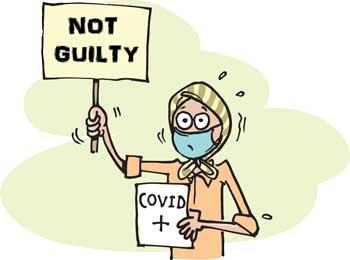 Reverting to the main focus of our column today; we have time and again underscored the fact that this deadly virus is no respecter of persons, whatever caste, creed or community they might belong to and that is the reason why we need to realise that none of us is safe from the relentless onslaught of this deadly virus and unethical, unscrupulous individuals stigmatizing someone who has fallen victim, whether on social media or on some other online media websites, is unacceptable and needs to be roundly condemned.

That said, we draw attention to the pathetic tale featured in the Daily Mirror last Wednesday of the garment factory employee and her family suffering, even more than from the diseases by the barbs hurled at them by those in the neighbourhood while also having to endure a vicious mud-slinging campaign on social media.

Her husband says they live in a rented house at Bomugammana in Horagasmulla and that their future appears to be one of gloom and despair.

"We learned that some workers in the company were spreading false news on social media. This situation arose after my wife was initially detected as a COVID-19 patient," the husband has said. "But now I, my wife and our children are in a situation where we feel like committing suicide. We are even unsure if we will be allowed to live in our rented house when we get back. Social media has ruined our lives. We ask the authorities to safeguard innocent people from such a plight. We cannot face society now. We feel helpless. Society regards us as if we are the cause of the disease."

Against such a background, our contention is not that social media sites be silenced, but that they be used as a tool to alert, inform and educate people on the negatives and positives of important political, social or economic matters instead of using it as a weapon to spread misinformation and rumours in an effort to insult and vilify those who have been trapped in a situation beyond their control.

Meanwhile, Health Ministry Spokesman Dr. Jayaruwan Bandara has warned that the disease is spreading rapidly resulting in COVID-19 infected persons being detected from 21 districts, while Lieut. Gen. Silva says the upcoming week is crucial and patients detected from 16 districts and the Government Medical Officers Association (GMOA) warning that Sri Lanka may be experiencing a community spread on the basis of the multiple clusters emerging from several areas in the country.

Despite the foregoing, Health Minister Pavithra Wanniarachchi continues to maintain that the latest outbreak can in no way be described as a community transmission of the virus. But no matter how this phase of the infection is being described, or not described, there is no gainsaying the fact that the situation is taking a serious turn, and on our part we need to strictly adhere to the prescribed health guidelines, so that at least to some extent we could prevent ourselves and others from falling prey to the viral infection.

Amid reports from the health sector and the security forces that the disease is making rapid inroads in the country and the State Minister of transport warning private bus operators to carry only seated passengers, buses are often seen packed to capacity, making them a potential breeding site should there be even a single infected patient among the commuters. It is sad that Sri Lanka is vastly lacking where social responsibilities are concerned. Whether the COVID-19 blitz will change this mindset and nurture or foster concern for each other is left to be seen.