---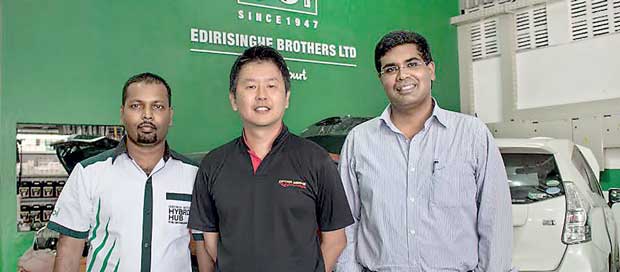 From left: Edirisinghe Brothers Hybrid Hub Operations Manager G. Prakash Kumar, Optima Werkz Singapore Operations Manager Rick Lew and Edirisinghe Brothers Hybrid Hub Co-Chief Operating Officer Sanka Edirisinghe
By Zahara Zuhair
Edirisinghe Brothers' Hybrid Hub, which was introduced last year, is known to be the first and only purpose-built facility for hybrid and electrical vehicles (HEV) in Sri Lanka.It provides services such as hybrid battery testing, conditioning, rebuilding, etc. Automative Research and Design (AR&D) USA via its franchisor for Asia Pacific-Growth Dynamics (Singapore) and Optima Werkz (Singapore) are the training and supporting partners for this venture.To learn more about their businesses, Mirror Business recently spoke to Edirisinghe Brothers Hybrid Hub Co-Chief Operating Officer Sanka Edirisinghe and Singapore Optima Werkz (Pvt.) Ltd Operations Manager Rick Lew, who was on a brief visit to Sri Lanka. Below are the excerpts.
Could you provide a brief introduction to Hybrid Hub and the services it provides?
Our roots in the automotive engineering industry spans 70 years as Edirisinghe Brothers (Pvt.) Ltd (EBL) was established way back in 1947. The company, more popularly known as 'Auto Court', offers a variety of services ranging from crankshaft grinding, cylinder boring, valve seating and fuel injector pump services, diesel and petrol engine overhauls and more.

Having operated in this space for such a long time, we realized that though there are hundreds of facilities to solve the problems related to conventional automobiles, the owners of hybrid vehicles had no proper facility to solve vehicular issues.

In August 2016, we took a bold step, by venturing into a completely new area of business, by introducing the Edirisinghe Brothers' Hybrid Hub, a facility dedicated to providing diagnostic services, maintenance services, and repairs of hybrid vehicles in Sri Lanka.

In terms of the services we provide, firstly, it is important to understand that the operation of a hybrid vehicle is very different to a normal petrol or diesel vehicle – this helps understand our unique offering.

There are five main components which manage the operations of a hybrid vehicle.
We have the technology and tools, specifically designed to:
a) diagnose any issues which may arise with each of these components,
b) service the key components of the hybrid vehicles,
c) repair and maintain these components.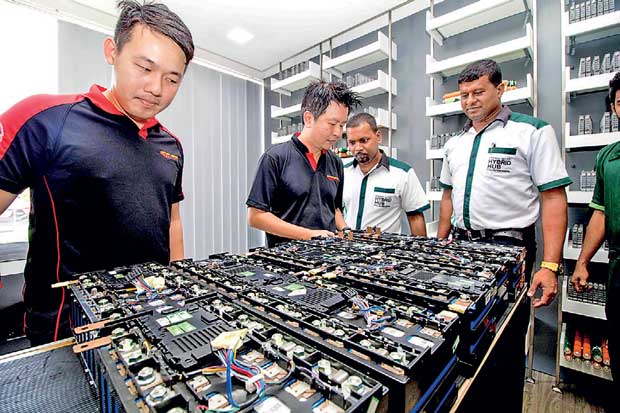 Being the only facility specifically built to diagnose, service and maintain hybrid vehicles, we have the tools, equipment and technical knowledge to cater to this sort of operation.

At the core of Hybrid Hub is our expertise in the battery testing, conditioning and rebuilding and the maintenance of the critical hybrid components. Our proprietary technology from USA can revive your battery to back up to 95 percent of its original power and capacity.

The Hybrid-Grade Maintenance Service is another element of our offering, which we recommend at an interval of every 5,000 kilometres.

Our State-of-Health Check is focused on examining those critical components and providing you with enough information to plan for any short, medium or long-term issues that may crop up.
We are also equipped to handle any mechanical and electrical repairs on a hybrid vehicle. There has been quite a demand for this area of expertise, since we launched
last year.

Apart from this, we have a 'knowledge-sharing' programme, with our franchise partners from the USA and Singapore, which means that the team is continuously updated, in terms of the technical and operational knowledge.

In other words, at Hybrid Hub, we are a 'hub' for hybrid vehicle repairs, maintenance and services in Sri Lanka – capable of offering solutions for almost any problem that a hybrid owner might encounter.

How has been the journey of Hybrid Hub so far since its inception last year?
Well, we have been in operation just over eight months now. We have seen a big growth in terms of the volume of hybrid vehicles our facility has handled.

We are continuously learning and understanding the market requirements in order to serve our customers better. We like to spend a lot of time with our customers in understanding their hybrid vehicle and any issues they are encountering.

We have built a loyal customer base during these last eight months that believes in us – our capability. That base has been growing consistently, fuelled by testimonials being offered by our customers. Some people review our Facebook page and the comments provided by our customers and then decide to try us out. Others follow the direct recommendations of our customer base.
We have met a lot of frustrated customers who came in with many doubts and they have turned out to be our biggest ambassadors. Their reviews and feedback speak for themselves.

It's been an absolute pleasure and privilege to be given the opportunity to make a difference in the lives of our customers and to offer something absolutely unique in Sri Lanka.

Singapore Optima Werkz (Pvt.) Ltd Operations Manager Rick Lew was here for our launch last year and when he visited Hybrid Hub this time, even he was pleasantly surprised at the big difference with the number of vehicles we handle at this facility.

As I said earlier, our offering is unique and now that more and more customers are experiencing Hybrid Hub, we see a lot of them sharing their stories with their friends and family and recommending us.

We couldn't ask for anything better.
What are the factors a hybrid owner should be aware of when it comes to maintenance?
The first thing that they need to realize is that when it comes to a hybrid vehicle, the maintenance aspect of it is very different to a normal petrol or diesel vehicle.

There are certain elements that need to be checked and maintained at regular intervals and for this, specialized tools are needed and more importantly, the expertise of knowing "what to look for" is also required.

It is important that all hybrid owners understand this difference and are more careful about who handles their vehicle.

At a basic level, we recommend that ideally, a Hybrid-Grade Maintenance Service is done periodically at every 5,000 kilometres and a State-of-Health Check is done at every 40,000 kilometres.

We have a dedicated hotline at 077 4 777 999 but can also be reached through our Facebook page or through our website for any assistance or clarifications.

The number of hybrid and electrical vehicles (HEV) are expected to increase in the coming years. What are your plans to cater to that demand?
Currently, we manage all our business out of our central facility located on Khettarama Temple Road, Colombo 10. We still have capacity to cater to more customers at our current location.

Our operational and service delivery process is planned meticulously and there are strict procedures in place for reviewing customer feedback, etc. This attention to detail is in place across all our areas of work, including the plans for expansion.

We will monitor the trends and as the market continues to grow, there will definitely be an increased demand for our services and we will cater to that demand methodically.

According to you what are the opportunities and challenges in this industry?
Just like you said, with the number of HEVs expected to increase in the years to come, it provides us with an opportunity to grow even further in the market.

The technology used in a hybrid vehicle is constantly evolving and there is a need to stay 'one step ahead of the game' and we are fortunate to have a very active 'knowledge-sharing' programme with our franchise partners from the USA and Singapore. This provides us with an 'edge' in terms of our competition.

Customers need to be educated and updated in terms of how they can ensure their vehicles are taken care of correctly, saving you from a bigger repair and a bigger bill.

Moving ahead, the main challenge will be to make customers understand the need to have knowledgeable specialists, using customized technology and having the correct tools to handle the hybrid systems.

Why do people shift towards hybrid vehicles nowadays?
In Sri Lanka, there are 100,000+ registered hybrid vehicles at the moment, while Singapore has only around 20,000 - that fact just shows you how much the vehicle market has shifted towards HEVs.
In my opinion, this shift has happened mainly due to the money - hybrid vehicles are much cheaper than their petrol/diesel counterpart, due to the tax rebates offered by the government.

Another reason maybe the medium-term savings, due to the fuel economy of HEVs. Since the introduction of Hybrid Hub, people have also realized that repairs to HEVs are also more economical – as opposed to what was offered prior.

People are also more aware of the environmental impacts of today and prefer to choose a hybrid in terms of doing their part. It is the future.

What are the training standards you follow?
When we launched in August 2016, it was 12 months since the partnership was signed with our partners from the USA and Singapore. During this time period, prior to launch, our team went through a comprehensive training programme in Singapore, as well as the partners coming down to Hybrid Hub for further training during the launch period.

Training is a critical element for us in our industry of ever-evolving technology that goes in to an HEV. So this is something that is given top priority.

Our sessions with the inventor of this technology, Dr. Mark Quarto, has been invaluable. This is an ongoing effort where our team is constantly in touch with both partners in terms of knowledge sharing.

Training programmes are planned throughout the year to ensure that our team is on top of the latest technology and know-how in terms of delivering the best to our customers.

Locally, we are the only facility that has such a support structure from the USA and Singapore along with the backing of our 70-year heritage of automotive engineering excellence from Edirisinghe Brothers (Pvt.) Ltd, Auto Court.
Could you tell us about your partnership with Hybrid Hub?
Optima Werkz Singapore is the franchise partner for Hybrid Hub. This was a partnership that was established in September 2015, prior to the launch of this facility in August 2016.

Our role in this partnership is to share knowledge and training, provide technical/diagnostics support and provide new tools and techniques to help with the servicing, maintaining, diagnosing and repairing of hybrid vehicles in Sri Lanka.

In turn, we learn from the team at Hybrid Hub as well. As Sanka said earlier, there are not too many hybrid vehicles in Singapore. As much as we share our knowledge with the team at Hybrid Hub, there are a lot of things that we take out of the training sessions too. It's more of like a 'cross-learning' platform.

The HEV technology is always evolving – and therefore, this cross-learning platform is essential to both teams.

The reason we decided to partner with Edirisinghe Brothers' Hybrid Hub is twofold.

Firstly, the hybrid vehicle market is constantly growing not only in Sri Lanka but the world over and we believe it is the way of the future, being that it is environmentally friendly and provides numerous benefits to the end user.

Secondly, with Edirisinghe Brothers Limited's 70-year heritage of automotive engineering excellence in Sri Lanka, it only made sense partnering up with them.

Eight months down the road since the launch, we now know that we made the right choice.
Seeing the overall results, talking to customers and experiencing so many positive interactions have been amazing for us.

What are the opportunities you see in the coming years with Hybrid Hub?
One point that Sanka touched on was the growth of the hybrid vehicle market in Sri Lanka, therefore in the coming years we see Hybrid Hub expanding this current facility or even opening up new facilities around the island.

We are also working on expanding operations into the servicing and repairs of all types of Continental vehicles, BMW, Mercedes-Benz and more.

Given the volume and diversity of hybrid vehicles in Sri Lanka, we are sure that we will gain much more in terms of learning from the team at Hybrid Hub, in the coming years that we can take back to Singapore also.

What are your thoughts on the automobile industry of Sri Lanka?
By the looks of it, there is a good portion of vehicles that are hybrids. Hybrid Hub has definitely made the right choice in investing into this market as this seems to be a constantly growing one.
The automobile industry in general seems to be evolving in Sri Lanka as well. I believe you can expect to see more continental cars and luxury vehicles being imported into Sri Lanka in the not too distant future making the market a good one for diagnostics, servicing and repairs of these vehicles as well.