---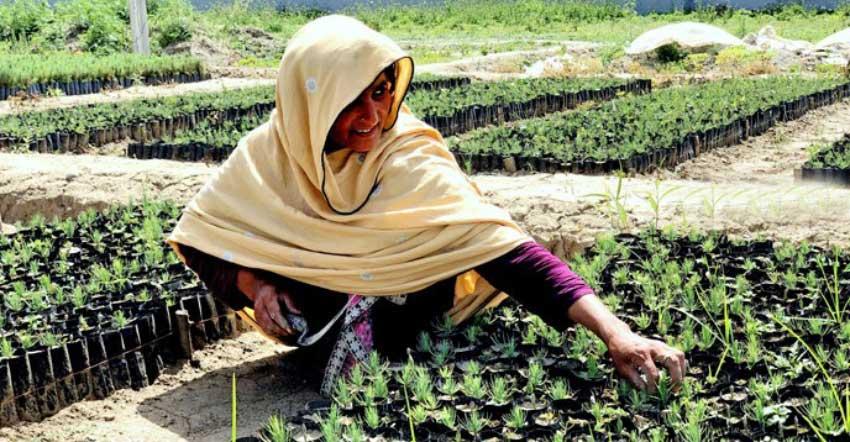 Work in the nursery helps the women of Khyber Pakhtunkhwa, Pakistan, fight against both global warming and poverty. photo courtesy- Zofeen T. Ebrahim
This year's theme is "Ecosystem Restoration", which will lead to the launch of the UN Decade (2021-2030) on Ecosystem Restoration as proposed by over 70 countries from all around the world. This action invites 7.6 billion people in the world, including 21.8 million in Sri Lanka to rally against the degradation of ecosystems and restore them for the benefit of people and nature

Dept. of Geography, University of Colombo
World Environment Day (WED) is one of the most widely celebrated global days that inspires the general public towards being environmentally conscious. Hence, the United Nations (UN) seeks to focus the world's attention on the environment and organises positive environmental action programmes and initiatives on the 5th of June every year, by employing various initiatives in collaboration with the private and public sectors of the countries worldwide. The physical participation/public gathering for any events; such as awareness programmes, public meetings, rallies seminars, symposia and Shramadana programmes (recycling), and clean-up in terms of educating the general public on the importance of the relationship with the environment, etc. are restricted this time, considering the COVID-19-pandemic situation, however possible initiatives have already been organised on digital platforms to instill patriotism towards the environment and to establish an eco-friendly generation. The preliminary aim of the above is to provoke the people to join hands for a cleaner, greener, and brighter outlook of our nature.

WED was declared officially by the UN in 1972 at the Stockholm Conference on "Human Environment". Since then, the UN General Assembly declared different themes to mark the WED and the first (1973) theme was, "Only one earth". UN also extends a great effort to absorb worldwide political attention and execute measures to make the world, a better place for human beings to live. The importance of this has been further endorsed by section-10 of the Rio Declaration (1992). Accordingly, this year's theme is "Ecosystem Restoration", which will lead to the launch of the UN Decade (2021-2030) on Ecosystem Restoration as proposed by over 70 countries from all around the world. This action invites 7.6 billion people in the world, including 21.8 million in Sri Lanka to rally against the degradation of ecosystems and restore them for the benefit of people and nature. It provides the message that every person on this earth has an implied responsibility and collective effort to utilize limited resources in this nature for multifarious purposes with more care, understating the fact that every activity of a person will directly impact Mother Nature both positively or negatively. However, every state in the world utilize and renew the ecosystem in the context of development and economic benefit without paying more attention to nature. Continous process in this nature shall lead to natural devastation and destruction which will negatively impact the environment and people's livelihoods pattern, which has no money value. Therefore, it is important to maintain a healthy ecosystem in its territory to enhance people's livelihoods, counteract climate change and stop the collapse of biodiversity to maintain sustainability. I believe that this year's WED will build a strong global movement towards a common goal of "restoration ecosystem" for a better sustainable future.

What is an Ecosystem?
An ecosystem is a community or group of living organisms that live in and interact with each other in a specific environment. For an example-forests cover in Sri Lanka is an ecosystem made up of living beings; such as trees, plants, animals, insects, and micro-organisms that are in constant interaction between themselves and that could be affected by other physical or chemical components, such as Sun, Moon, gases, etc. The entire ecosystem was made up of two major components viz. Biotope (abiotic) biocenosis (biotic). A particular physical environment with specific physical characteristic; such as the climate, temperature, humidity, concentration of nutrients or pH value is referred to Biotope component and a set of living organisms; such as animals, plants or micro-organisms, that are having interaction and interdependence could be categorized under biocenosis components. Hence, all components of the ecosystem have an identical cycle a evolving and constant transformation process to maintain natural balance and environmental stability.

Relationship between human and ecosystem
Human beings are one element of the biocenosis component of the ecosystem. Humans utilize, modify, renew and transform the ecosystem for development in an endless manner in terms of economic benefits. On the hand, continues process in this nature leads to unanticipated and sudden changes in Biotope component, which will negatively impact on the ecosystem. Accordingly, human (anthropological) activities and natural processes have majorly caused changes in the ecosystem, which we can see in Sri Lanka too. For example, human/elephant conflict in Sri Lanka: humans utilize forest resources, where elephants live and now elephants encroach to the nearest villages searching for food. Wilpaththu forest cover has been utilised for construction purposes without caring about its ecological value and provided various reasons for deforestation in that area. For instance, transforming this forest land to build housing or hotel will have specific costs (buying the land, construction materials, manpower, etc) and the revenue can be predicted via estimation of occupancy rate, sales proceeds, etc. But, how they are going to value forest resources that have been depleted and their benefits to nature and value to the environment? I would like to say, if humans do not stop this radical change in the ecosystem, every citizen of Sri Lanka-whether they are good or bad, nature lovers or not, rich and poor- will definitely face serious consequences of Mother Nature, which could not be quantified in terms of money value. To re-establish this situation, the public's tax money over the money value that was earned out of said contraction projects would be spent, together with the penalties thousands of human lives, which could not be valued in terms of money.

Past occurrences
In the Global Climate Risk Index 2019, Sri Lanka was ranked 30 out of 180 countries in 2019 and was ranked 23 out of 180 countries in terms of overall performance over the period 2000 – 2019. While the country has moved out of the '10 most affected countries' category in the index, climate change-related vulnerabilities still persist with far-reaching impact, as seen in the case of both droughts and floods in Sri Lanka (CBSL, Annual Report, 2020). We experienced multifarious tragedies from 2016 onwards, during the period of the second quarter of every year.
2016: During the period of 14th -20th May 2016, a low-pressure area over the Bay of Bengal caused torrential rain to fall across Sri Lanka, causing floods and landslides, which affected half a million people, 101 deaths and 100 missing.

2017: Sri Lanka floods resulted from a heavy southwest monsoon and the subsequent arrival of the precursor system to Cyclone Mora during the latter part of May-2017, resulted in landslides throughout the island, affected 15 districts, killed at least 208 people and left a further 78 people missing. As of 3 June 2017, 698,289 people were affected, while 11,056 houses were partially damaged, 157,177 families were displaced and another 2,093 houses were completely destroyed. It is pertinent to state that the Meethotamulla Garbage Mountain which collapsed on the 14th of April, 2017, causing approximately 40 deaths, engulfing 130 houses and 1,100 families during the same period.

2018: Sri Lanka's floods and landslides caused from an annual heavy southwest monsoon beginning around 19 May 2018 affected about 19 districts, killed at least 21 people and 23 people missing.

2019: The Floods and landslides in Sri Lanka, which were caused by heavy torrential rainfalls during September 2019. As of 26 September 2019; the monsoon floods affected 116,000 people in about 13 districts, killing at least 2 persons and injuring 6 people.

2020: Drought in March and flooding in December were experienced in Sri Lanka. The Disaster Management Centre reported that over 312,000 people have been affected across the 14 districts in 8 provinces, due to the drought during the second quarter of 2020.

During the last quarter of 2020, the Department of Meteorology has reported a maximum rainfall up to 279.8 millimeters in the Northern Province, particularly in Jaffna and Kilinochchi districts. According to the Disaster Management Centre (DMC), 111,659 people (33,316 families) have been affected across 14 districts, damaging 106 houses fully, 3,783 partially and 232 families were located in the 15 evacuation centers.

2021: This year too heavy rain (336 mm in the Western Province) with "Tauktae" cyclone, caused flooding and landslides in the Western, Central and Southern Province of Sri Lanka after 12th of May 2021, affecting 44,153 people (11,250 families), 618 houses and 5 deaths. Further, 377 families (1,658 people) were moved to 29 evacuation centers.

2022: Are we ready for 2022? What is the contingency plan for mitigating possible risks? Responsible authorities are requested to have a contingency plan for 2022, based on the past experiences.

Moreover, the Colombo metropolitan/city is occupied with more than 1,000,000 people in a total land area of 37.3 km2, which is about 5.4% of the Colombo district. Population density is nearly 18,000 persons/ km2 (Census Department, 2014). The daily floating population is over 500,000 persons (Colombo MC, 2012). Approximately 95% of their domestic waste generated in 47 municipal wards has been discharged to the waste stream, out of which 800-850 MT is collected daily by Municipal Authorities. The remaining waste exposed to the environment in any form, which may subsequently end up in the existing drainage system of the area. By the way, the COVID-19 pandemic situation which commenced during the 1st quarter of 2020 and the country is still struggling to manage the situation, which carries unmeasurable loss to the country's economy in the form of direct and opportunity cost. Can we expect the Government to allocate funds for special ecosystem restoration projects? I appeal to establish an "ecosystem restoration fund" to support special projects setting a target for 2030.

Ecosystem Restoration
All living organisms, including humans, are dependent on the natural ecosystem. All needs and wants of them are supplied by the ecosystem without any interruption. Hence, in order to maintain our living standards at a required level, it is very important that we should preserve our natural ecosystems to fulfill our daily needs and the needs of the future generation. Accordingly, ecosystem restoration means assisting in the recovery of ecosystems that have been degraded or destroyed, as well as conserving the ecosystems that are still intact. Healthier ecosystems, with richer biodiversity, yield greater benefits, such as more fertile soils; bigger yields of timber and fish, and larger stores of greenhouse gases. All kinds of ecosystems can be restored, including forests, farmlands, cities, wetlands and oceans. Restoration initiatives can be launched by almost anyone, from governments and any other stakeholders. Restoration can happen in many ways – for example through actively planting or by removing pressures so that nature can recover on its own. It is not always possible or desirable to return an ecosystem to its original state. We still need farmland and infrastructure on land that was once forest, for instance, and ecosystems, like societies, need to adapt to a changing climate (https://www.worldenvironmentday.global).

Conclusion
Beautiful resources of Sri Lanka have been degraded due to multiple human activities such as deforestation, usage of chemicals for agriculture, solid waste disposal, emission of gases to the environment, marine and inland water pollution, etc. In this context, WED provides two major messages in terms of restoration, which are recovery/restoration of ecosystems that have been already degraded or destroyed and conserving the ecosystems at the existing level without allowing their further destruction. Ecosystem restoration is possible in maintaining and restoring a cleaner and greener environment via implementing a green and blue concept with the participation of all stake holders and behavioural changes of the general public using the media as a tool.

The writer is a Senior Lecturer at the Department of Geography of the University of Colombo.