---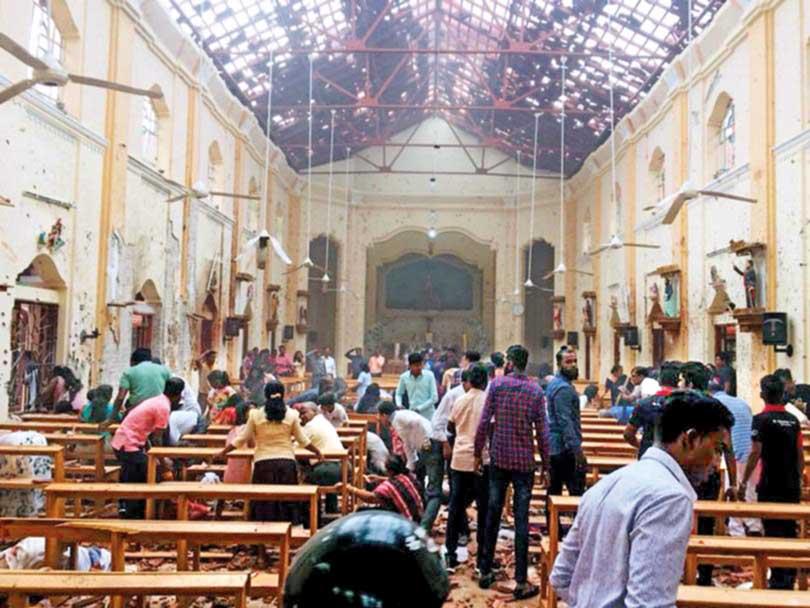 We in the Daily Mirror roundly condemn in the strongest possible terms, the bomb attacks on three churches – St. Anthony's Church at Kochchikade in Colombo, St. Sebastian's Church at Katuwapitiya in Negombo and Zion Church in Baticaloa and the three hotels – Kingsbury, Shangri-la and Cinnamon Grand in the heart of Colombo.
The mindless and gruesome terror attacks on Easter Sunday killed more than 350 worshippers and hotel guests and wounded nearly 500. Among those killed, in this first-ever dastardly terror attack in post-war Sri Lanka, were some 35 foreigners and according to UNICEF Spokesman Christophe Boulierac at least 45 children.
We in the Daily Mirror offer our deepest condolences to the families and loved ones of those killed and wish a quick recovery to all those injured.
As a responsible newspaper we refrained to speculate as to who might have been behind these well-orchestrated and coordinated explosions, which shook and shocked the entire country, but provided the space to the law enforcement agencies and the intelligence services to carry out their investigations unhindered so that they could unravel the identities of the killers and their agents controlling them. Since then the tragedy has taken a new turn and twist with the Islamic State claiming responsibility for the attacks. The group's news agency, Amaq, released a bulletin on Tuesday claiming that the attacks had been carried out by "Islamic State fighters." It said the bombings had been intended to target Christians, as well as citizens of countries belonging to the coalition fighting the Islamic State, also known as ISIS
Police spokesman Ruwan Gunasekera said the investigations would examine reports that the intelligence agencies had allegedly failed to detect or warn of possible suicide attacks. The police curfew that was re-imposed at 9.00 p.m. on Tuesday was lifted on Wednesday at 4.00 a.m. though the streets in Colombo were largely deserted with most shops closed and a heavy deployment of soldiers and police personnel while some 40 suspects including a Syrian were detained for questioning by the CID.
Two more blasts occurred later on Sunday – one rocked a hotel opposite the Dehiwala Zoo while the final blast struck a private house in Mahawila Gardens, in Dematagoda klling a sub-inspector and two constables who were carrying out investigations into the bomb attacks.
Meanwhile, Sunday's attacks had also drawn international condemnation. Among those who expressed solidarity and condolences were Pope Francis, the United Nations, the European Union, US President Donald Trump, former US President Barack Obama, Russian President Vladimir Putin, Israeli Prime Minister Benjamin Netanyahu, German Chancellor Angela Merkel, Indian Premier Narendra Modi and Pakistani Prime Minister Imran Khan.
There is no gainsaying the fact that at times such as this it is paramount that we remain united and calm while making sure that we do not fall prey to rabble-rousers and do not allow ourselves to be used as their tools and instruments to spread rumours or speculative news especially on social media websites that could result in creating panic and fear among the people but instead cooperate with the law enforcement agencies and the relavant government authorities to carry out their investigations speedily and meticulously and help them maintain the peace, unity and the harmony that prevailed in this multi-ethnic, multiracial and multi-religious country of ours.
Participating in the special debate in Parliament on the Easter Sunday tragedy, State Minister for Defence Ruwan Wijewardena said the attack was believed to have been carried out by the terror group known as the National Thowheed Jama'ath and that preliminary investigations had revealed the attacks were in retaliation to the massacre at two mosques at Christchurch in New Zealand where some 50 were killed and 50 injured.
At traumatic times such as this when our Motherland is caught up in a cauldron of turmoil it is all too common to find various elements with vested interests clad in garments of pseudo-patriotism attempting to score political points to serve their hidden agendas. Let us be alert that we do not fall into the insidious traps laid out by them to catch the unwary and plunge the country into further chaos and confusion.
At these difficult times let us go out of our way to be channels of peace, solace and succour.