---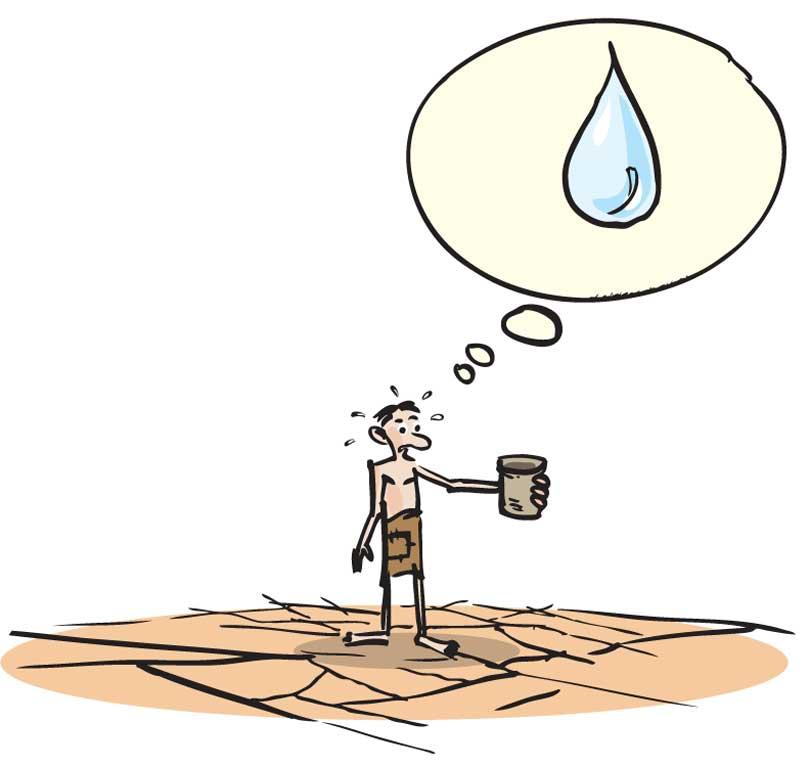 One of the year's most important days, the United Nations World Water day will be marked all over the world on Friday with this year's theme being, 'Leaving no one behind'- water for all. It may be somewhat of a cliché to say that little drops of water make the mighty oceans and great rivers. But in this era when the world is known to be running short of safe water supplies and there is a danger of the super powers going to war for control of safe water supplies just as they went to war for control of oil supplies, it is important for us as eco-friendly citizens to do what we can to save safe water. We could also take collective steps in our neighbourhoods, communities, places of worship, work places and other areas.

For instance in Sri Lanka, if we are using about 30 litres a day, and if each of us could cut it down to about 20, then we would be saving 210 million litres of water a day and when it goes on for weeks, months and years, indeed it would be a mighty ocean and the cliché would become a living reality.

According to the UN, today, billions of people are still living without safe water – their households, schools, workplaces, farms and factories struggling to survive and thrive. Marginalized groups – women, children, refugees, indigenous peoples, disabled people and many others – are often overlooked, and sometimes face discrimination, as they try to access and manage the safe water they need.

What does safe water mean? The UN says Safe water is shorthand for a safely managed drinking water service: water that is accessible on the premises, available when needed and free from contamination.

The UN says some 2.1 billion people live without such safe water at home, one in four primary schools has no drinking water service, with pupils using unprotected sources or going thirsty. If we have a conscience and care for others, we need to be shocked to know that more than 700 children under five years of age die every day from diarrhoea linked to unsafe water and poor sanitation.A spiritual leader has said those who cause harm to little children should be thrown into the deepest ocean with millstones round their necks. So what happens to those including most of us who have some responsibility for the deaths of more than seven hundred children a day due to lack of safe water.

Globally, 80% of the people who have to use unsafe and unprotected water sources live in rural areas. Women and girls are responsible for water collection in eight out of ten households with water off-premises. This happens in Sri Lanka also. Social justice activists who went to some areas of Kayts recently reported that most houses did not have safe drinking water or proper toilet facilities. Often even young girls had to go a long way to find toilet facilities with some of them being near military camps. While most of us are complaining of and struggling because of the intense heat here we need to be aware of the agony that millions of people go through in some war affected areas.

The UN says that worldwide, for the 68.5 million people who have been forced to flee their homes, accessing safe water services is highly problematic. Around 159 million people collect their drinking water from surface water, such as ponds and streams. Around 4 billion people – nearly two-thirds of the world's population – experience severe water scarcity during at least one month of the year. More than 800 women die every day from complications in pregnancy and childbirth. Some 700 million people worldwide could be displaced by intense water scarcity by 2030.

In 2010, the UN recognized "the right to safe and clean drinking water and sanitation as a human right that is essential for the full enjoyment of life and all human rights." The human right to water entitles everyone, without discrimination, to sufficient, safe, acceptable, physically accessible and affordable water for personal and domestic use. This includes water for drinking, personal sanitation, washing of clothes, food preparation, and personal and household hygiene.

How could we save safe water. Do not open taps fully when washing hands or utensils. When washing food items, collect the water in a pan and use it to water the plants instead of using safe water. We could cut down our shower bath times from 15 to 10 minutes. Enterprising people could even go for rainwater harvesting as an act of water-tight patriotism in contrast to the behaviour of the pseudo patriots who are mainly in the party political fronts.