---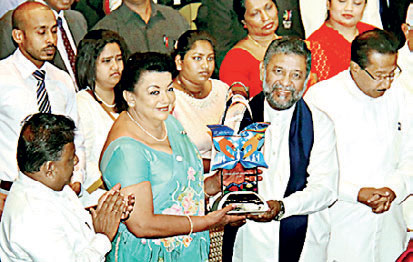 The first copy of a Crafts Map Of Sri Lanka was presented to President Mahinda Rajapaksa by Buddhi Keerthisena, Chairman of the National Crafts Council of Sri Lanka in the presence of Minister of Traditional Industries and Small Enterprise Development, Douglas Devananda, and Y.K. Sinha, High Commissioner of India to Sri Lanka, at a ceremony held at Temple Trees on Thursday (18). The National Crafts Council had published the crafts map of Sri Lanka with the assistance of the India Sri Lanka Foundation Institute under the guidance of Dastkari Haat Samithi, New Delhi.

The map highlights unique Sri Lankan handicrafts and features tools, techniques, and indigenous raw materials used in days gone by. The handicrafts featured in the map were produced mainly in the homes of the handcrafters or at craft centres in rural areas of the country. The compilation of this map was expected to promote the crafts that were unique to Sri Lanka by identifying them and giving them visibility. The Government of India is also funding the building of a handicrafts village in Hambantota and one in Jaffna.

The India - Sri Lanka Foundation, which supported the publication of the Crafts Map of Sri Lanka, was established by a Memorandum of Understanding between the Governments of India and Sri Lanka in 1998 in order to foster India - Sri Lanka relations through the enhancement of economic, scientific, technical and cultural cooperation and to promote greater understanding between the people of the two countries. Mr. Y.K. Sinha, the High Commissioner of India to Sri Lanka, and Prof. Sudharshan Seneviratne, High Commissioner of Sri Lanka to India, were appointed Co-Chairpersons of the Foundation.