---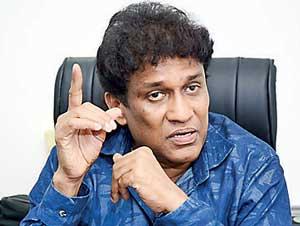 By Ranjith Rajapakse
Leader of the Tamil Progressive Alliance and Colombo District Parliamentarian Mano Ganesan said the Tamil Progressive Alliance was the fourth strongest political party in the ninth parliament.

Addressing a ceremony in Hatton to welcome him and Nuwara Eliya district Parliamentarians Palani Digambaran, V. Rasharisnan, M.Udayakumara, Kandy District Parliamentarian, S.Velukumar and Badulla district Parliamentarian he said the Tamil Progressive Alliance which contested the recent general election as a constituent party of the Samagi Jana Balavegaya had polled more than 330,000 preferential votes.
He pointed out that all six members who represented his party in the eighth parliament had been elected to the ninth parliament.

"Several former MPs of other political parties have been defeated at the general election while his party secured the re-election of all its former parliamentarians. It augurs well for the forward march of his party that would score a triumph at the upcoming Provincial Council Elections to win the rights" He further said.

The parliamentarian were accorded a warm welcome at the Malliappuwa junction in Hatton and conducted in procession to Hatton town.
All six members who represented his party in the eighth parliament had been elected to the ninth parliament