---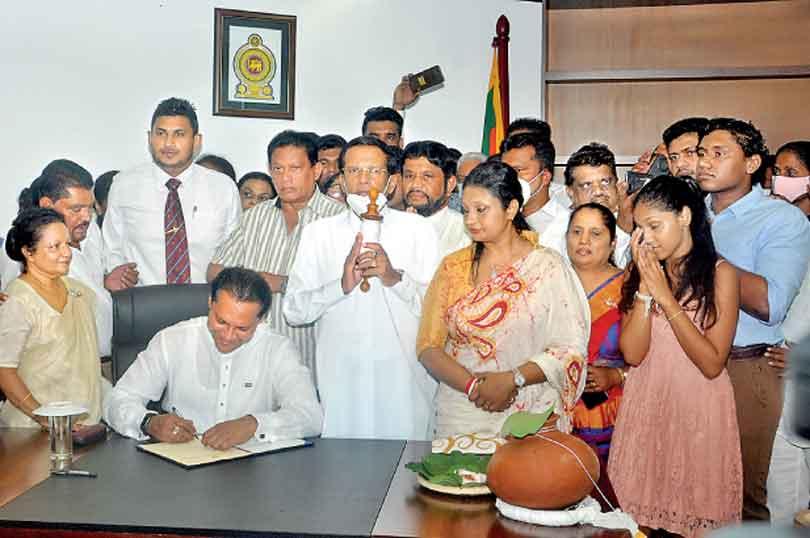 Pics by Nisal Baduge.
By Sandun A Jayasekera
The importation of fabric, garment and apparel will be stopped and the segments of textile, batik and hand loom will be made major industries in the country through value addition and introduction of modern technology, Batik, Handloom and Domestic Apparel Production State Minister Dayasiri Jayasekara said yesterday.

Minister Jayasekara said he was satisfied with the portfolio granted to him by President Gotabaya Rajapaksa and he would do his best to achieve what the President Rajapaksa expected from him by entrusting him to develop one of the most important industries in the country that had been neglected for years.

Minister Jayasekara assumed office yesterday at the World Trade Centre amidst the chanting of 'Seth Pirith' followed by religious observances of other faiths.

Minister Jayasekara told the media at the ceremony that the fabric needed for uniforms of tri-forces, the Police, health sector employees and school uniforms will be produced locally from this year onwards and his ministry would provide the necessary logistical and financial support to local industrialists to produce fabric required to meet the demand. They will also be permitted to import raw material not available in Sri Lanka.

"The batik industry will be developed on par with that of Indonesia, Malaysia and Thailand and be made one of the major money spinner from the tourist industry,' it is said.
The first ever top level meeting to develop the batik industry was scheduled to be held last afternoon chaired by President Rajapaksa with the participation of the State Minister and top batik producers.

"The economy of the country is in tatters as foreign remittances, exports, tourist industry, garment and apparel exports have dropped to the lowest level ever. Our foreign reserves also have dwindled sharply as a result. The government expects to rekindle the economy by developing local industries. Development of garment and apparel, batik, fabric and textile industries will be one of the major steps taken in this regard that will come under my ministry," Minister Jayasekara stressed.

Former President and SLFP leader Maithripala Sirisena, Industries Minister Wimal Weerawansa, State Ministers Duminda Dissanayaka and Lasantha Alagiyawanna were among those present at the ceremony held to congratulate Minister Jayasekara.