---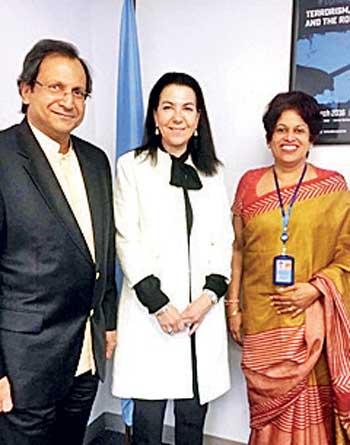 The Counter-Terrorism Committee Executive Directorate (CTED) of the UN said it was developing a framework for cooperation with Sri Lanka to assist the country to be compliant with international counter terrorism obligations on returning foreign terrorist fighters. Michéle Coninsx, Assistant-Secretary-General (ASG) and Executive Director of CTED expressed these views when she met Foreign Affairs Secretary Ravinatha Aryasinha on the sidelines of the UN General Assembly in New York this week.

"The developing framework for cooperation will include measures to be taken that would help Sri Lanka to be compliant with international counter terrorism obligations under relevant Security Council Resolutions on returning foreign terrorist fighters and countering violent extremism, as well as border security," she said. In a statement, the Permanent Mission of Sri Lanka to the United Nations said ASG Coninsx welcomed the close engagement and the high level of cooperation between CTED and Sri Lanka. The CTED was established by the UN Security Council as a special political mission to assist the UN Security Council's Counter –Terrorism Committee (CTC), and is tasked with carrying out the policy decisions of the CTC, conduct expert assessments of Member States and facilitate counter-terrorism technical assistance to countries.

Mr. Aryasinha also met with Under-Secretary-General of the Office of Counter-Terrorism (OCT) Vladimir Voronkov and his team. Mr. Voronkov has noted work done to strengthen border management, implementation of the Advance Passenger Information (API) and Passenger Name Records (PNR).

Secretary Aryasinha said Sri Lanka was adopting a whole-of-Government approach in addressing the areas of concern and that it was important that programmes of assistance are tangible and can be integrated within Sri Lanka's plans. In this regard, the ASG Michéle Coninsx and the Foreign Secretary agreed on the need for both GoSL and the UN to work together to identify tangible actions which will serve the interest of the country. Ambassador Kshenuka Senewiratne, Permanent Representative of Sri Lanka to the United Nations, and other senior officials were also present.