---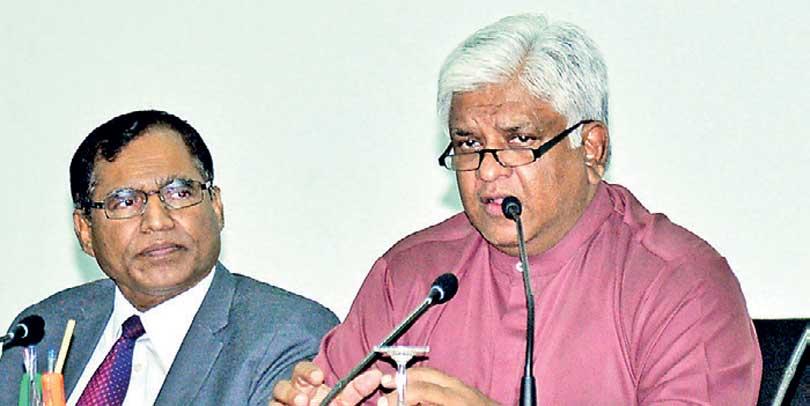 Pics by Nisal Baduge
By Sandun A. Jayasekera
The Presidential candidate fielded by the proposed National Democratic Front (NDF) must be chosen from the UNP and that candidate must contest the Presidential poll with a clear policy, strategy and vision for the country, Transport and Civil Aviation Minister Arjuna Ranatunga said.

As a member without representing any political party in the UNP led government, he was not concerned about the formation of the NDF, its leader or the clashes within the UNP but what is important is that to pool the strength, cooperation and support of all constituent partners of the NDF to ensure the victory of the candidate fielded by the alliance,he added.

Minister Ranatunga said that if the NDF was to win the Presidential poll it must draw over 6.5 million votes. The UNP supported common candidate won in 2015 because he was fielded
by an alliance. "What the country needs is a leader with a clear-cut policy, a concept and a strategy to take the country forward. I hope that the NDF is capable of fielding the most suitable and winnable candidate for the Presidential poll. The UNP is a major political party in the country and its leaders Ranil, Sajith, Karu, Kiriella, Kabir, Rajitha, Akila and others must campaign with a new vigour to ensure the victory of the NDF candidate,"Minister Ranatunga said.

He said that the era of single party candidates winning elections was over. Candidates fielded by political alliances win elections. This is common to the opposition as well as to the government. No political party or individual could single-handedly draw a minimum of 6.5 million votes to win the Presidential election, Minister Ranatunga said.
The candidate, representing a political alliance with the most attractive work programme and attractive policy would win the Presidential race,he said.
What the country needs is a leader with a clear-cut policy, a concept and a strategy to take the country forward. I hope that the NDF is capable of fielding the most suitable and winnable candidate for the Presidential poll