---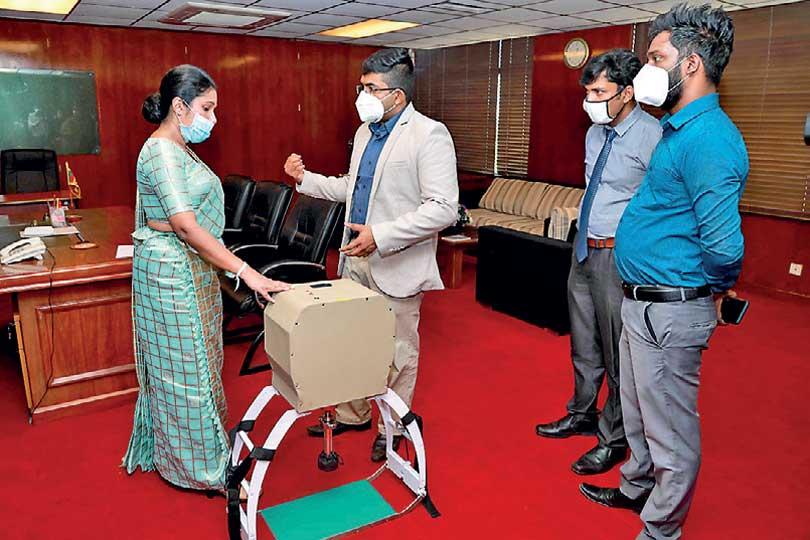 By Sandun A Jayasekera
One of the plus factors that had emerged from the Covid 19 pandemic were the new inventions that expose the capabilities, skills and creative abilities of our youth, Skills Development, Vocational Education, Research and New Inventions State Minister, Dr.Seetha Arambepola said.

The unprecedented health challenge had not only united all Sri Lankans as a nation but had brought to light the hidden talents of Sri Lankan youth, she added.
"During the peak of the Covid 19 viral infection youth in various parts of the country have come up with about 780 inventions.

Minister Dr. Arambepola made these remarks when she met a final year medical student, Dilshan Abeywardana of the Colombo Medical Faculty (CMF) who had successfully developed a Portable Mechanical Cardio Pulmonary Resuscitator (MCPR) Machine. After Dilshan obtained a patent for his invention, he had met Dr.Arambepola who was then the Governor of the Western Province.

She had inspected the machine and suggested certain improvements to the design of the machine. Accordingly, the National Medicinal Regulatory Authority (NMRA) together with a team of Professors of the (CMF) had commissioned the Portable (MCPR) as a value added machine of high commercial value.

A Japanese Owned B.O.I. Enterprise Ms.Tos Lanka Co. Pvt. Ltd has already commenced commercial production of the machine. Minister, Dr.Arambepola told the gathering during the inspection of the machine that her Ministry was ready to provide the necessary know how, financial and logistical support to those who are ready to venture into research for inventions and new products.
During the peak of the Covid-19 viral infection youth in various parts of the country have come up with about 780 inventions