---
By Lahiru Pothmulla
Reiterating that all Muslim people are not terrorists or extremists, Colombo Mayor Rosy Senanayake yesterday requested Mowlavis to inform the law enforcement authorities if there is any sign of extremism or terrorism. Speaking at an event held at the Municipal Council to award financial donations to some 60 registered mosques in Colombo, she said terrorism should be eradicated from the soil of Sri Lanka.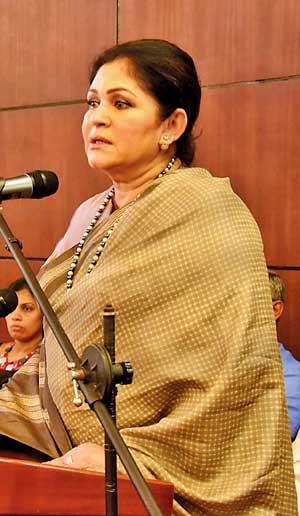 "I request the Mowlavis to inform the security forces, the police and the law enforcement authorities if there is any sign of terrorism or extremism. We should be united and work towards to eradicate this menace from this soil," she said. She said it was the Muslim people who suffer the most and had become helpless today because of the April 21 terror attacks.

"Because of the terrorist and extremist mindset of a handful, the entire Muslims have become helpless today. As the mayor who protects all in the municipality, I ensure the safety of all mosques," she said. She also said the livelihood of many Muslim peoples had been affected because of restrictions today.

"Other communities have become suspicious of Muslims. We should prevent this at least in Colombo. It can be done. Regardless of the ethnicity of the extremists, extremism should be condemned. There should be no room for extremism or terrorism," she said.