---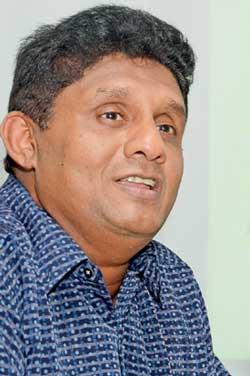 By Yohan Perera
I have been ridiculed for talking of resolving a health hazard faced by women in Sri Lanka by those who have defended persons who had molested women," New Democratic Front (NDF) presidential candidate Sajith Premadasa said yesterday.

Speaking during an election rally in Harispaththuwa, Mr. Premadasa said he was ridiculed and laughed at for speaking of preventing cancer and Kidney diseases.

" I was talking of providing certain products for poor women free of charge. I said a future government led by me would provide these products free of charge as it has been proven that those women who does not use such products runs a risk of getting cancer and kidney disease. They laugh at me for talking about this issue," Mr. Premadasa said. "One must be aware of the way I am treating the women who are 51 percent of the population and the way my opponents are treating them. They are the ones who defended those persons who molested 100 women and threw a party to celebrate this feat," he added.

Mr. Premadasa said he will take steps to eliminate women and child molestation and drug menace if elected to office. He said he will hand over this task to Field Marshal Sarath Fonseka whom he will appoint as the Minister of Defence.

" I have only decided on the Defence Minister but had not decided on other ministerial appointments. I want to reiterate that no one who is charged with corruption will be appointed to any position if I become the president," he also said.

Also Mr. Premadasa said he would like to hear people say that they got things done from him within 24 hours. He said the decision to set up a presidential special development task force in each divisional secretariat.