---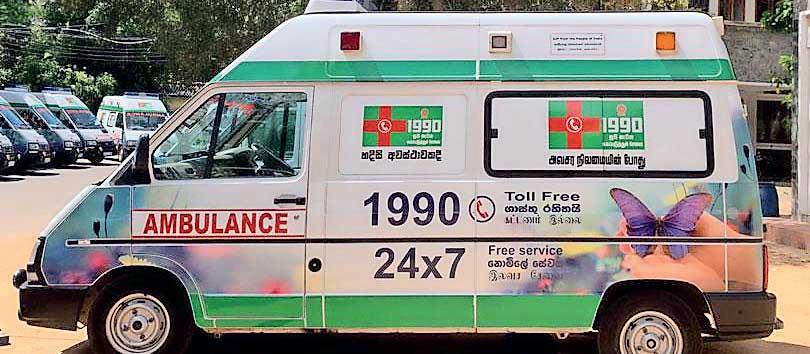 The Emergency Ambulance Service was first launched in 2016 in the Western and Southern Provinces of Sri Lanka under an initial Indian grant of USD 7.5 million
It did a great job during the pandemic
By Kelum Bandara
The 1990 Suwaseriya Ambulance Service which was started as a donation from India, contributed immensely in response to the Covid-19 pandemic, prompting interest in the health authorities to explore the possibility of expanding it further, a Minister said yesterday.

The ambulance service which was started in March, 2015 upon a request made by then Prime Minister Ranil Wickremesinghe to Indian Prime Minister Narendra Modi, is now operational in all nine provinces of the country with a fleet of 297 vehicles. It was a US $ 22 million grant by the Indian government at that time, the second largest by that country after the housing project.

Presently, the ambulance service has been placed under the purview of the State Minister of Primary Health Services, Pandemics and COVID Prevention. The Treasury makes annual allocations for its operations. State Minister Dr. Sudarshani Fernandopulle who now oversees its work, told Daily Mirror that the ambulance service had been very helpful in the rural areas in particular, where people lacked access to emergency care.

"It is a round-the -clock ambulance service. It has been helpful in transporting people needing emergency care to hospitals, especially in the rural sector. We received the same service during the pandemic," she said.

Asked whether her ministry is going to expand the service further, she said she was happy to do it through measures such as re-fleeting and expanding the number of vehicles to be deployed.
She said she was happy to do it through measures such as re-fleeting and expanding the number of vehicles to be deployed

"They reach the patient in need of emergency care within an average of 11 minutes," she said.

Responding to a query whether further assistance would be sought from India in this regard, she said, "It has to be looked into after talks with India."
Chief Executive Officer (CEO) of the service Sohan de Silva said his staff worked with dedicated commitment right throughout the pandemic period in transporting people for PCR testing and to treatment centres.

He said his staff was geared up to respond to the pandemic with additional health and safety protocols.

The Emergency Ambulance Service was first launched in 2016 in the Western and Southern Provinces of Sri Lanka under an initial Indian grant of USD 7.5 million. This grant included purchase of 88 ambulances, operational expenditure of the service for one year and setting up of an emergency response centre.

Samagi Jana Balawegaya(SJB) MP Dr. Harsha de Silva who was in charge of the ambulance project at that time said , "From the day I had the original discussion with PM Narendra Modi and the then High Commissioner Y.K. Sinha to establish a pre-hospital care ambulance service in Sri Lanka upto today, 1990 Suwaseriya continues to be a top priority of mine."
He said his team had overcome huge challenges to make it perhaps this country's most efficient public service.

"With over 1,000 emergency and critical care admissions every day I feel we are doing the job we set out to do. The huge success of 1990 Suwaseriya, which even the WHO believes is certainly a case study for other nations, is due to two main reasons. One is the absolute dedication of the team and the other is the use of cutting edge technology. This is an example of the capability of young men and women of this country, and how we can collaborate with our friends, with this being a USD 23million gift from India, to deliver to our people. One last thing it is the commitment of the political leadership both then and now to ensure its support and funding for the service," he said.