---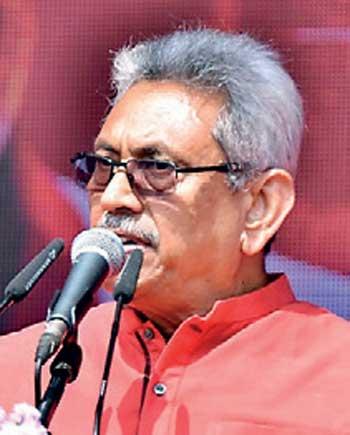 By Lahiru Pothmulla

All students who passed the Advanced Level A/L examination will be given the opportunity to enter universities, SLPP presidential candidate Gotabaya Rajapaksa said yesterday.
Speaking at a presidential election rally held in Kalawana, Mr Rajapaksa said this was a practical pledge which can be delivered within the first year of a SLPP Government.
"About 200,000 students pass the A/L examination but only about 30,000 get the opportunity to enrol in universities. Some ask whether it is practical to increase the number of admissions in this manner. We increased the number of soldiers by 300,000 in two years. If we can increase the capacity of the army, why cant we enrol 100,000 students? This could be done. Not only we will expand the infrastructure and recruit lecturers, we will also make sure that Arts stream students will have better employment opportunities," he said.

He said the main source of foreign revenue of the country was the export of Ceylon tea for years but the market for our tea had reduced in the recent past.

"Our tea rating has gone down to fourth place from the first place in the International market. Value for Ceylon tea has dwindled due to imported, substandard foreign tea being mixed with our tea. What matters is the quality and not the quantity. We should restore the reputation of the Ceylon tea by stopping the import of low quality tea. We need to enhance research in the tea industry as well," he said.
About 200,000 students pass the A/L examination but only about 30,000 get the opportunity to enrol in universities