---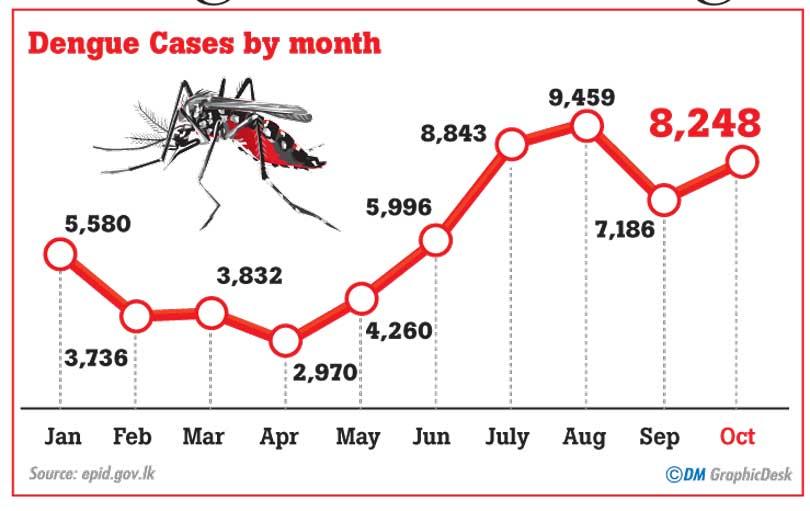 By Sheain Fernandopulle
A total of 60,110 dengue cases and 80 confirmed dengue deaths had been reported from all parts of the country during this year as at yesterday (29), National Dengue Control Unit Director Dr. Aruna Jayasekara said.

Speaking to Daily Mirror, he said that dengue was on the rise owing to the prevailing incessant rains and added there was a sharp increase on the number of cases and deaths reported this year when compared with the cases reported last year.

"The most number of deaths and patients has been reported from the Western province," Dr Jayasekara said.

"The number of cases and deaths usually increase in the month of November due to the North-East monsoon. However, we experience some unexpected rains these days, which have led to the increase of the number of dengue cases and deaths,"

he added. When analysing the dengue trends, only 58 dengue deaths were reported for the whole of 2018 with 51,659 cases, which is lesser than the number of cases reported within the first 10 months of this year.

The Epidemiology Unit has identified five high risk districts such as the Colombo, Gampaha, Kalutara, Ratnapura and Galle districts. Colombo district recorded a total of 12,753 dengue cases which is the highest. The second highest number of cases, 9,824, was reported from the Gampaha district.
The third highest number of dengue patients, 5,768, was reported from the Kalutara district. Accordingly, the Western Province recorded a total of 28,345 dengue cases which is the highest among the provinces.

The highest incidence of dengue cases, numbering 9,459, had been reported in August.

Dr. Jayasekara asked the public to be vigilant of all types of mosquito breeding sites and should take steps to destroy them on a regular basis.
"At least 30 minutes per week should be allocated to clean mosquito breeding sites" he said.