---

The Daily Mirror cipation of students from eight schools in the district. The third phase of the successful series of workshops was conducted at Hartley College, Point Pedro where students took part in various activities designed to help them develop language skills. The schools that participated included Methodist Girls' College, Udupitty Girls' College, Nelliyadi Central College, Velayutham MahaVidyalam, Puttalai MahaVidyalam, Vadamarachchi Central Ladies' College, and Vada Hindu Girls' College.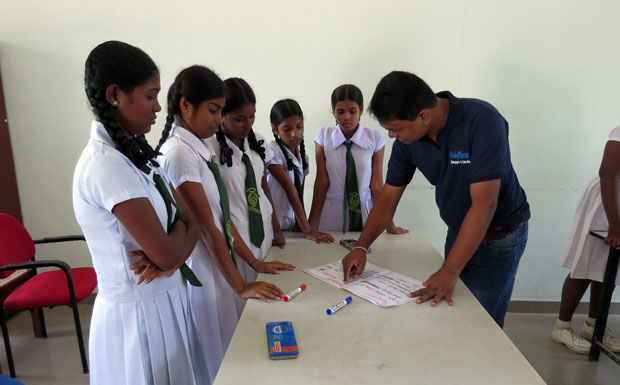 Senior Manager Web Publishing at Wijeya Newspapers Lanka Pradeep conducts a session
---
Acting Editor of dailymirror Newspaper Kesara Abeywardena and Editor of Tamil Mirror A.P. Madan spoke on the role of the newspaper and the editorial processes while Editor of the Little Enquirer Lishanthi Wijewardena engaged in reader development activities with the children present.
During the workshop Daily Mirror journalists Kamanthi Wickramasinghe and Kalani Kumarasinghe engaged in activities to promote news writing.
A discussion on environmental issues in the area was followed by the students actively engaging in designing posters on the prevention of dengue. This is the first time NIE was involved in a campaign to prevent dengue with the participation of children in Point Pedro. Presentations by student groups revealed their creative and innovative ideas in combating this deadly disease.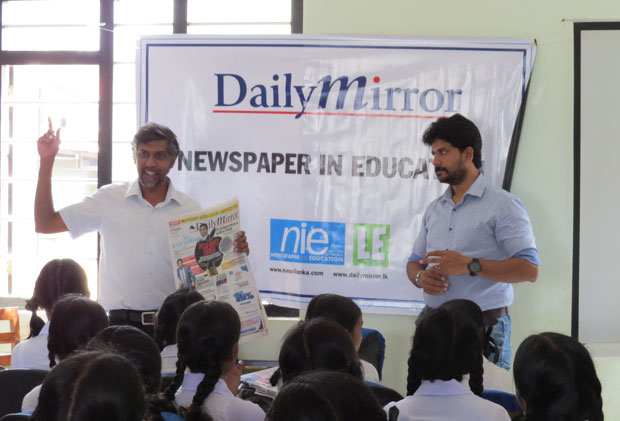 Acting Editor of Daily Mirror Kesara Abeywardena(left) and Editor of Tamil Mirror A.P. Madan addressing the audience
---
Senior Manager Web Publishing at Wijeya Newspapers Lanka Pradeep also elaborated on the role of NIE as an additional resource in the classroom, to the teachers and students present. ' Newspaper in Education' is an international educational effort that helps teachers and parents use the very latest textbook — their local daily newspaper — to instruct youngsters about the world around them, fuel their desire to learn about many topics and encourage a love for reading. At Daily Mirror, the NIE program attempts to supply teaching materials and present activities and workshops to help teachers and students alike to explore how to use the newspaper in a classroom environment.