---


Vocational Awards of Excellence were presented to thirteen public servants from various spheres of life by the Kandy Rotary club at a ceremony held at the Grand Kandyan Hotel on Wednesday night. These public servants would have gone unnoticed for their contribution to society if they were not presented these awards.
Several Foreign Rotarians were present on this occasion among them was from Britain, Professor Joy A. Palmer Cooper, who is heading, "Project Sri Lanka". Dr. Cooper outlined the assistance given to various fields by this Project. Professor Cooper said she was highly impressed with the staff and director. Grants had been given to prosthetic limbs in perpetuity.
Professor Cooper said in the second phase of the Partnership the Project made a direct grant for the purchase of equipment for ECG machines, syringe pumps and infusion pumps. This was followed by another grant for equipment for eye cataract equipment and for pediatric oncology surgery in Kandy
She said she was surprised how much work is been done by surgeons with career surgery without the fundamentals for long surgical operations. She said they were working on a grant for awareness, detection and treatment of oral cancer. She said Rotarian Chamila Pieris is behind these grants and thanked the President, Aith Jayasinghe and all members for the interest shown in the work of the Club.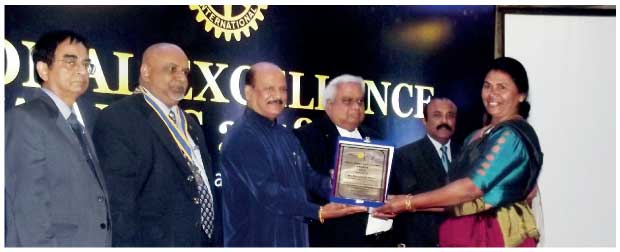 The Guest of Honour was Central Province Chief Minister Sarath Ekanayake who presented the awards to the recipients.
The Keynote address was delivered by by Vocational Director S. Sylvester and Donor Rotarians from the USA and Britain were present. The Awards were presented to Sampath Gunawardene, R.D.Ruvini Rajapakse, E.C .Chanda Kumara Wijesinghe, D.M.Y.G.K. Wijesundera, P.N.S. Dissanayake, B.H.M. Chaminda Kumara, S.B. Abeysinghe, H.P. Saman Kumara, G.HW.W.M.Somalatha, G.G.R. Kumara, KV.K.K.Kekeluwala and K.K.Fernando.