---
Remembering the Most Ven. Thalalle Siri Mahinda Nayaka Thera, who was the Chief Incumbent of Kuppiyawatta Sri Jayasekararāmaya Colombo 10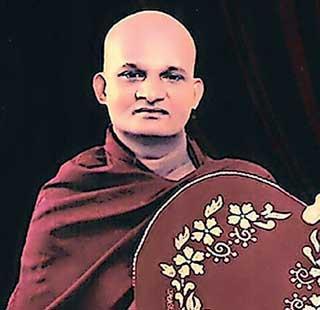 Most Most Venerable Thalalle Siri Mahinda Nayaka Thero virtuous,
Outshone many in field outstanding figure meticulously cautious
Specifically well versed in Thripitaka sacred canon in Buddhism,
Think- tank of numerous projects energetic noble enthusiasm.
Versatile, veracious, veteran, venerable Thero Siri Mahinda pristine,
Erudite eminent religious personality held in high esteem.
Nannapura village Bible born in 1954 as Hettiarachchilage Karunaratna.
Thalalle Siri Mahinda Nayaka Thero endearingly venerated, respected,
Hettiarachchilage Wilbert Silva 'n W. H. Karunawathi parents devoutly devoted.
An excellent role model for members of Sangha community,
Life- blood of Sri Jayasekararāmaya higher pedestal of sanctity.
Ancient temple perched in the heart of Colombo busy city,
Live- wire of Sri Jayasekararāmaya a sanctum in trouble to seek solace.
Leading light over five decades in monkhood, sangha activities par excellence,
Embodiment of purity a paragon of virtue great innermost qualities.
Sixth, fortunate in a brood of ten entered Order Maha Sangha,
In 1966 May 25th, twelve year old ordained Sāmanera Thalalle Mahinda.
Received Higher Ordination in 1975 June 7th at Udakukbepa Seema Mālakaya,
Incomparable Nayaka Thero modern times imbued high qualities Bodhisatva.
Monumental patience, chief incumbent Kuppiyawatta Sri Jayasekararāmaya.
Awards, accolades, rewards, titles, designations to possess never desirous
Humanity prevailing deeds for decades safeguarded temple in dedication
Impeccable character inspired by Gautama Buddha's Teachings in devotion
Non- violence prevalent genuine attitudes never sought self-aggrandizement
Distinguished among Sangha fraternity refused, rejected many awards prominent.
Apparently absorbed in temple work maintained spiritual oasis for generations
Nearly Twenty student Bhikkus, chief Thalalle Dhamma Deva Thero diligent,
Academic background from Maha Pirivena Maligakanda Vidyodaya preceptors proficient.
Yeoman service honoured Amarapura Siri Saddhamawansa Nikaya chief administrator,
At sixty six untimely passing away noble son of Mother Sri Lanka modest preceptor.
Kuppiyawatta Sri Jayasekararamaya respected sanctum irrespective of caste or creed,
An ideal Buddhaputra sky high tolerance abstained from power greed.
Tranquil aptitudes from youth in limelight, Divine qualities gifted innate
Hallmarks ineffable in abridged Eulogy, great Lacuna created our pious prelate.
Excelled in needful Knowledge Dhamma, Vinaya disciplinary code sans a flaw
Revered respectable, most venerable Nayaka Thero emanated religious glow
Our noble prelate with myriad of meritorious deeds attain Supreme Bliss Nirvana.
Kumari Kumarasinghe Tennakoon
Kelaniya.