---
Ravindu and Sankalpa of S.De.S. Jayasinghe Central College, Dehiwala shine at Intel-ISEF at Los Angeles
Project is about removing carcinogenic chromium ions from natural water sources
There is a disgraceful misjudgement that exists in the Sri Lankan society that always measures skill by the school that one is attends. Many among us seem to think that children, who go to reputed schools hold far more talent than the rest, who attend schools that do not hold such popular reputations in society. Sankalpa and Shehan are two students who have proven this theory wrong against all odds and barriers by showing us that talent can be found in every school and that each school is worth its weight in gold as long as the school has a Principal with good leadership qualities, dedicated teachers and hardworking students.
The duo with their medals
As two students of the grade 13 AL class in the science stream of S.De.S. Jayasinghe Central College, Dehiwala, Ravindu Sankalpa Perera and Shehan Kavishka have exemplified their talents and emerged triumphant in securing the grand award in 4th place in the earth and environmental science category at Intel International Science and Engineering Fair (Intel-ISEF), 2017 held at Los Angeles, California, this year with their project based on removing carcinogenic chromium ions from our natural water sources.
This international competition hosted 1,778 contestants from 78 countries. Our young Sri Lankans stood as the proud reason for our nation's flag to be hoisted up all high and mighty amidst international applause bringing recognition not only to themselves but to our mother land as well making all of us Sri Lankans glow with pride.
Sri Lankan students have been participating in this competition over the past 10 years, but this year is the first time that such a victory has been bestowed on our country and so this victory will be marked on this year's calendar as a golden moment and will go down in history as a memorable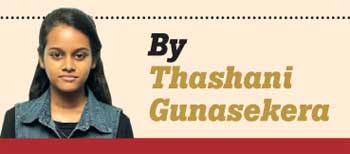 achievement. In addition to the grand award, Shehan and Sankalpa were also awarded the 'Mawhiba's special award for their experiment.
There were undoubtedly many helping hands that supported them all the way throughout this journey and hence those people also share the happiness no different from the victors.
Speaking to the Daily Mirror, the Principal of S.De.S. Jayasinghe Central College P.P.D.C. Pathirana expressed his happiness.
"Our school history goes back to about 71 years. This is the biggest victory we have achieved so far in the 71 years. These two students have brought glory not just to our school but also to our country. I have been principal of this school for a period of three and a half years and I'm glad to have witnessed this great achievement during my time as principal.

"It's all thanks to the dedication of our students and guidance of our teachers. We hope to continue creating young inventors and help them excel in different fields not just in science," he said.
Sankalpa and Shehan hope to sit for the G.C.E. AL examination this August. Managing time between studies and their experiments would have been quite a tedious challenge and an impossible feat itself, if not for the support and encouragement they got from their school teachers.
We spoke to the teacher in charge Gayani Samarasinghe about the support given to the students during their journey as she had been with the students since day one of this effort.
"I directed Shehan and Sankalpa to Dr. Meththika Vithanage, who works in the National Institute of Fundamental Studies which is based in Kandy. There she provided our students with the lab facilities, accommodation and she also guided and supervised them throughout. Our students would not have been able to achieve all of this if not for her help and guidance.
"Our students had to conduct their experiments in Kandy which meant that they had to miss out on school. We tried to arrange the dates in such a way so that the students could go to Kandy during vacation holidays and reduce the days that they had to miss school. But on the occasion that they missed out on their lessons, we conducted extra classes for them so that they could keep in touch with their studies.
Ravindu and Sankalpa
"We also took them for science society seminars and workshops that would help them in their research and experiments."
Sankalpa and Shehan had to participate in different qualification rounds of the contest before making it to the finale in LA.
According to the teacher in charge, it all started with the science research project competition organised by the National Science Foundation where Shehan and Sankalpa represented their college and surpassed talent from 800 schools and won first place for their project proposal.
"Next our students participated in the National Science and Engineering Fair where they won 2nd place for their project. The first three contenders were to take part in the INTEL-ISEF 2017 and our students were qualified to take part in the international competition hosted in Los Angeles."
However, the road to success was not easy. The experience has indeed been a thrilling one for our Lankan inventors and we spoke to Shehan and Sankalpa about their thought regarding the victory.
When they were asked where they got their idea for their experiment that was to filter out carcinogenic chromium ions from our drinking water, this is what Shehan had to say.
"It is a common problem today. Chromium is mostly used by leather manufacturing industries. In a developing country like ours, we have no technology to dispose of the toxic waste in industrial effluents and so the normal procedure is to release it into natural water sources. This water is used by local residents for their daily activities including drinking purposes. Chromium ion is carcinogenic.
"It's all thanks to the dedication of our students and guidance of our teachers. ..."
"So, we chose to experiment under this topic conducting research and to come up with a solution with the technology available to us."
Like all happy occasions, this was one where emotions could not be expressed with words.
"Our hopes got fulfilled in an unexpected way. We started our research with the hope of reaching the final competition in America as we had never gone abroad. It was a great feeling to get there and it felt even greater when we got the award." Said Sankalpa.
"We got a lot of experience that we will remember throughout our lives. The US was different and we learnt a lot. Hearing our country's name being announced and seeing our country's flag being hoisted at the event made me feel so proud and happy. I can't really express my feelings in words," said a very happy Shehan his voice giving away his joy.
The achievement of such a victory did not make them forget the people who became their pillars of strength throughout their journey. Sankalpa and Shehan, extended their heartfelt gratitude and sincere thanks to everyone who supported them.
"We would like to thank the National Science Foundation for organising such competitions. We would like to thank our principal and all our teachers including our teacher in charge, Ms. Gayani Samarasinghe, for always checking on us, guiding us and staying behind us giving us encouragement and support.
"We would both like to especially thank Dr. Meththika Vithanage who guided us throughout our research and experiment. She provided the lab facilities for us which was in Kandy. And while we were in Kandy she provided us with food, accommodation and guidance. Last but not least, we would like to thank our parents for always being there for us."