---
It was a gloomy day for all of us Heartians when we learned the heartbreaking news about the passing of Ms Malini - our beloved music teacher.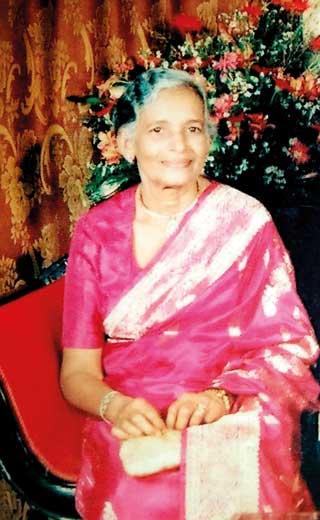 She empowered us to reach great heights and as a result, we triumphed in many National Band competitions. But above all the trophies that she guided us to win are some remarkable qualities that she instilled in all her charges. She was a strict disciplinarian which masked her gentle and loving persona. I have never come across a more duty conscious person to this day.

The greatest among her sterling qualities was her dedication to the task. It still brings a lump to my throat when I recall what happened one day when I stayed after school for band practices with two of my friends.

Ms Malini saw that we had stayed behind for practices and voluntarily stayed with us. After staying a few hours with us she shocked us with what she had to say. She told us tearfully that her husband who lived far away had come home that day after many months. She longed to see him after such a long time but resisted and sacrificed her need just to ensure that we were safe.

She didn't have to do it. But she opted to do what she felt was the right thing. It made us speechless!
She always insisted that Convent girls were special. She believed that conduct was what differentiated us Convent girls from the rest. So, we were repeatedly reminded by her to think, speak and behave in superior ways to others. Her constant command "chins up, buttocks together and tummies in" still ring in my ears!

She believed in order. She would tolerate no excuses for being slack. She wanted every girl to be proud of the school and show that under all circumstances. Even after toiling a full day under the scorching sun at the Galle Esplanade, we were supposed to march back to the beat of a side drum to school! She was always right behind us and made sure no one was dragging their feet. It didn't change even on the day when a huge black bull that had broken free from its rope was roaming freely on Abeysundara Road and charged ferociously at us girls after being consternated by the drumbeat.

As the bull was charging towards us, the girls started to scatter in all directions, but the stern voice of Ms Malini who was keeping a close eye on the girls, stopped all of us in our tracks. Ms Malini, reminded us that we were Convent girls and were expected keep calm. Even the bull seemed bemused as we regrouped and continued our march to the drumbeat towards the school gates because it did not attack any of us. Looking back at it, it must have been quite a spectacle to the onlookers. We were also under strict orders to stand still and straight. Ms Malini would climb to a higher vantage point and would use sign language from a distance to motion to us to stand straight. She would stand to attention to show us that we should also stay that way. She used many other hand gestures to send her message across. We tried our best to avoid looking in the direction wherever Ms Malini would be but also tried our best to stand straight despite exhaustion in order to avoid listening to another of her "olden days" lectures later!

Our band performed at Mahapola exhibitions all around the country, and during that time we were leaving and coming back to our homes at all odd hours much to the chagrin of our parents. Ms Malani was always with us, with no regard to the distance, travelling with us in private buses. This operation required the dedication of so much of our time, my parents feared that it would adversely affect my studies. Hence, one fine day, my angry father boldly escorted me to school to declare that they would not tolerate my band activities any longer. He met Ms Malini and informed her that she had to remove me from the band. But she simply would have none of it. She told my dad in no uncertain terms that I would remain in the band. She told him that I was a vital member of the band and that the melody would drown without me. (I played the accordion). That was that! I have rarely or never seen my dad who is a stubborn character give in but on that occasion. I felt he was not convinced of the logic but accepted defeat willingly after getting a firsthand experience of Ms Malini's unstinting commitment.

I was a strong admirer of her exceptional qualities which made her a Colossus among our teachers. My one fervent hope when I became a teacher later in my life was that I would be able to leave in my students at least a fraction of the legacy she left behind.

She was a selfless person who devoted her entire life to her school, students and to the values she upheld.
My dearest teacher, I am happy for you because I am perfectly assured by the holy scriptures that you are now in a better place.

Those who walk uprightly enter into peace; they find rest as they lie in death. (Isaiah 57:2)
-Niloo Rupesinghe