---
It is nine years since God called Victoreen to eternal rest. Victoreen passed away peacefully on the 25th August 2008.God's fingers touched her and took her last breath, closed her eyes and slipped her away to the land of no more pain. Victoreen was loving, caring and was the greatest blessing in my life. She gave life to our children and when I needed hope and inspiration she was strong. We loved each other dearly and it broke my heart to lose her.
Vicky, the day I first held you and kissed your sweet face are precious memories time cannot erase.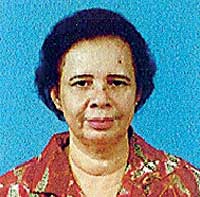 You're gone so far away and left me alone, my days and nights are turned so lonely dear since you've been gone. I recall your tender smile and the lovely things you said when you and I were partners in life. I still remember what Victoreen told me when we decided to get married.
What Victoreen told me was "Kamil marriages are made in heaven and if God wants our marriage to take place, no one can stop our marriage even if anyone tries, and that would be the day God unites us and we
will be one."
With God's blessings we got married and spent almost forty long happy years together and then God gave her rest. What we shared together will not be forgotten and it lives in my heart. Although I am in sadness that Victoreen is no longer here, her influence still guides me every minute, every hour, and every day. I still feel she is beside me caring and guiding me. We thanked our lucky stars we found each other. Hand in hand we faced tomorrow with no fears. Now I face each day with hope and happy memories we
shared together.

It broke my heart to walk beside you on that fateful day, the day you were laid to rest. You gave me years of happiness then came sorrow and tears. You left me with beautiful memories we shared through the years.
For long as my love and my memories live my sadness goes on, as in my heart you are still living as every passing day goes by. You have gone from my sight but not from my heart. The memories of you will remain forever. No words I write can ever say how much I think of you every day. I pray for you in silence every day and hold you close in my heart. You were my ever loving wife and your memory will always be with me.
Vicky, all I have are memories and your photo in a frame. For all you gave through the years, your time, your love, your prayers and your patience, caring and sharing and for all this and more 'I still love you'.You gave me something time can never take from me, a light to guide me when it gets dark and I can see.
"These special memories of you always bring a smile to me. You will never be forgotten as long as I am living, as I carry you safely tucked within my heart and your light will always shine forever "

These special memories of you always bring a smile to me. You will never be forgotten as long as I am living, as I carry you safely tucked within my heart and your light will always
shine forever.
Finally, thank you Victoreen for the wonderful and generous sacrifices you made for me, our children, and all the loving care and affection you showered on us. I remember not what I did for you, but I was for you, and what you were to me. Thank you for loving me and being what you were.
Darling Vicky, our special years will not return. When you were with me together, but love within our hearts you will walk with me together.
Till we meet again, Sadly missed by your loving husband

M Kamil A Hassan