---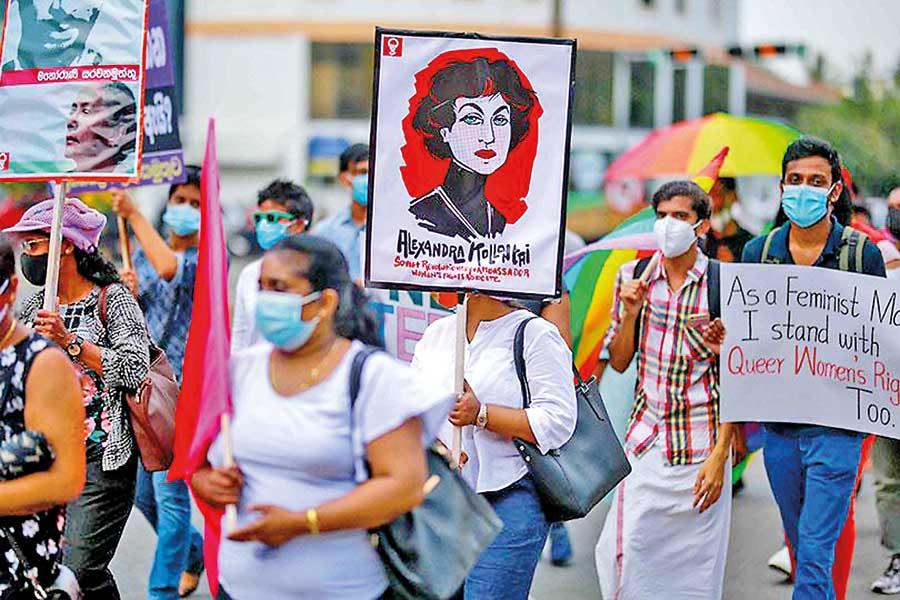 The Progressive Women's Collective recently held an event in view of IWD on the theme 'Leftist Feminist Leadership in times of crisis'
Pics by Damith Wickramasinghe
Women are slowly penetrating into male-dominated professions
Within this capitalist system women continue to be exploited
The International Women's Day is a much awaited date on the calendar. Various issues regarding women's rights

are openly discussed and major celebrations are held worldwide. Feminist waves have over the years made a certain amount of influence on people and their thought processes. Women are slowly penetrating into male-dominated professions. With feminist struggles, more emphasis has been placed on equality and gender parity. But the pandemic posed newer challenges to women, where their burden was doubled in most instances. The Progressive Women's Collective recently held an event in view of IWD on the theme 'Leftist Feminist Leadership in times of crisis' that shed light on a few challenges women are facing in the present situation.
Women continue to be exploited
"Two years ago we formed the Progressive Women's Collective as a platform to bring together women who are fighting for social justice and equality," said National People's Power MP Dr. Harini Amarasuriya. "One of our main objectives is to bring together women with feminist, leftist and democratic ideas so that we could challenge mainstream political parties. Feminism and leftism aren't new concepts but they help formulate our identity. We believe that women have newer challenges to face within the existing neo-liberalism framework. Even though there's space for personal freedom, we have to face many challenges with the existing economic crisis.
This situation aggravated with the pandemic. With steps taken to control the pandemic, women had to once again carry the burden, at home and outside as well. During this period, incidents of gender based violence were also on the rise. Therefore, within this capitalist system women continue to be exploited. Many women are stranded overseas and those working in the free trade zone too had to face numerous challenges. The microfinance debt crisis has become another threat today and many women have no way out of this trap." said Amarasuriya.

She further said that even though women contribute to the economy they are engaged in labour intensive professions. "Therefore we need to challenge this economic system. Being a woman corners them from social, political and cultural spheres. Even though we are not against men we are against patriarchy and it has to be challenged. We are also against one faction trying to throw their power to dominate over other factions. It is important to stand for equality and we believe that we could produce a leadership that supports and promotes leftist, feminist ideologies," she said.
Limited space for activism
Having been actively involved in raising issues concerning the Muslim community, Prof. Farzana Haniffa of the University of Colombo said that raising such issues became a difficult task during the 2019 Presidential Election and subsequently with the pandemic. "Burials and cremation became a major issue and it was a political issue rather than a scientific or a religious issue. In such a situation the government politicised deaths limiting our space to be active. With that I got the opportunity to look at this issue from a broader perspective. We therefore need to address it with the challenges at hand. These issues don't only affect the Muslim community but the general public as well. It seems that the government doesn't bother about people's issues even though they got elected with majority votes," said Haniffa.
COVID-19 isn't a crisis
Adding her thoughts to the discussion, Attorney-at-law Kaushalya Ariyarathne said that leftism and feminism go hand-in-hand. "If we are criticising the system and questioning the power differences, colonisation and other issues, that is a feminist struggle in itself. Sri Lanka has a long history of feminist struggles but they have never been highlighted as main struggles. The victories too have been ignored and forgotten. There have also been several women's movements prior to the end of the colonial period including Young Women's Christian Association, Sri Lanka University Women's Council and the United Women's Front. Even though these bodies had various identities they were headed by women." said Ariyarathne.

She further said women didn't get a proper salary even before COVID and our children didn't have a good education system either. "Therefore COVID isn't really a crisis. What COVID did was highlight all these social issues.

"Feminist leadership is not about quantity. Culturally we have been conditioned to look at a leader as an emotionless and unempathetic person. Basically a macho person is seen as a leader and that itself is a form of harassment. My perception of feminist political leadership is where people of all ethnicities, sexual orientations are represented while also expressing empathy and emotions," said Ariyarathne.
Equality as a fundamental principle
"The main subject we talk about in leftist political leadership is equality and one of its fundamental principles is to avoid gender bias," opined Saroja Paulraj, Chairperson at Women for Rights. "Even though there are biological differences between males and females since humans are social beings there cannot be differences when it comes to finances, education, community rights and wealth distribution. But we see a huge difference in the distribution of resources among people. As a leftist movement we believe there's a class difference and women fall into the category that doesn't have privileges and is often trampled by social pressures. Therefore equality is the fundamental principle we live by," said Paulraj.

She further said that the country's leaders missed three opportunities they had to restore equality in the country. "One was during the post-conflict period. Second was during the tsunami where the entire country was affected by the disaster. Third situation is with the existing pandemic but we see that this opportunity is also being missed. The biggest worry we have is that the situation is not being managed in a way that would end differences among people so that all communities would experience. As a leftist movement we have the responsibility to manage the crisis and uplift women from the gutters. We are being exploited by unknown forces but we will continue to challenge it," added Paulraj.