---
In 2007, actor turned environmentalist Leonardo DiCaprio starred in the movie 'Blood Diamond'. Depicting civil war in Sierra Leone in the 1990s, the plot saw local villagers enslaved to harvest diamonds to fund rebel forces. Although this particular storyline was fictional, the film raised awareness of a very real problem that was happening in Africa at the time.
True to life though, the film finished with the creation of the Kimberley Process. Enacted in 2003, the Kimberley Process was a way to certify diamonds as "conflict-free", meaning they weren't mined in areas controlled by non-governmental forces that fund military action against that country.

But the agreement has been deemed largely unsuccessful as diamond smuggling and corruption has seen "conflict diamonds" mixed in with the "clean" ones. In addition, the Kimberley Process doesn't take into account the human rights and environmental abuses that occur from diamond mining, not just in Africa, but worldwide. Therefore, it makes it almost impossible for consumers to be guaranteed they are making an ethical choice.
It was out of the desire to provide consumers with a truly ethical choice when it came to purchasing diamonds that the company MiaDonna was born. Since there is hardly any ethical way to harvest a diamond in nature, MiaDonna was able to recreate the process of making a genuine diamond but in a laboratory. They are now not only the world leaders in man-made diamonds but have also just received their B-Corp Certification as proof they are putting "purpose before profit".
What is B-Corp Certification? B Corporation Certification is the only certification that measures a company's entire social and environmental performance and evaluates how its operations and business model impact employees, community, environment and customers.
In a recent press release announcing their B-Corp Certification, Founder and CEO Anna-Mieke Anderson advised "Since the beginning, my goal was to create the greenest fine jewellery company possible and we've always pushed for the more sustainable diamond industry. Our B Corporation Certification validates the work we've done and continues to do. We hope others in our industry will follow this lead," said Anderson.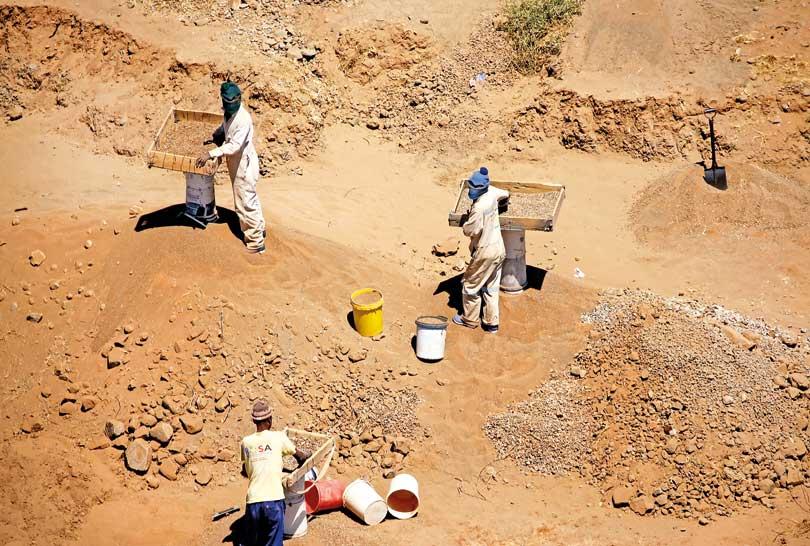 Illegal diamond miners known locally as "zama-zamas" are seen from the air as they work in South Africa (Reuters)
In addition, MiaDonna is also looking to expand the philanthropic and sustainable initiatives that their profits fund. Anna-Mieke has spearheaded the brand's foundation, The Greener Diamond, and the company has now successfully purchased a portion of land in Liberia, Africa. They have begun building an agricultural training centre where locals will have access to education, resources and support so they will be able to start farms on their own land. MiaDonna hopes the training centre will enable self-sustainability in the area and therefore, have an increasingly positive impact on its residents.
"Securing land in these areas to grow food instead of using it for mining is a major accomplishment in itself. All of our projects aim to empower people to live a life free of mining and aid," Anderson said. "I am thankful for conscious consumers who continue to support my mission."
What contributes to a B-Corp Certification?
Low impact production practices: Offsetting CO2 created from shipping deliveries by investing in reforestation projects. Currently, it takes roughly 1,400 trees each year to absorb their emissions. By recycling all the water used in the jewellery product it avoids the company using fresh drinking water.
Workplace processes: Not outsourcing labour to developing countries but instead, reinvesting in the local economy. All daily operations and manufacturing stay in the United States to maintain high levels of work ethics, standards, and quality.

Sustainable products: By only using recycled materials for setting their diamonds and gems including recycled gold and platinum.

Purpose-driven business: By prioritising the Greener Diamond Foundation which includes a minimum of 10% of annual net profits donated to fund the repair, rebuild, and empower damaged diamond mining communities in Sub-Sahara Arica. The Greener Diamond Foundation is 100% run by volunteers and 100% funded by MiaDonna customers. In addition, they do not take donations or employ staff to run programmes which remove any administrative costs.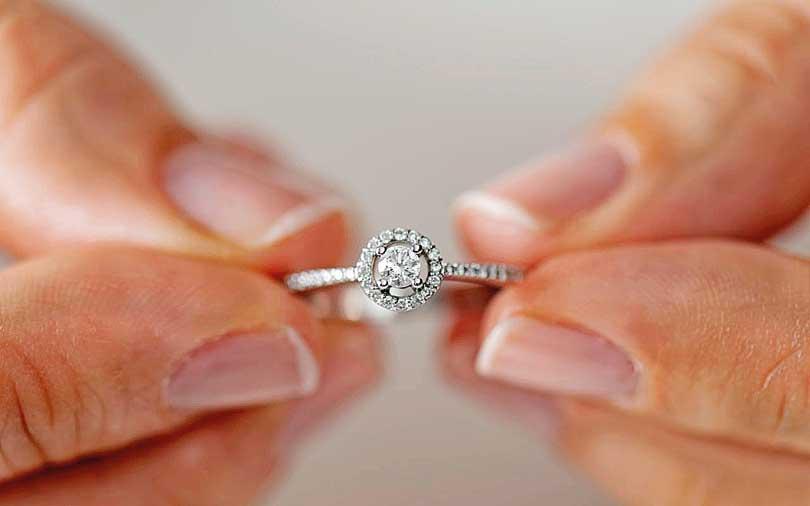 Are lab-grown diamonds just fake diamonds?
According to MiaDonna "They are physically, optically, and chemically identical to earth-mined diamonds, without the environmental cost and up to 40% less in price".
The main growing technique is called High-Pressure High-Temperature or HPHT, which recreates the natural growing environment found within the earth. Using a Bar press, a combination of inner and outer anvils apply hydraulic pressure to the growth cell within the unit. The growth cell itself contains all the elements necessary to grow a diamond, including a tiny diamond seed, highly refined graphite and a catalyst consisting of a mixture of metals and powders. Consistent temperatures reaching 1,300 degrees Celsius and over 50,000 atmospheres of pressure are applied to the growth cell. Over a few days the elements within the growth cell melt and then reform during cooling to create a finished rough diamond ready to be extracted for cutting and polishing.