---
Sri Lanka Girl Guides' Association's 'Aththammage Kusalatha Tharagaya'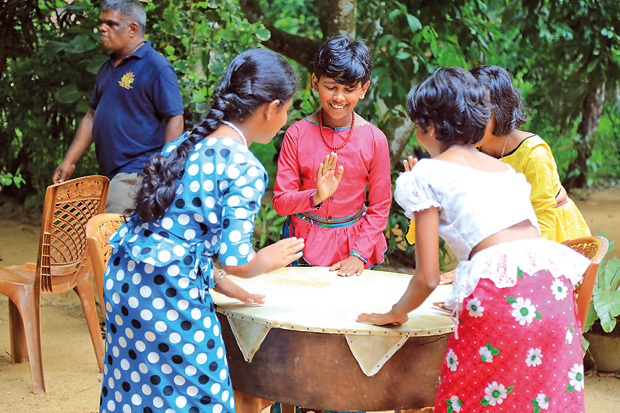 For the centenary year of the Sri Lanka Girl Guides' Association, the guides have many events lined up in order to uplift their girls and members of society. One such event, 'Aththammage Kusalatha Tharagaya', was held on Saturday, April 29. Guides from all nine provinces joined here at the Polhena Walawwa in Rathambale where they took part in many competitions, from pounding paddy to making watalappan to drawing rangoli. The guides were exposed to various traditions carried out by their ancestors.The day was marked not just to commemorate the services of those who came before but also to celebrate the SLGGA's most illustrious Girl Guide, Sirimavo Bandaranaike, Former Prime Minister of Sri Lanka.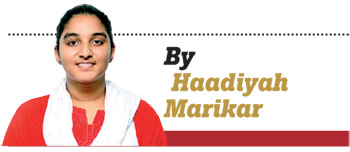 "This is the centenary year of the Girl Guides and this is the second event we have organized in order to commemorate this year. We began our celebrations three years ago under the tag line 'A 1000 Days to a 100 Years', where we held daily activities, starting off with the organization of Child Safety Week, where we had child-safety specific themes on each of the seven days. The Girl Guides Movement is a low-cost, high benefit movement, supported by many dignitaries all over the country," said the Deputy Chief Commissioner of the SLGGA, Visaka Tillekeratne. Describing the day's activities, Ms. Tillekeratne said the aim of the event was to look back on traditions and keep them alive in a progressive way. "Today we have Guides from all nine provinces and they have a draw to determine what competition they will take part in. So a Sinhala girl might have to make watalappan and a Tamil girl might have to make kokis and a Muslim girl might have to make modhaham. Through this, the girls will be more aware of each other's cultures and this will create harmony, which is one of our main policies as Girl Guides."
Chandrika Bandaranaike Kumaratunga

Mahiya Abdul Rafoor, Director of the Differently-able Branch of the SLGGA spoke to us about how the association did its best to integrate the differently-able into as many of their activities as possible. "We are planning on having a similar event with them in a more comfortable environment.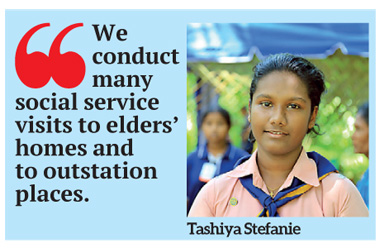 We try to give them the same experiences by conducting such events in a more accommodating environment."
The Daily Mirror was also able to get some insight from Guides at the event.
"We take part in many interesting activities at the Girl Guides. We've gone on hikes and camps and in order to earn badges, we are given different challenges. Everything is really fun and we learn so much.
We have learned to cook, sew and wash our own clothes. We conduct many social service visits to elders' homes and to outstation places. At an event like this we can learn about the traditional foods and activities of various Sri Lankan cultures," said Tashiya Stefanie, 17, from Sapugaskanda Vishaka Balika Vidyalaya.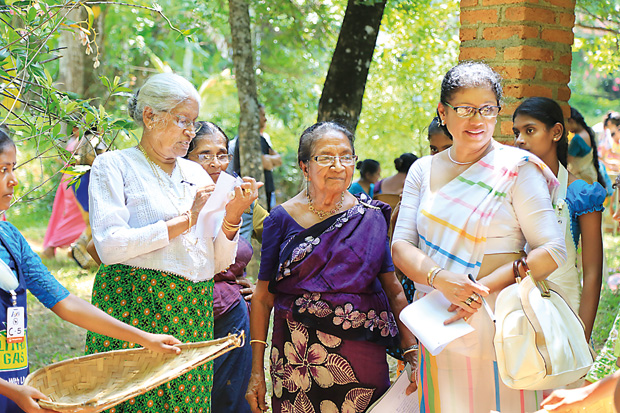 "This is the centenary year of the Girl Guides and this is the second event we have organized in order to commemorate this year"

"We learn how to face life in general. In these camps, we learned to cook, look after ourselves and gain leadership skills. We also do a lot of community service in the Guides. This event is important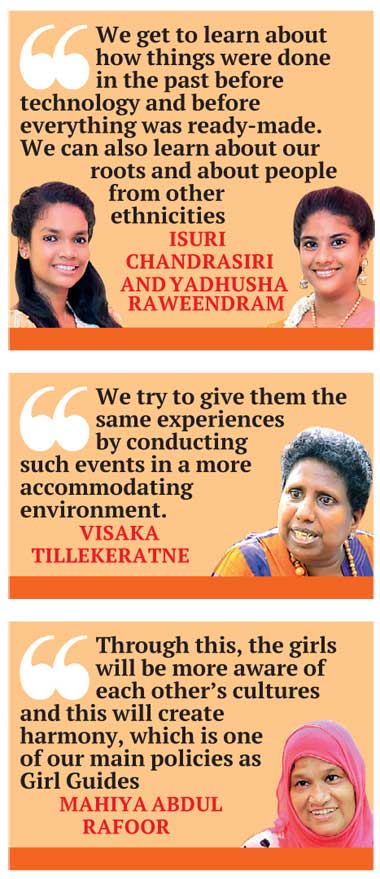 because we get to learn about how things were done in the past before technology and before everything was ready-made. We can also learn about our roots and about people from other ethnicities," said Yadhusha Raweendram, 14, and Isuri Chandrasiri, 14, from Lyceum International School.
Addressing the crowd, Yasmin Raheem, Chief Commissioner of the SLGGA said, "On March 21, 2017 the SLGGA celebrated 100 years of excellence in the leadership of girls and women. The work of the SLGGA is designed and implemented by volunteer members.
The fact that this volunteer-based movement has sustained itself for a 100 years is not only a call for celebration but also for reflection. We should look back on our strong traditions and move forward into the new century progressively.
Taking all of this into account, this inter-provincial challenge competition was organized by the Girl Guides and Guide leaders who have the knowledge, experience and expertise of Sri Lanka's multi-ethnic traditional practices of harmony and peace."
Chandrika Bandaranaike Kumaratunga, Former President of Sri Lanka and Chairperson of the Office for National Unity and Reconciliation was the Chief Guest at the event. She started off her speech by speaking about how her mother was part of the SLGGA and how she used the qualities she learnt from being a Girl Guide throughout her life.
"My mother, Mrs. Sirimavo Bandaranaike, was a Girl Guide from the time of her schooling at St. Bridget's Convent. Even then, the SLGGA was very active. She was also a ranger and head of the rangers before she left school.
Afterwards I'm not sure what she did with the Association. But because I know of the activities of the Girl Guides, I can imagine how she got involved with them, to train them and contribute to the association and become an active part of it.
Looking at her life, I can imagine how she was inspired by the Guides. She had many skills; at home she saw to it that the house was clean and she would train us as well. She would make cakes, kavum, traditional foods and upcountry foods and sweetmeats. She also knew how to embroider. As a lady she was well-mannered and well-spoken. Even as leader of the country she used the training she received as a Girl Guide. She would not raise her voice like us and would stand by the decisions she made. She never let go of her qualities as a Girl Guide. She taught us how to live with dignity and to help and respect others. She was a strong and exemplary woman who never forgot what the Girl Guides taught her."
Speaking of the event she said, "There are girls from all parts of the country attending this event. This shows that the Girl Guides is a place where people pay no heed to race, colour or religion, and young girls and women can be united in peace and harmony. When you join the Girl Guides, you should have an open mind and set your thoughts and attitudes in such a way so you can cultivate all that you're taught in order to become part of a respected
generation of women."

Pics by Damith Wickramasingh