---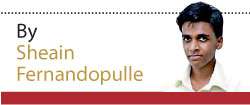 Sri Lanka was embroiled in a civil war for nearly three decades during which Sri Lanka lost most of its leaders including security forces personnel, state officials, politicians and civilians.
One of the them was the well-known politician former minister Jeyaraj Fernandopulle who was assassinated on April 6, 2008 when he was attending a marathon as the Chief Guest at Weliveriya in the Gampaha district. A suicide bomber blew himself targeting Mr. Fernandopulle. Fifteen others were killed and some 100 injured. Jeyaraj had his primary education at Ave Maria Convent and the secondary education at Maris Stella College in Negombo. He showed leadership qualities since his childhood and became the head prefect of Maris Stella College. He entered Law College in 1974 and passed out as an attorney-at-law in 1977.
He was made Katana SLFP organizer in 1984. He first won from the Gampaha district in the polls of 1989 and was elected to Parliament. Since then, he had 20 years of experience as a Member of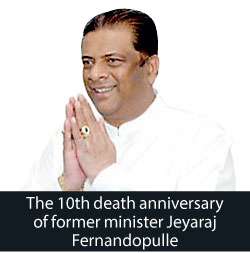 Parliament and at various times was minister of Plan Implementation and Parliamentary Affairs, Trade, Commerce, Consumer Affairs and Marketing Development, Highways and Road Development. He was also the treasurer of the SLFP.
Because of his fluency in Sinhala, English and Tamil, he had an outstanding career in Parliament and was a regular orator who raised his voice against injustice and corruption and was difficult to keep out of speaking. Nevertheless, he was one of the chief representatives of the Peace Negotiation Discussions with the LTTE and he spoke fearlessly against anti-terrorism.
He had his talent to garner people into his attraction. He always used that for the well being of the general public. He had an amiable character using every opportunity to move with people. Moreover, it is said that since he was so close to the people, he had to undergo a critical period at the end of his life and was finally dragged to death. Nowadays, we hardly find such people in Sri Lankan politics.
The 10th death anniversary of this veteran politician Jeyaraj Fernandopulle was commemorated at the Jeyaraj Fernandopulle memorial statue in Weliveriya on Friday under the patronage of Minister of Transport and Civil Aviation, Nimal Siripala de Silva.
The memorial oration was delivered by Most Ven. Agga Maha Panditha Kotugoda Dhammawasa Nayaka Thera.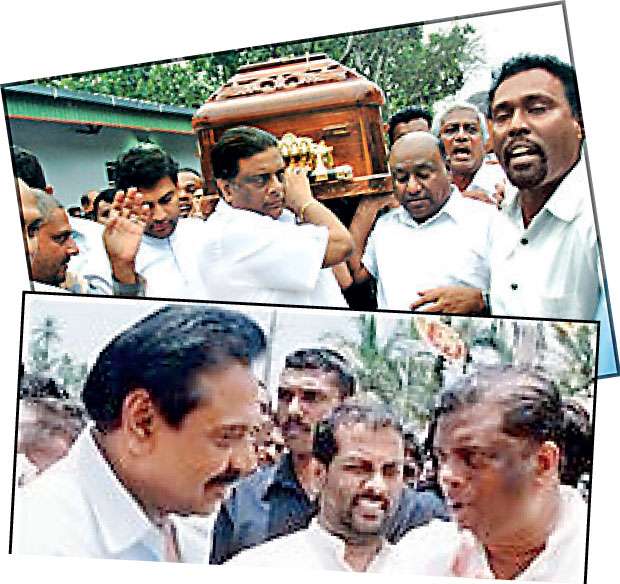 State Minister of City Planning and Water Supply Sudarshani Fernandopulle, the wife of the late Jeyaraj Fernandopulle and several others paid floral tributes at the Jeyaraj Fernandopulle memorial statue in Weliveriya. Many charitable programmes like almsgivings and Eucharistic celebrations and Bodhi Poojas were organized throughout the Gampaha district to mark the death anniversary.
Jeyaraj Fernandopulle was that kind of a person whose memories and works can't be forgotten. We wish that he would attain eternal happiness in heaven.