---

Masterpieces in the most intricate and minutely detailed works covering a wide variety of topics, from the explicitly of nature to the most abstract of thoughts, sketches, patterns, designs and story-based theme art: this is the specialty of Ilham Sanoon's niche talent.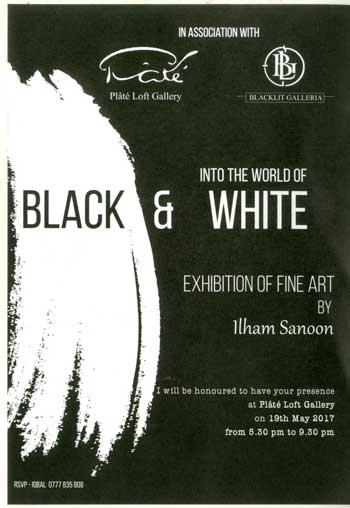 Within a short span of just three years, Ilham has accomplished a style uniquely his own, using dainty lines, the thinnest strokes and deep, detailed expressions which speak more than words could say.

Join Ilham on his latest exhibition will be held on 19th May 2017 from 5.30 PM to 9.30 in association with Plâté Loft Gallery and Ilham's own Blacklit Galleria.

The evening's Chief Guest will be the respected Rev. Marc Bil, the Warden of S. Thomas' College, Mount Lavinia while the Guests of Honour would be Mrs. Ajantha Mendis and Ms. Shamalica Fonseka.