---
Human trafficking has become a global crisis that has questioned the worth of being human. Victims are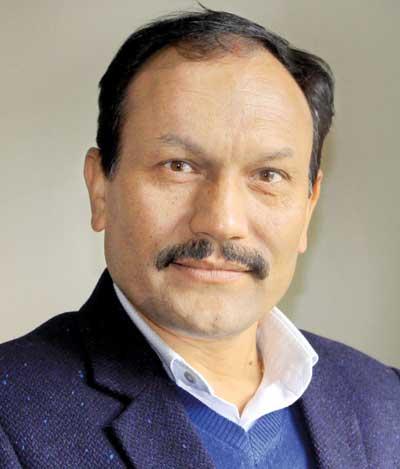 exploited as commodities, falling prey to the global flesh trade, often ending up as single mothers, sometimes infected with HIV and other illnesses, with no means of survival. Human trafficking is a serious problem in Nepal and this is the main reason why Maiti Nepal was established in 1993. It's main focus is to prevent girls and women from being trafficked to other parts of the world, while also protecting Nepali girls and women from being victims of the flesh trade, child prostitution, child labour and various forms of exploitation and torture. According to Maiti Nepal Director Bishwo Khadka, once Kathmandu airport became out of bounds for the traffickers, they started flying Nepali women out of Delhi. When Delhi authorities made it compulsory for Nepali women and girls to carry a no objection letter from the government, they rerouted to Colombo to traffic girls to Gulf countries.
In an exclusive interview with the Daily Mirror, Khadka spoke about the Nepali human trafficking crisis, challenges posed by the pandemic on vulnerable populations and how governments and civil societies should prioritize on giving them protection.
Nepali women are trafficked via Colombo to the Middle East

Every govt. has to look at this issue more seriously

Sri Lankan women have relationships with Nepali men and then disputes arise

Governments should look at improving economic opportunities during pandemic
Excerpts :

Q How is the Government of Nepal trying to control the sex trafficking/human trafficking crisis?
Human trafficking is one of the serious social problems in Nepal. It is still continuing in different forms and dimensions. Initially Nepali girls were taken to India for commercial purposes and for sexual exploitation. In 1990 we established a multi-party democracy and the Ministry for Children and Women were established. After many awareness programmes among communities, human trafficking is now happening in the form of foreign employment where women are taken to the Middle East for domestic work. The Nepali Government has banned human trafficking, but it is happening illegally. One of the main trafficking routes is via Colombo to Gulf Countries. This is a new phenomenon. Now brothels too are moving into residential areas in the form of massage parlors. More than 12,000 Nepali girls have been rescued so far and we believe that trafficking at least one person is a threat to society.
Q How does your organization rescue these girls and women?
Maiti Nepal conducts border surveillance work along the 1800km long India-Nepal border and does monitoring in 14 places. We intercept vulnerable girls and girls who come without any knowledge or support.
Q How do you recognise them?
Those working with us have been victims at some point in their lives. So they know how traffickers ask these girls to act. They do certain interrogations with the help of the police to identify high risk or vulnerable groups.
Q Tell us about the rehabilitation process.
We give them medical support, counseling and legal support as well. We also assist them in their studies and future career. All girls face financial difficulties. In the case of legal issues we follow up with lawyers. Accused traffickers are convicted.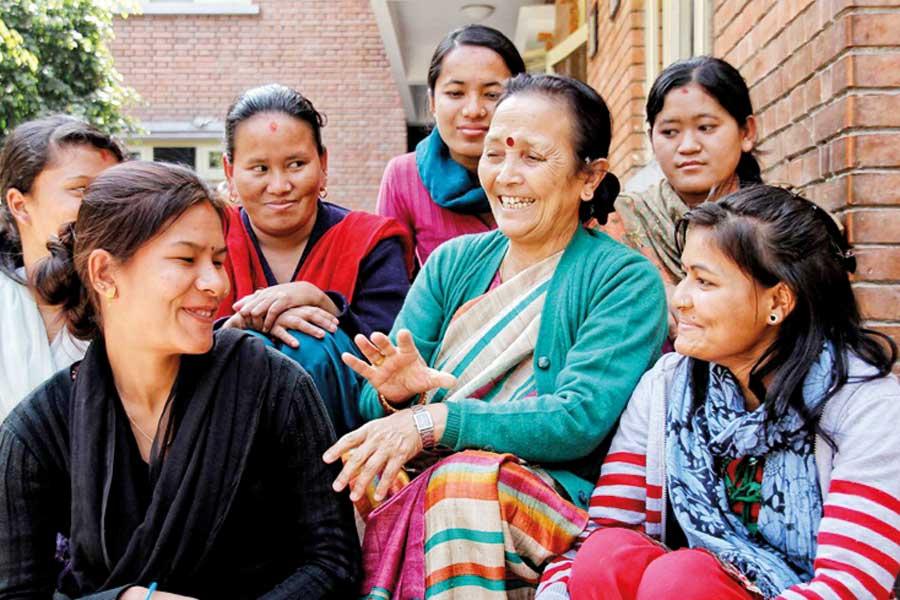 Anuradha Koirala (middle) founder of Maiti Nepal, who is also considered Nepal's Hero
Image courtesy : Maiti Nepa
Q What are the laws in place to apprehend perpetrators?
We have the Human Trafficking and Transportation Control Act and if a trafficker pleads guilty the individual will be imprisoned for 20 years. Those who assist them will serve a jail term of five years. But it is not an easy process because the victim has to testify multiple times, but not everyone wants to share her story. Some people are beyond our reach and they don't know the available laws with which they could go to courts.
Q Have there been success stories among the cases filed?
Yes we have won many cases. But it takes two or three years to finalise everything. We have in fact asked the Government to setup a special court that will handle all human trafficking cases. But because of the duration some victims are reluctant to testify as they want to lead a normal life. But if cases are finalised in six months they won't have that issue. So far we have convicted 1600 traffickers because in some cases around 4-5 people are involved. Apart from that the Anti-Human Trafficking Bureau has been setup and they are investigating past files and chasing accused traffickers.
Q Have you come across Sri Lankan girls and women who have been trafficked via Nepal in recent years?
Sri Lankan women who work abroad sometimes have relationships with Nepali men. Then they have disputes and this is how the problem begins. We have managed to send one girl back to Sri Lanka. Nepal is a transit point for trafficking. On the other hand Sri Lanka is used as a transit point for Nepali girls to go to Middle East. What happens is these girls are brought to Colombo and housed there. This is because we discussed with the Government of India and now anybody who travels via India needs a No Objection Letter from the Government of Nepal. Therefore the traffickers have rerouted via Sri Lanka.
Q When you come across victims from other countries how does your organization assist in the repatriation process?
We work closely with embassies located in Kathmandu who help us to trace and track their families.
Q It was mentioned that some even have fake passports etc. proving the corruption happening at Immigration Departments. What sort of government interventions are required in this case?
Every government has to look at this issue more seriously. After all it's a severe violation of human rights. There has to be stronger policies in place. Young boys, girls and women need to be empowered by providing them with economic opportunities. Vulnerable segments are fast becoming victims of commercial sexual exploitation, pornography and the flesh trade. In South Asian society, women are considered second class citizens. There has to be stronger implementation and enforcement of laws. In the end justice has to be served to victims.
Q What are the newer threats and challenges that have been identified due to the pandemic situation?
During a pandemic, women and girls are the target for any sort of crime. People have lost their jobs. Once the husband is unemployed they take to drinking and will eventually beat the wife. In turn he will ask the wife to go and earn money and will probably sell her to a brothel or get them to do unethical jobs. Therefore trafficking and sexual exploitation will be on the rise. Therefore we need to create opportunities for these women. Right now the border is closed, but once it opens, the situation will worsen. Because of the COVID-19 situation we cannot go and help every vulnerable person.
Q What more needs to be done to bring down the number of people falling prey to this crisis?
The civil society and governments should look at protecting girls and women and this has to be prioritised for a few more years until life returns to normalcy. Governments should plan new sources of income for men as well as women and that is how we can survive in time to come.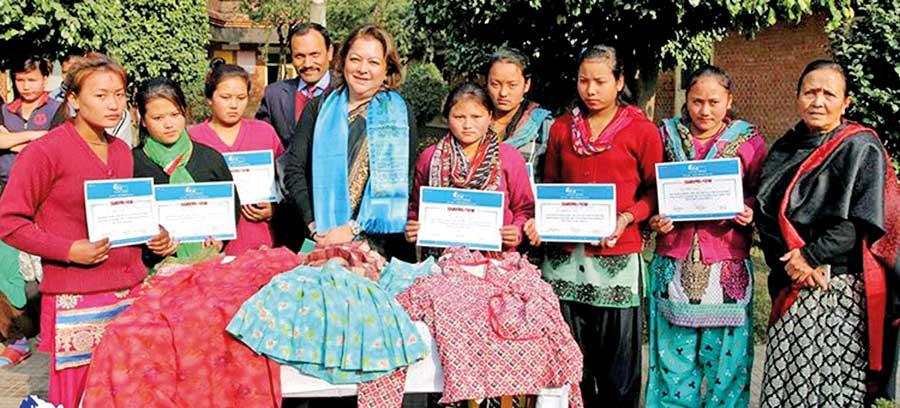 Rehabilitated girls offered job placements
Highlights of 2020 Trafficking in Persons Report on SL
Section 360 C of the Sri Lanka Constitution criminalizes sex and labour trafficking and prescribes penalties between 2 to 20 years imprisonment and a fine. Section 360 A is a procurement statute that criminalises obtaining a person to become a prostitute, with or without the consent of that person. Procurement crimes carry lesser penalties, from two to ten years imprisonment and a fine.

According to U.S State Department's Human Trafficking report, Sri Lanka continues to remain in the Tier 2 Watch List as it identifies that the Government doesn't comply with the minimum standards, but is making significant efforts to eliminate human trafficking. During its reporting period from April 1, 2019 to March 31, 2020, the Criminal Investigation Department's anti-trafficking Unit and police had initiated 10 investigations (four sex trafficking and six forced labour) and 46 prosecutions. By the end of the reporting another 100 trafficking cases were pending prosecution according to the Attorney General's office. Police has also raided 20 illegal massage parlours during the reporting period and filed cases against 13 of them under the Brothels Ordinance of Sri Lanka.

One trafficker had been convicted under Section 360 C and nine traffickers in six cases under Section 360 A. In 2018, the police had identified 50 cases of child sexual exploitation. The Government had allocated a sum of Rs. 8.6 million to the anti-trafficking unit at the Sri Lanka Bureau of Foreign Employment.

Although there is a victim and witness compensation fund to assist in these circumstances the report states that none of the victims has received any compensation during the reporting period. While foreign victims in Sri Lanka also had equal access to rehabilitation services, those who agreed to cooperate in prosecutions were given an extension of their visas until the end of the trial. However, no foreign victims have been identified during the reporting period. The report also states that Sri Lanka is a transit point for Nepali women subjected to forced labour in the Middle East.
It further states that the Anti-Trafficking National Action Plan for 2020-2024 hasn't been finalized yet.