---
Prof. Siri Gunasingha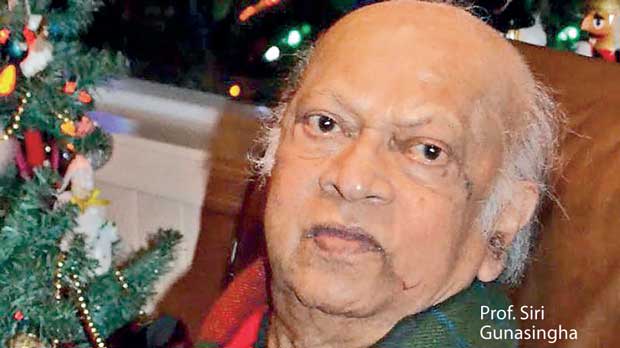 Prof. Siri Gunasingha was aptly appreciated by people including the Prime Minister because of his eruditeness, creativity, innovation and uniqueness. Although I have been an ardent admirer of this great personality, it is not my intention to concentrate on his great works, be it in the form of prose, verse or visual or performing art. Rather I would like to focus my attention on the great human being who lived in Prof. Gunasingha.

Thanks to Prof. Sunanda Mahendra, Prof. Somaratne Balasuriya and Mr. Jayasumana Dissanayake I had the rare privilege of meeting with Prof. Gunasingha. At the first meeting with Prof Gunasingha, I would have been the only lay person among the gathering, all the others being celebrities in the literary field. But Prof. Gunasingha never showed less mercy to me, instead treated me as one of his friends.

In the course of time, thanks to Mr.Jayasumana Dissanayake, I managed to see him whenever he came to Sri Lanka. I had the privilege of meeting with him at his brother's residence in Etul Kotte. There were instances in such meetings, when while we were talking, there were some calls on his brothers land phone which yearned for his interaction for long times. Sometimes I feared that I was embarrassing him by being there to overhear the delicate, pleasant (one way) conversation alluding to nostalgic memories. But he was a poet and was the least embarrassed and such conversations were well enjoyed by him as I noticed him finishing the call with the same enthusiasm, warmth and love as when he started answering the call.

One evening we were at a restaurant somewhere close to the Diyawanna Oya and when we were about to leave the place I suddenly became unconscious. Later on, around nine p.m, when I opened my eyes I was in my bed. I wondered how it happened and I found myself in my evening clothes as I was in the restaurant. When I asked my wife how it happened, she told me that two gentlemen had brought me home. She described the two gentlemen, and as both had striking personalities with unforgettable features, the entire story was unfolded to me. To my surprise my old car was in my garage. Then I could imagine what had happened. My god! They must be waiting for a bus in this dark night on a bus route where there were no buses after 7pm. I drove my car as fast as possible and I found them waiting at the bus halt! Having noticed a car stopped near them they would have thought that a person who had recognized them would have stopped the car to offer them a lift. They recognized me and refused to get boarded. After much coaxing, I managed to convince them that I was fit to drive, after which they agreed to accept the offer. By the time we reached the restaurant, all the other vehicles except Mr. Jayasumana Dissanayake's brand new car had left. While getting down from my humble car Prof. Gunasingha bade me good night. That was the last word I heard from him.
Good night, Dear Sir!
-Sarath Samarasekera