---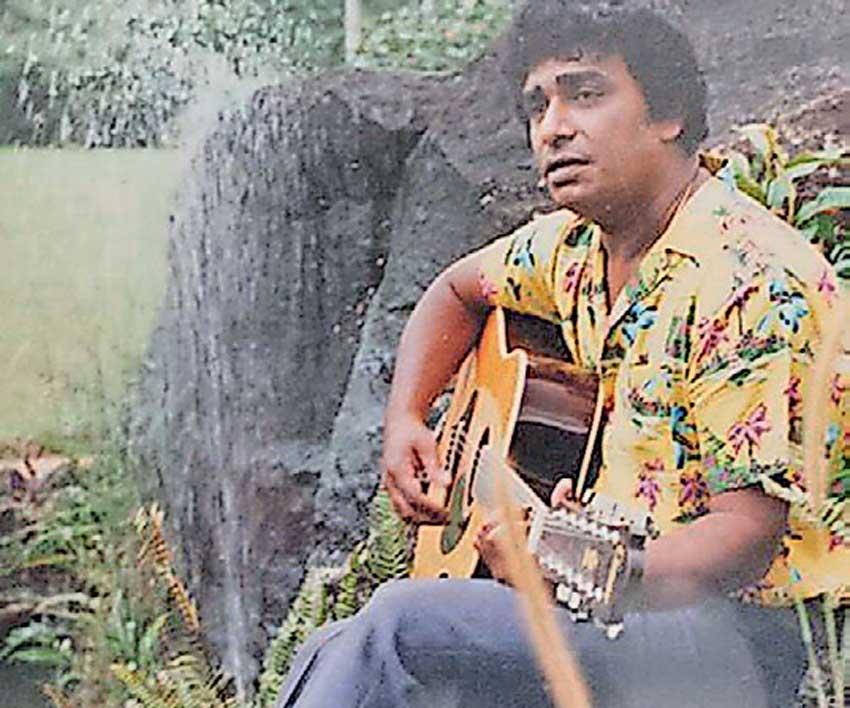 Clarence
During his school days, Clarence had developed an unscathed fascination to describe someone or something that impressed him in simple words through a catchy tune
Within minutes I realized that Annesley measured up to my expectations and when Clarence looked at me I gave the thumbs up indicating that Annesley was approved
I named the Group 'Moonstones' since they were from the city of gems and described them as 'musical gems from Ratnapura'
When we met she thanked me profusely for all that I was doing for her son's future

Whenever I meet someone for the first time and he or she connects me to Clarence and the Moonstones I am amazed for the simple reason that never in my plans was there an item to CREATE A SUPERSTAR out of a helpless youngster! To me, the grooming of Clarence Wijewardena to be a household name is like in my marketing career, turning an unknown product to be a market leader!

On December 13, Sri Lanka lost Clarence – an entertainer par excellence creating a void which can never be filled. He was one of the most creative exponents of music, song and entertainment we have seen in our lifetime. At the time of his demise, Clarence was 53 years old and was a household name in every other country where he had performed. This, is the incredible story of how Clarence met me, how I groomed him and launched him into the world of music.

First encounter
During his school days, Clarence had developed an unscathed fascination to describe someone or something that impressed him in simple words through a catchy tune. Sri Lanka's village life in particular inspired Clarence to come up with compositions that were appreciated and enjoyable. Clarence was 21 years old when he moved to Ratnapura in 1964 with his mother and family after his father's demise. Even at 21, he spent all his time composing songs with simple words and haunting melodies. However nobody was ready to sponsor an unknown artiste. But one of his friends had suggested that he should meet Sri Sangabo Corea who'd help him in his career. Through a mutual friend, Clarence came home for a recording of this friend. After the recording when I was ready to leave, Clarence walked up and asked me whether he could talk to me. "Why not," I said. Clarence introduced himself as a Composer of Sinhala songs, wanting to appear on stage, but no one was willing to sponsor him. I noticed that his eyes were tearful and his voice was choking with emotion. It looked as though I was the only hope. I told him to come home around 6pm for an audition after which I will tell him of my decision. Later I told my wife about my encounter with Clarence and to expect his arrival.

Clarence showed up with his partner, but after the audition I privately told Clarence that he needs to replace his partner since his voice was not rich enough to be the lead singer. Having said that I told Clarence that the next audition will be with his new replacement.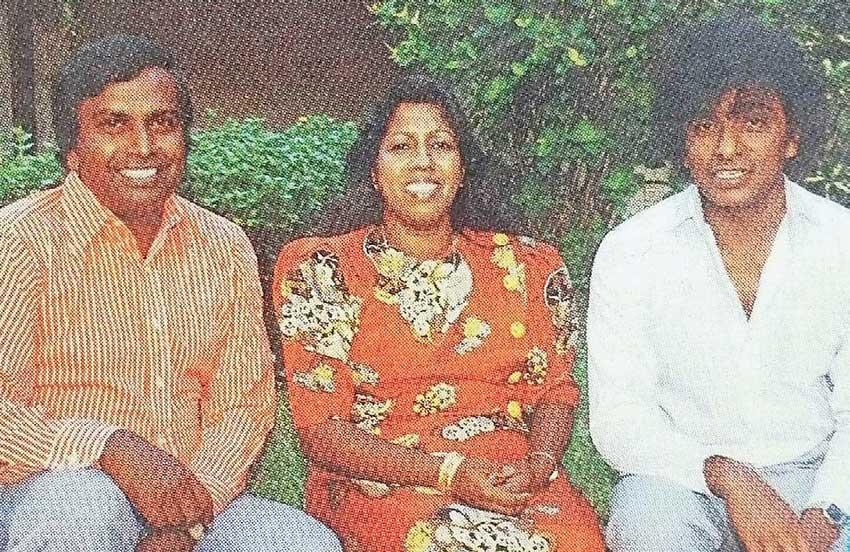 From L to R -Annesley, Indrani, Clarence

Annesley Malawana
Clarence reported for the second audition with his new find – Annesley Malawana. Within minutes I realized that Annesley measured up to my expectations and when Clarence looked at me I gave the thumbs up indicating that Annesley was approved.

After laying down my terms and conditions, one of that being discipline and that all decision-making would be my prerogative, the first rehearsal was held in the drawing room of our house. Every performance was recorded and played back to spot instances where correction was necessary.

In order to be ready for the launch Clarence and Annesley along with Monty Wataladeniya and Dhammika Wijesiri went into some vigorous rehearsal in order to fine-tune their performances. I named the Group 'Moonstones' since they were from the city of gems and described them as 'musical gems from Ratnapura'. I after a meticulous exercise of perfecting their performance contacted my cousins Vernon Corea who was the Business Manager of SLBC, requesting a programme as a launching pad for the Moostones. When I told Vernon that they are out of the ordinary he said that he will arrange them to be featured on 'Saturday Star'.

The songs that were sung were Mango Nanda, Muhudu Rella and Menike Sudu Menike. Vernon's brother Ernest Corea, who was Editor of the Daily News, offered additional support with an article about the Moonstones. A few days later I had a confirmed booking for the Moonstones to perform at the Kandy Lake Club where again their performance had been highly appreciated by the audience.

Just when the popularity of the Moonstones was beginning to pickup after a series of performances, Clarence came with a message that his mother would like to meet me. When we met she thanked me profusely for all that I was doing for her son's future. She felt however, that man cannot live by music alone and appealed to me to find him a stable job. I firmly believed in one thing and that is a mother's love can never be measured is a mothers; hence I understood her anxiety. I asked her whether she would be happy if I found him a job on a tea estate as a Creeper. As promised I got him an appointment at Penrith Estate in Avissawella. Although he was posted as a Trainee Creeper, later on I was told that he wasn't cut out for the job. Clarence pleaded that he wanted to continue with his music.

Dilhani
The next day Clarence showed up at mid-day with his guitar and requested me and my wife to sit and listen to a song which he had composed after we persuaded him to get back home. "For all what you Mr and Mrs Corea are doing for us expecting nothing in return this is my gift to you which I composed last night after I reached home," he said. Strumming his box guitar he sang 'Dilhani'. Needless to say, my wife and I were thrilled listening to it. When the song ended my immediate reaction was that it should be sung by a female with a sophisticated voice. Clarence said that he could get one of the top female vocalists to sing it and mentioned two names. I immediately saw an opportunity of introducing a new singer with a rich voice. At the very next rehearsal I told the Moonstones that we should all contact girls schools which had chapels and choirs and discover a hitherto unknown singer and launch her into the world of music. One fine day Annesley phoned to give me the good news that the voice I have in mind had been found. Annesley was right and Indrani Perera gave the song and herself the popularity that was richly deserving. Later on Clarence wanted to introduce Dilhani to the audience and my daughter, dressed in a lama saree, walked up on to the stage at Navarangahala to meet the eager audience.

Later Clarence realised that Ramani will feel sad if Clarence did not compose a song for her as well and he composed the song Ramani. The belief amongst some music lovers that the two songs were composed at the request of my wife is not true.

Going without Clarence
After record hits and entertaining crowds, I was saddened by the fact that Clarence had decided to leave the Moonstones due to a misunderstanding with the members of the group. With all the hard work that went into making him a superstar, he should have discussed the issue with me prior to taking such a decision. But Annesley kept his name very much alive, but with numerous obstacles in the way one very rarely hears Clarence's songs which the Moonstones sang.

Whenever people ask me how I made a helpless young man to be a superstar, all I have to say is that I treated Clarence just as I would have treated a new consumer product that entered the market. I therefore adhered to the tested and proven principles of successful marketing. What I do know is that :

If I said 'no' to Clarence's request for help, music lovers would not have had the joy of listening to his music
If I didn't say 'no' to Clarence's original lead singer, Annesley would not have been what he turned out to be – a much sought after entertainer
If I didn't say 'no' to a leading songstress singing 'Dilhani' until a hitherto unknown female voice discovered to sing it, Indrani Perera would not have been the sensation she turned out to be
If like everyone else who said 'no' to Clarence if I too said 'no' to his plea there would not have been Moonstones to mesmerize audiences!
The story, therefore appropriately ends with …
He came … I saw … We Conquered!