---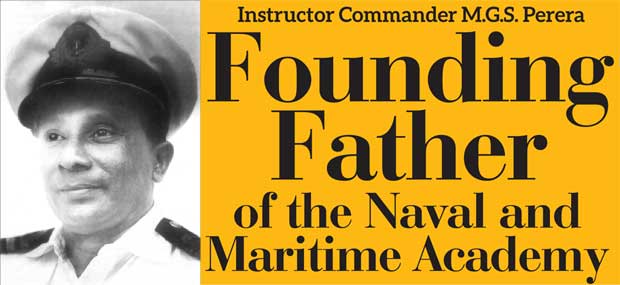 This appreciation on the birth centenary of Maharage George Stephen Perera – Stephen Aiyah to me - is from his first cousin.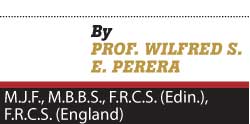 He obtained The Ceylon Teacher's Certificate in English and Sinhala and came to Galle to teach at the Mount Calvary School, where my father was Headmaster. It was here that I came to know him personally when I was about ten years old. When he got married in 1951, at his request, I was his best man, and my late wife Rita, a bridesmaid.
Perhaps, he is still one of the unsung heroes of the Sri Lanka Navy.
In 1962 disaster struck the Navy – The training establishment at Diyatalawa was closed down permitting no training of any kind; No recruitment; Navy was left to rot resembling a battered hulk.
What pulled, turned round and literally resurrected the derided Navy was the NMA; and that NMA was Instructor Commander M.G.S. Perera.
Yes,he did it in 1967 and that was a giant leap for the Navy.
He was the designer, the planner, the creator and the visionary who was made totally responsible by the Navy in 1965 for transforming within 20 months, an old and discarded set of buildings at at the Trincomalee Dockyard setting-up, giving birth, thereafter giving life and establishing the renowned Naval and Maritime Academy (NMA) at Trincomalee (in 1967) and that too with the restriction of having no approvals for extra-expenditure for any building work.
He trained, taught, moulded and inspired generations of Officers and Sailors of the
Sri Lanka Navy
The firm foundation he laid has enabled the NMA to reach far greater heights with tremendous change, sailing through prosperity and adversity to become what it is today – a degree awarding naval academy awarded with the President's Colours.
He trained, taught, moulded and inspired generations of Officers and Sailors of the Sri Lanka Navy -- some of whom even went on to hold the rank of Commander of the Navy -- and personnel from Fisheries Corporation and Sri Lanka Police and thereafter Merchant Navy Cadets on board for the Ceylon Shipping Corporation, over a total period extending beyond 30 long years.
Even 45 years after his retirement from the Navy and 18 years after his death, this officer and gentleman is still fondly remembered, deeply appreciated and held in high esteem for his outstanding contributions and extraordinary achievements in establishing disciplined Naval training in this country.
The very fact that, at his funeral, every retired Navy Commander alive was present is adequate testimony of how much these inputs have been appreciated.
Stephen Aiyah was a qualified Chartered Engineer and a Fellow of the prestigious academic body Institute of Marine Engineers, London (FIMar.E).
The very fact that, at his funeral, every retired Navy Commander alive was present is adequate testimony of how much these inputs have been appreciated
Soon after the singing maestro Sunil Santha (Joseph Aiyah to me) - another first cousin on my father's side – left to join the Shanthi Nikethanya in India, in 1941, Stephen Aiyah followed him there to join the then renowned Victoria Jubilee Technical College in Bombay and obtained his Licentiate in Mechanical Engineering in 1947.
For near two years from 1960 to '61, he received comprehensive training on vast areas of specialised naval subjects that covered navigation, meteorology, engineering, electronics, physics, Naval training and discipline, Naval training methodology and evaluation, etc. with a series of worthwhile achievements at many Naval training establishments in Britain and then in 1970, at San Diego, California and Annapolis, Maryland Academy in the USA.
In 1962, he became the first and perhaps the only Sri Lankan Naval Officer to date to undergo a full time course to specialise in meteorology at the Royal Naval Air Station Culdrose in Cornwall to qualify as a Fellow / full member of The Royal Meteorological Society England (FRMet.S).
He first served the Ceylon Royal Naval Volunteer Reserve (1949-51) as a Petty Officer Stoker Mechanic. When the Navy acquired its first ship H.M. Cy. S. Vijaya he joined her as part of the First all-Ceylon Crew to sail her from Trincomalee to Colombo for commission.
He then joined The Royal Ceylon Navy as a direct entry Instructor Lieutenant as the Navy's First Instructor (Training) Officer.
The late Instructor Commander counted 23 years of distinguished unblemished Naval Service, and retired from the Sri Lanka Navy in June 1972 as the country's First Director of Naval Training.
For three years, he then served Walker Sons & Company Limited, Mutwal as Director / Senior Manager Fibre Glass Division.
In 1975, on being invited by P. Karandawela, the then Chairman of the Ceylon Shipping Corporation, the late Commander joined M.V. Lanka Kalyani as Senior Staff Captain and sole sailing Nautical Instructor.
He married a pretty maiden Maureen Johanna Samarakoon from Galle. She gave her husband unstinting loyal support in every sphere of life
He was responsible, single handedly, for training Deck Officer Cadets for a career in the Merchant Navy. He held this senior position for eight long years, sailing with many a Master Mariner of today; perhaps well over a hundred of them learnt the rudiments of navigation from him.
After retirement, for a further period of 15 years until 82 years, often going against medical advice and despite poor vision in the left eye, he unhesitatingly offered his expertise from his residence, free, to many who sought his assistance.
It was during this period that he wrote and published the then popular self-training manual: Trainees Guide in Celestial Navigation; ISBN: 955-95805-0-7 – a big achievement, of one of his long-standing dreams, at the age of 78.
By 1960 he was responsible, single handed, for the establishment of a competent Instructor Staff in the Ceylon Navy, to meet its demands for two decades ahead in disciplined naval training.
At the beginning as the one and only instructor (training) officer of the Royal Ceylon Navy, he established the first Naval Technical Training Centre to train Artificer Apprentices before they were sent to training establishments in India.
With a fertile mind he was eminently qualified, widely experienced and truly competent to perform all tasks of training of all types of officers and thereby we hardly have to ask England or India to train them for us. It resulted in saving appreciable amounts of foreign exchange for the Sri Lanka Government, hitherto expended on obtaining initial Naval training abroad.
Perhaps Stephen Aiyah's greatest achievement, as I realised, was that he showed the world that our own Sri Lanka Navy could fully train Officers from cadets upwards, who could hold their own with Officers in any Navy, anywhere.
Fifty years ago, he had foresight to see that the NMA became a National Institute and that the Navy alone, could train ALL sea-going personnel and award the successful and internationally accepted Academy Certificate.
In 1961, H.M. Cy. S. Rangalla at Diyatalawa became the first ship to be manned entirely by Instructor Officers with Instructor Lieutenant Commander M.G.S. Perera as its first Commandant – the first non-executive branch officer to be appointed to command a ship.
Since then he held, simultaneously, four Military Command appointments over a period of 10 consecutive years.
He never offended anyone by word or deed and his company was always delightful. He was essentially a simple person who lived in rented houses and used public transport. Although he could easily have amassed a fortune, he never sought to enrich himself.
He married a pretty maiden Maureen Johanna Samarakoon from Galle. She gave her husband unstinting loyal support in every sphere of life, throughout the 48 happy years they spent together.
His son, Dr. Ajith C.S. Perera, and daughter, Deepthi C.J. Guneratne have in their own professional fields brought deserving honour and great fame to their illustrious father.
With his death in August 1999, a life of gentleness and modesty came to an end.