---


lute 'n' Feet a blending of two popular classical arts forms of India-Bharatha Natyam and Carnatic Music by eminent artistes Vivek Krishna and Aranya Narain accompanied by Mr Mayavaram T. Vishwanathan on Mrudangam will be presented by Swami Vivekananda Cultural Centre at 6.00 p.m. on Friday, October 5, 2018, at SVCC auditorium located at 16/2, Gregory's Road, and Colombo 07.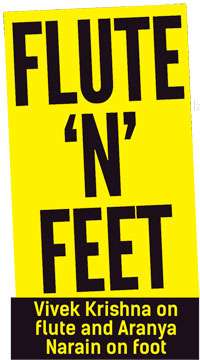 Flute 'n' feet is an innovative and harmonious fusion of music and dance by immensely talented popular couple Vivek Krishna and Aranya Narain.
Each performance is tailored with well-known compositions from Carnatic music to authentic Kalakshetrabani Dance style.
The performances are very delightful to watch and caters both to traditional and modern aficionados.
Vivek Krishna, a very popular name in the field of Bharathanatyam, is one of the front-ranking and in-demand flautist from Bangalore. He has a strong foundation of Carnatic music from renowned gurus. His commendable playing technique for the Bharathanatyam performances is spell bounding to watch.
Aranya Narain hails from an artist family and dance flows in her blood very naturally. Her strong rhythm sense and traditional Kalakshetra style is amazing and beautiful. She is also a wonderful nattuvanar and a sitar player.
T. Vishwanathan is one of the most sought-after percussionists amongst dancers. He has been widely appreciated for his flawless support in music and dance concerts, has performed with several leading musicians and dancers of today.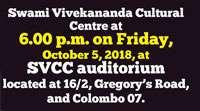 He has extensively toured all over the globe and also collaborated with top-ranking jazz artists in France.
All are cordially invited. Admission free. Seating on the first-come-first-served basis.