---
The Peradeniya University Science Faculty Alumni lost W.M.D. Wijekoon, old boy of Dharmaraja College, who entered university in October 1968.
Donald read for a special degree in chemistry and graduated in 1972. After a short stint at the Chemistry Department and later at CISIR, he proceeded to Sweden and underwent postgraduate research training at the University of Uppsala in Stockholm, specialising in the chemistry of insect pheromones and other natural odiferous compounds.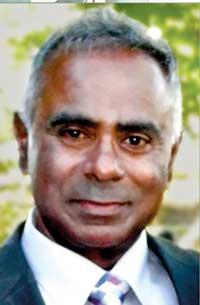 Donald Wijekoon

Subsequently, he proceeded to the University of Nevada in Reno, USA to obtain his PhD in synthesis, stereo chemistry and circular dichroism of polycystic ketones, thiones and selones.
From October 1983 to December 1985, he worked as a post-doctoral research affiliate at Stanford University, USA.

Donald re-joined the University of Nevada in January 1986 as a senior research associate and carried out research in the use of phototherapy for the treatment of jaundice in infants. He was thoroughly involved in the study of stereo chemicals which led him to be recruited by the Health Services Department in the State of California as a chemist until his retirement in 2015.

He was a dedicated scientist with many academic publications in chemistry journals where he discussed his skills in developing analytical methods. His primary work as a chemist in public health involved the measurement of chemicals at very low levels in order to see the quality of air, water and food.

I understand that at the Health Services Department in Los Angeles, he shared his technical know-how and his colleagues appreciated him for this quality as well as his supervisory ability. One of his colleagues giving a funeral oration emphasised on his skills as the Quality Assurance and Health and Safety Officer of his laboratory in navigating the administrative hurdles with maturity and efficiency. As a batch mate at Peradeniya, he had a wonderful undergraduate life enjoying himself at social events and trips where under high spirits he used to mingle with us singing old melodies. Whenever he visited Sri Lanka, he used to meet our batch mates and visit Peradeniya where he went down the memory lane enjoying the nostalgia of the beautiful campus.

Donald was sick for the last few years of his life. Although sick, he used to communicate by email with us and even entertained friends from Sri Lanka at his San Francisco home. His devoted wife Manel looked after him during his illness. He could not join us in October 2018 for our Golden Jubilee get-together. However, we are grateful for the contribution he made towards the project launched by the 1968 Science Batch to donate display boards to the Peradeniya University Science Faculty.

We offer our sincere condolences to his wife Manel, son Christopher and daughter-in-law Amy and hope he will attain the supreme bliss of Nirvana.
C.W. Jayasekera,
On behalf of 1968 batch mates at Peradeniya University