---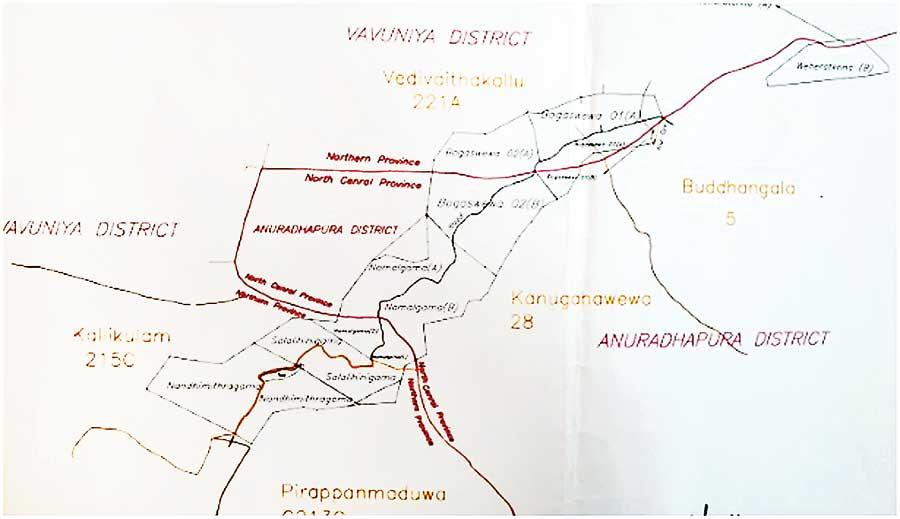 Anuradhapura-Vavuniya Boundary with Vavuniya South Villages Vanishing into Anuradhapura
Racial Discrimination

March 21 is "The International Day for the Elimination of Racial Discrimination." The Election Commission (EC) celebrates such key dates on the international calendar as pertain to elections and the franchise. I have been asked to write on this because some still entertain doubts as to how racial discrimination relates to holding free and fair elections.
To quote the Tupac Shakur, The power is in the people and the politics we address. We must all protest the discrimination our rulers engage in.

Money-Power Discrimination
The EC considers money leading to undue influence, or power, in elections as disadvantaging poorly-funded candidates.We are tackling the money-power nexus in politics through a new Bill limiting campaign finance. It awaits cabinet approval before Parliament's approval. Money-Power politics is older than our 1931 Donoughmore reforms. In 1879, when the Governor appointed our representatives, Kumari Jayawardena (Nobodies to Somebodies: The Rise of the Colonial Bourgeoisie in Sri Lanka, Zed Books, London, 2002, p. 219) indicates why the
then British Governor favoured Sir Ponnambalam Ramanathan, "the Greatest Ceylonese of all times" according to DS Senanayake. Ramanathan's family bought his seat on the legislature by improperly lending money to British Governors and Colonial Secretaries who were sent back to the UK in punishment!

Caste Discrimination
Loss of franchise through violent caste discrimination also blights our democracy despite the Donoughmore reforms. Caste discrimination, at fundamental levels of individual and community identities, denies equal electoral opportunities to aspiring politicians of depressed castes. Nira Wickramasinghe (Sri Lanka in the Modern Age: A History, Oxford, 2014, p. 150) says of the 1936 elections, that the candidate for the Kegalle seat,
"whose electorate consisted of a large percentage of members of 'depressed castes', claimed that headmen who were relatives of his opponent practiced 'intimidation, coercion, abuse and assault' on his person. The same allegations were made for the neighbouring constituency of Dedigama." The outgoing Northern Provincial Council of 38 members hosted only two of depressed caste.

From Power Consolidation to Elimination of Tamils
As Wickramasinghe further noted (ibid.) "The 1936 elections consolidated the recapture of power by Sinhala-Buddhist politicians."Post-independence, upcountry Tamils who regularly voted, were stripped of their citizenship. Electoral seat numbers computed even thereafter used their head-count, thereby permitting minority Sinhalese among them to be elected.
From the 1990s to 2009 the Tamil community of the North-East was stripped of its franchise when the LTTE forbade voting on pain of death. It suited the government because it allowed unqualified stooges to be elected on fewer than 10 votes sometimes, and sit on the cabinet giving the government the claim of being national. The then Election Department found it safe to certify the absurd result. I was told "No written complaint was received."
Unsatisfied by these gains, the state apparatus continues to eliminate Tamils. The promises to the UNHRC to implement reconciliation and try perpetrators of international crimes – state soldiers who murdered non-militant Tamils– were to spare the state from imminent war-crimes trials by the international community. Now we see it was a farce with the President threatening to withdraw from UNHRC Resolution 30/1, saying no solider will be punished. The investigations into the 'Trincomalee 11' are yet another farce enacted for this month's UNHRC sessions – a Colombo-based media reports (March 11, 2019) that the President asked the Attorney General not to arrest the suspected naval commander.
Today Sinhalese politicians must show communal venom and bare their fangs at Tamils to win like the President interfering with the normal course of the law. Even Lakshman Kiriella, with many Tamils in his electorate, had to promise Parliament that foreign judges will not be used in war-crimes prosecutions. It follows that, as in the Janasansadaya case (SC/FR430/2005),without foreign Judges convictions for torture will be suspended by local judges under what the local Supreme Court permitted in the guise of 'judicial discretion'. In the systemic alienation of Tamils in our struggle for justice and electoral participation, the essence of democracy is eroded.

Colonization
Another big story of Tamil elimination is in the neighbouring colonization schemes of Kelebogaswewa, Namalgama and Karuwalagaswewa. From 1950s Sinhalese citizens, including prisoners, have been moved into the Northeast in organized colonization. Tamil objections are not to Sinhalese living in our midst, as often claimed, but to the government giving state lands and funds to Sinhalese doing so. In Mullaithivu, Trincomalee and other well-known cases, the government has also handed over private lands to resettle Sinhalese while Tamils are violently thrust into under-resourced camps and settlements.
Consider the Vavuniya settlement, Bogaswewa. It lies in thick jungle in a 20-hectare corridor overlapping Vavuniya and Anuradhapura. Such settlements had once been majority Tamil. Those not massacred, were evacuated during the war because of the army's misbegotten assumption that all Tamils were Tigers. Post-war, 2010 onwards, about 3,000 Sinhalese were brought in on the pretext of refugee resettlement on funds for the displaced (i.e. mainly Tamils). Pointing to a larger conspiracy, controlling key water resources, all ponds are on lands now reserved by forestry authorities.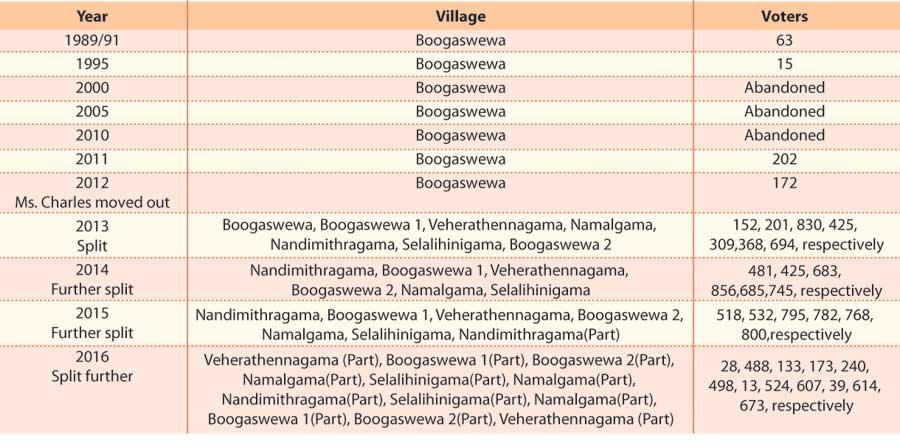 Should EC care elections distorted, democracy undermined?
Aside from diluting local communities' votes to democratically voice and influence issues affecting them, a key goal of colonization is that MPs representing the settlers are Sinhalese, and to that end the settlers must vote in their new settlements.
There were two problems faced by those behind this evil project. One, the Government Agents (GAs) are, on the presumption of integrity, the Chief Returning Officers (CROs) whom the EC appoints for each district. The GAalso has power to alienate crown lands to the fake refugees.Two, it is election officials who register voters. So?
P.S.M. Charles, the then GA/Vavuniya, handled the 2010 elections dutifully. It was perhaps because of her unwillingness to bow down to unlawfully exercised authority that she was sacked last year as DG of Customs. Her Minister had to reinstate her under public outcry. Given her toughness, she had to go.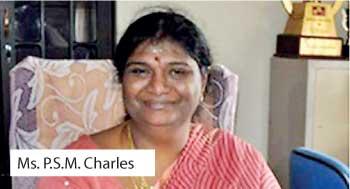 The new GA brought in to replace Ms. Charles got to work quickly; my officials in Vavuniya say that he bypassed normal accounting procedures and distributed land and relief directly to the alleged re-settlers. The crucial position of Commissioner General of Elections (CGE) under us is currently vacant. It requires election experience, which that GA has. A CGE carries the protocol rank of Secretary. Still a GA, we expect him to apply if we advertised. Should he, I am advised that refusing to appoint him based on the testimony of officials who will not testify in court,places the EC in legal jeopardy. So the ECis under pressure not to advertise the position to outsiders to look for the best Sri Lankan.
Around 2010, our Vavuniya Election Officials reflected their largely Tamil electors. Vavuniya's then-Security Forces Commander, a Sinhalese Roman Catholic, wrote a letter to the then-Department of Elections. He asked that we remove our senior Tamil officials in Vavuniya. He also wanted all non-Sinhalese planning officials, like AGAs, gone. Such a move, aside from its blatant abuse of power, placed linguistic and cultural barriers to the people's electoral rights and EC's services. We did not accede.
With such political meddling, some GAs failed us during the 2015 elections. When the party in government demanded voter information from CROs, many North-East GAs pressured our officials for that information. This abuse came to light when a brave official refused. Our fourth wave of colonization has corrupted democracy.

Evidence
All this can be dismissed as imagined or created by me. Not, however, the second problem that the perpetrators of this communalist colonization conspiracy faced.That paper trail from the Security Forces Commander to transfer Tamils, removes deniability. Voter records are another paper trail.

Voter Records Testify to the Un-reported War on Tamils
As Sinhalese settlers were bought in, the army ensured Tamils who independently resettled in their own homes were beaten up and chased off, as were outsider witnesses. But the un-reported war on Tamils is witnessed in EC records. My officials say that well after the forced settlement, they were forced to register as voters those colonists whose "home-addresses" were in the settlements.
Here is the story of Boogaswewa in Vavuniya District, Vavuniya South DS Division, Pirappammadu GS Division in 1989 -- a then-inconsequential mixed village of 63 voters, fully abandoned by 2000, slowly resettled entirely by Sinhalese and explosive growth, after transferring Ms.Charles out in 2012. Then split twice, and parts moved to Anuradhapura in 2017, giving me no data after 2016.

'Rice' Christianity to Throne Buddhism
Many nationalists, attempting another way to discriminate that Christians converted for rice, and thereby weakening Christian election candidatures. So this is an era of "Throne Buddhists." To capture state power we must be Buddhists. The Tamil Nayakkar Kings of Kandy had perfected this art of being Tamil Saivites in their palace-homes, and patrons of Buddhism outside.
Both SWRD Bandaranaike and JR Jayawardene did the same – born and brought up as Anglicans, they took to Buddhism and soon held the reins of power. The inimical pressure to deny one's minority faith also shows in the devoutly Catholic Ms. Charles, sporting a pottu and holy ash in her portrait.
However, the old religion, Hinduism, has a hold on many. Premier Ranil Wickremesinghe is pictured in the unstitched verti and Tamil shawl in India worshiping as a devout Hindu. Former President Mahinda Rajapaksa misses no chance to crack coconuts in Hindu temples.
Why do these gentlemen, so attracted by Hinduism, go all the way to India to worship as Hindus, object to Hindus in the North-East? Why do their governments uproot Hindus, deny them their franchise, and re-label their temples Buddhist? Let us end discrimination. Let all speak our language of choice and follow our true faith. We need those freedoms for democracy to work and to choose rulers based on ability and integrity, whatever their faith, language, and domicile.
In the meantime, nobody in Sri Lanka believes our rulers when they claim to address discrimination. They annually lie to the UNHRC promising to implement Resolution 30/1. Can the UNHRC not see? Or is theirs also a charade enacted for us? Enough with the lies!!These matters concern all Sri Lankans – Sinhalese, Tamils, and Muslims – unless we want to empower our rulers to kill us with impunity and prevent the appointment of our best as CGE.