---

Mr. Sumanaratne Marasinghe (Head of Administration), Ms. Ruwandhi Thathrige (Secretary), Prof. Chandrika Wijeyaratne (Vice Chancellor), Mr. Rajeev Amarasuriya (President), Minister Rauff Hakeem, Ms. Suranjani Wickramaratne (Vice President), Mr. Milad Mubarak (Treasurer) and Mr. J.M.S. Bandara (Asst. Treasurer)
The 37th Annual General Meeting (AGM) of the Colombo University Alumni Association was concluded recently at the Senate Hall, College House, Colombo University. Alumni President Rajeev Amarasuriya and office-bearers were elected for a further term.
City Planning, Water Supply and Higher Education Minister Rauff Hakeem graced the occasion as the Chief Guest. Among the distinguished attendees were Vice Chancellor and Senior Professor Chandrika Wijeyaratne, academics, past presidents and members of the association.
In his keynote address, the Chief Guest congratulated the alumni association and Colombo University for the efforts made towards the development of undergraduates and the university as a whole. "The university should be proud of all its past accomplishments. Sri Lanka's higher education system should strive to improve on international rankings and recognition," he said.
Reflecting on recent events, he said it was time that we addressed the issues of religiosity and our connection to existential values of coexistence. Citing many statistics, he said we comparatively had a very low annual population growth rate of 0.92% and a low birth rate of 1.6%, well below lower middle-income countries.
"We are closer to countries like Brazil and Turkey. Our economic structure is moving away from a traditional agriculture-based one to that of manufacture and services. Right now, the services sector accounts for 6% of GDP and the industrial sector for 31%. What is more encouraging is our high status in the Human Development Index. Our primary education completion rate is 95%, secondary education completion rate is 86%, literacy rate stands at 95 % and life expectancy for females is 75 years and males 72 years. Hence, we are virtually on par with upper middle-income countries and we have progressed," he said. "During the past four years, almost 80 hostels housing 400 students each have been built for universities. There has been an increase in the intake to universities from 24,000 to some 33,000 including an increase in almost 100 seats in the Ruhuna University for medicine. Two new medical faculties were opened in Sabaragamuwa and Wayamba. With the introduction of a new piece of legislation to set up a separate Quality Assurance and Accreditation Commission, I wish to regularise the higher education system and further improve its quality to a degree that will attract international students," he said.
The Executive Committee for the year 2019/2020 comprises: Mr. Rajeev Amarasuriya (President), Mr. Lakshman Keerthisinghe (Immediate Past President), Senior Prof. Chandrika Wijeyaratne (Ex-Officio Vice President), Ms. Suranjani Wickremaratne (Vice President), Ms. Ruwandhi Thanthrige (Secretary), Prof. Naazima Kamardeen (Asst. Secretary), Mr. Milad Mubarak (Treasurer), Mr. J.M.S. Bandara (Asst. Treasurer), Ms. Mahesha Amarasuriya (Editor), Mr. M.K. Gnanasekera (Asst. Editor) and committee members Mr. Milton Arandara, Mr. K.D.R. Siriwardena, Mr. Jithendra Gunathilaka, Mr. G. Wijemanne, Dr. Dayani Panagoda, Ms. Dinesha de Silva, Mr. Pradeep Uluwaduge, Mr. Asanka Ranhotty, Mr. S.R. Balachandran and Ms. Chathurika Akuregoda.
Past Presidents as Advisors are Mr. Tissa Devendra, Mr. J. Charitha Ratwatte, Mr. Thilak Karunaratne, Mrs. Ramanee Amarasuriya and
Mr. P.W. Senaratne.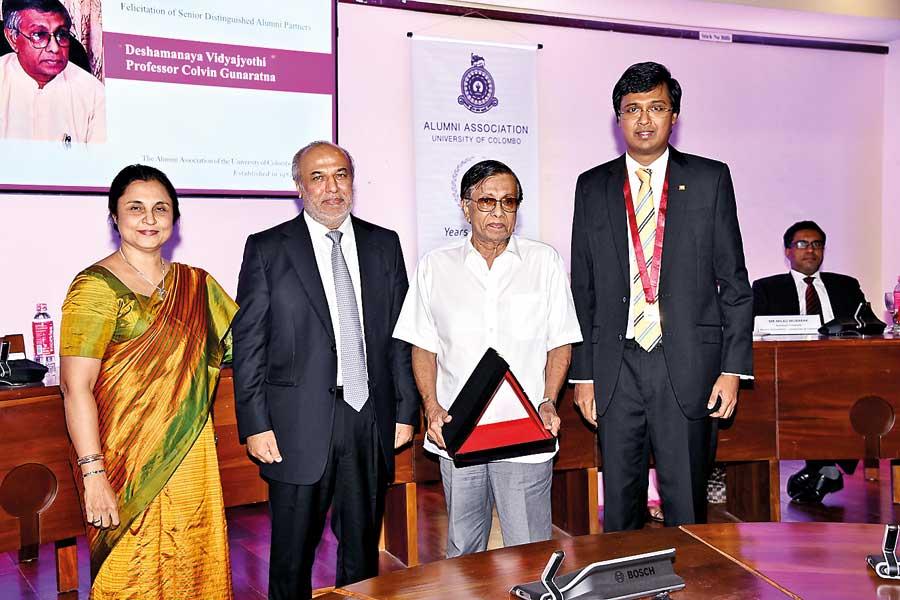 Vidyajyothi Professor Colvin Gunaratna receiving his felicitation plaque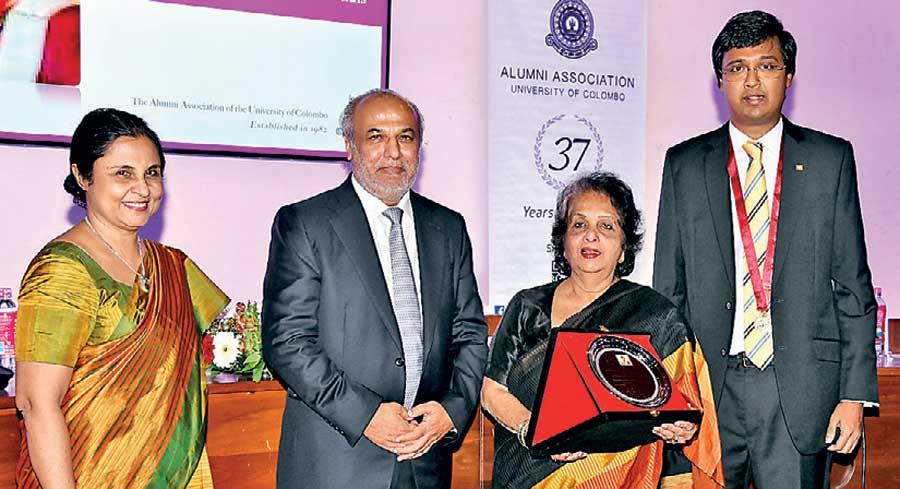 Vidyajyothi Professor Lalitha Mendis receiving her felicitation plaque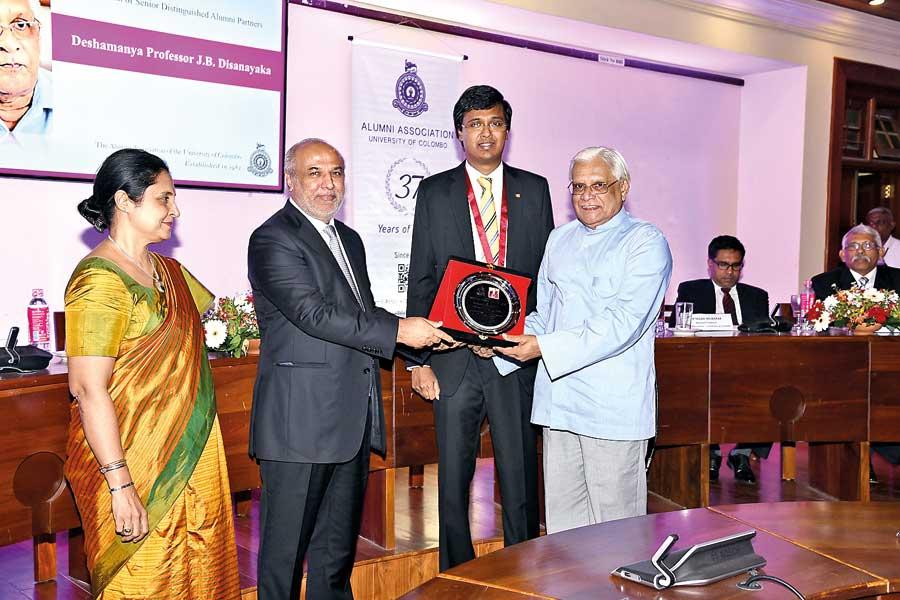 Deshamanya Professor J.B. Disanayaka receiving his felicitation plaque