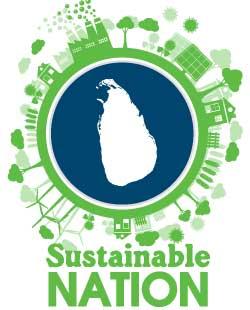 At the Daily Mirror, we believe that climate change is one of the greatest threats that we, as Sri Lankans, will face in the future. Therefore, we intend to provide our readers with local and international content with the objective to educate and inspire. We would also like to learn from our valued readers about any ongoing initiatives in making Sri Lanka a more sustainable nation.
We aim to explore sustainable ways of living that have the most positive impact on not just our natural environment, but also for humans and animals.
While topics such as global warming, pollution, and inequality are confronting, we believe it's time the media stopped shying away from these issues and became an active participant in finding solutions - and we hope you will join us.
---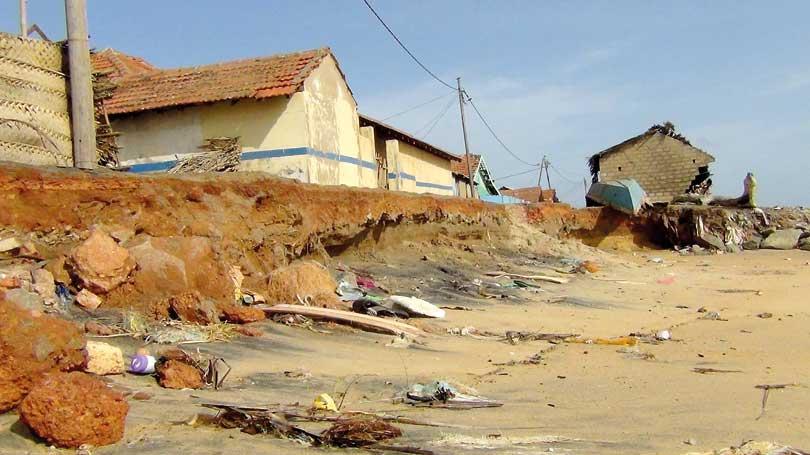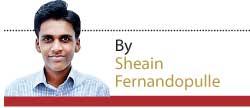 Sri Lanka has a coastline running approximately 1600 km where about one-third of the population lives. Of late, natural and man-made phenomena have heightened coastal erosion, causing danger and environmental degradation along many coastlines. Erosion takes place when wind, waves and long-shore currents move sand from the shore and deposit it elsewhere.
Residents in areas like the Negombo-Pitipana coastal belt in Morawala, Udappuwa in Puttalam, Calido Beach in Kalutara and the coastal belt in Mount Lavinia, Dehiwala and Ratmalana, have been left unsafe and destitute after their houses and properties were washed away by the sea. Additionally, the loss of beaches and coastal biodiversity harms tourist attractions, causing long-term adverse economic consequences.
Houses destroyed in Pitipana
The land area which extends from Pitipana-Morawala to Thalahena-Peruwa has experienced severe sea erosion. Area residents complained that many of their houses had been inundated with sea water that swept in. Such houses were destroyed. They added that strong winds had created giant waves, making it dangerous for them to stay indoors; forcing them to flee to higher elevations in search of safety.
Udappuwa fishing community in danger
The fisheries village of Udappuwa has been hit by sea erosion, causing much anxiety in residents who complained that many of their huts had been razed to the ground by ravaging waves. Residents added that the beach access road had also been washed away. Mundalama Divisional Secretary Wijani Wasanthika said that she had received reports from Grama Niladharis regarding the precarious situation, and vowed to provide immediate relief to affected families.
Meanwhile, Puttalam District Asst. Director of Cost Conservation Maduni Fernando said that sea erosion had heightened this year, and that steps would be taken to place protective boulders along affected beaches, as and when allocations were made. She added that special attention would be given to areas inhabited by fishing communities.
Kalutara sand bar washed away
Calido Beach in Kalutara has experienced major sea erosion due to continuing rough weather. Area residents explained that the picturesque sand bar between the ocean and the Kaluganga lagoon had been washed away last year, and that a vast area of beach in Kalutara North had been eroded by encroaching waves. Minister Rajitha Senaratne, while inspecting the area, said that steps could be taken to re-build the beach by bringing sand from the ocean as proposed by Coast Conservation Department (CCD) engineers.
Over 200 houses affected
Ravaging waves have eroded the coast in Dehiwala, Mount Lavinia, Ratmalana and Moratuwa and destroyed and damaged over 100 houses. Area residents said that a further 100 houses were in danger. Restaurants and business establishments catering to tourists have also been badly hit, adding to people's woes. Marauding waves have extensively damaged over ten restaurants while leaving about six houses completely destroyed. Several hotel owners said that the authorities were ignoring their repeated requests to construct a strong breakwater to prevent further erosion.
A senior official of the Ratmalana Divisional Secretariat said that coastal erosion from Dehiwala to Ratmalana happened every year, but it had worsened this year. He said that many affected families had requested land in the city and were not prepared to move elsewhere to lands allocated by the Divisional Secretariat. He stressed it was not possible to find land in the areas they wanted. "Several others who received land have re-erected shanties along the beach after selling their land," the official added.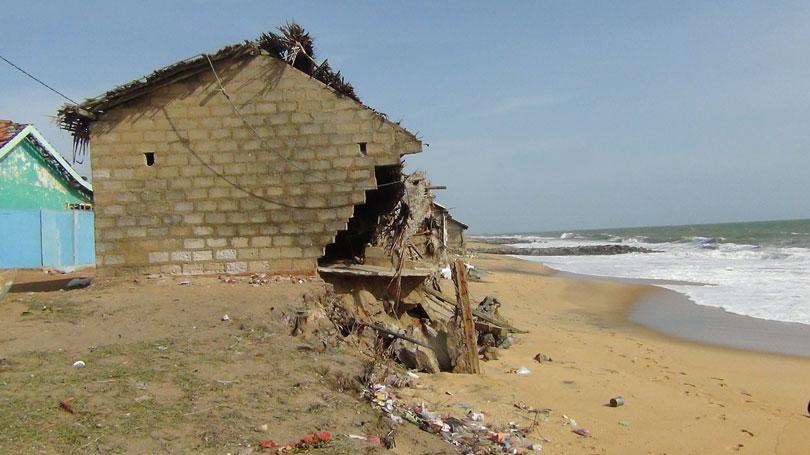 Impact of Port City
The ongoing China-funded Colombo Port City mega-project has heightened concerns that such large-scale construction would harm the Western and Southern coastal belts and increase sea erosion.
Speaking to Daily Mirror, All Ceylon Fishermen's Trade Association (ACFTA) Chairman, Aruna Roshantha Fernando said that despite them informing relevant state institutions and the CCD of the impending danger, it was to no avail. "This catastrophe is the result of the haphazard removal of sea sand for the Port City and Expressways," Fernando said. "Although some stones with granite dust had been placed in the area, that was insufficient to prevent this catastrophe from taking place," he added. He further noted that heavy sand mining related to various development projects over the years had caused havoc along the coast.
---
This catastrophe is the result of the haphazard removal of sea sand for the Port City and Expressways

Aruna Roshantha Fernando
---
Negombo resident Roshantha said that the natural reef in Morawala, which had even protected people from the 2004 Tsunami, had been damaged due to highway and port construction. Meanwhile, Catholic priest Rev. Sarath Iddamalgoda speaking to Daily Mirror blamed the Port City for increased sea erosion. Although fishing communities had gone to courts demanding a stop to Port City sand mining, their attempts proved futile.
"The authorities have turned a blind eye to this issue resulting in monumental damage to the livelihoods of the country's fishing community," Rev.Fr. Iddamalgoda said. "We wanted the project to be stopped completely. For that, we struggled a lot. We held consistent protests. But every attempt was of no use. The authorities did not heed the continuous concerns of the fishing community," he added. "In the 2015 election campaign, Ranil Wickremesinghe said that they would stop sand mining as the coastal belt extending from Kalpitiya to Hikkaduwa would undergo sea erosion consequent to the Port City. However, Wickremesinghe has not kept his word," the priest added.
---
The authorities have turned a blind eye to this issue resulting in monumental damage to the livelihoods of the country's fishing community

Rev.Fr. Sarath Iddamalgoda
---
No scientific proof that Port City causes sea erosion: Dr. Kumara
While stressing that Port City sand mining could contribute to sea erosion, Marine Environment Protection Authority (MEPA) General Manager Dr. Terney Pradeep Kumara told Daily Mirror that it had not yet been scientifically proven that the current phenomena of sea erosion was directly linked to development work of Port City. "As far as current sea erosion is concerned, Port City sand mining cannot be attributed as the cause as it has not yet been scientifically proven," he said. "Sea erosion can occur from sand mining in the sea and the rivers. On the other hand, it can also happen due to sea swelling, which is the expansion of the sea due to climate change," Dr. Kumara added. He further said that weather anomalies like tornadoes and low-pressure situations could also contribute to sea erosion.
---
As far as current sea erosion is concerned, Port City sand mining cannot be attributed as the cause as it has not yet been scientifically proven

Dr. Terney Pradeep Kumara
---
Current erosion due to stormy conditions: CCD
CCD engineer R.A. Sujeewa Ranawaka told Daily Mirror that sea erosion in the Pitipana area was due to stormy conditions that prevailed four weeks ago. "People from Pitipana have not experienced such major sea erosion during the last 30-35 years. We believe the present sea erosion is a consequence of the stormy cycle that erupted for the first time after 30 years," Ranawaka said. When asked why the Western and Southern coastal belts were worse hit, he said it was due to the south-western monsoon that had increased stormy conditions along the belt.
People's voice
Dehiwala resident Lalith Priyashantha said that when sea erosion had destroyed some 70 houses in Mount Lavinia, Dehiwala and Ratmalana last year, the authorities had promised to provide them with lands in safer locations, but no action had been taken. "I feel that sea erosion worsened after the Port City construction," he said.
M.Pushpa Kanthi from Wedikanda, Ratmalana, said that the house in front of hers was razed to the ground last year, and that she lived in constant fear of her house being destroyed too. "The distance between the beach and the railway line is less than 12 metres. In the past, the edge of the beach was more than 100 metres away," she said.
Densil Perera from Payagala said that protective boulders placed by the CCD last year had been buried in the sand. "When we were displaced, the officials provided us with dry rations without providing a permanent solution to the danger facing us," he added.
---
We believe the present sea erosion is a consequence of the stormy cycle that erupted for the first time after 30 years

R.A. Sujeewa RanawakaR.A. Sujeewa Ranawaka
---
Meanwhile, Pitipana fisherman Anthony Fernando said that the stormy winds and sea erosion experienced this year were unprecedented, and had caused much havoc, leaving them to the mercy of the waves. "The beach has been eroded more than 20 metres inland within two days. Fishermen do not have a place to launch their boats from. We want the authorities to provide us relief and to construct a fisheries anchorage in a safer location," he said.
Joseph Sinnaiah, another fisherman from Negombo, said that his house was partially damaged by waves. "We urge the authorities to look into this issue before the situation worsens," Sinnaiah said. He warned that if the authorities continued to maintain silence, they would be forced to enter the scene in an aggressive manner.
Additional reporting by Pushpakumara Mallawarachchi, H.M. Dharmapala and Hiran Priyankara Jayasinghe