---
Helps them find their voice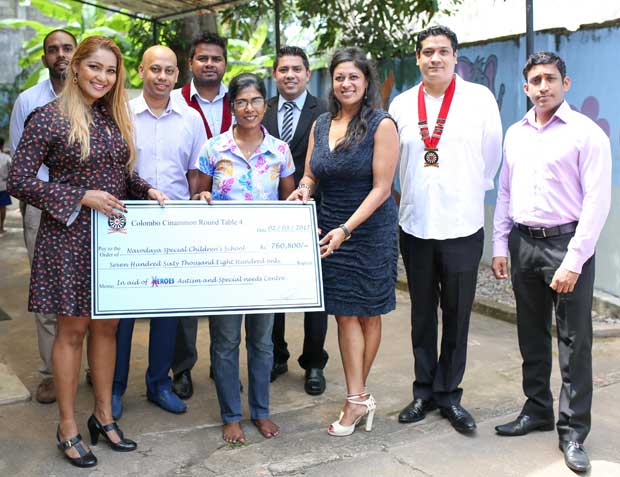 Nine-year-old Surani was unable to attend school with her two sisters, due to her autism. "We were finding it very difficult to find an appropriate school for Surani," her mother explained. However, Surani is slowly finding her voice, thanks to the Heroes Resource Centre. "The institution's courses are helping her immensely with her speech. We really want to continue this programme further and find a good school for her very soon," her mother said.
Opened on March 2 by brand ambassador Natasha Rathnayake, the Heroes Resource Centre supports children with autism through speech and occupational therapy. These services are provided free of charge, easing the burden for families of special-needs children. Surani's family, for instance, struggles to make ends meet, having two other children to feed and educate on a single salary. Then there is Pawana, a four-year-old from Nawalapitiya, whose parents have had to move to Maharagama so that he can receive the care he needs. Pawana's parents find it difficult to pay the rent for their home in Colombo, but are determined to offer the best education for their children – including speech therapy for their son.

Although newly opened, the Heroes Resource Centre is already helping 8 children with delays in speech development. These children attend the Navodaya School, founded by Lakshmi Karunajeewa 12 years ago. Herself, a teacher for children with special needs, Lakshmi realised early on that the children she taught needed a special education plan in order to help them become independent. "Parents think that at 5 years, their child should go to school. However, these children have different needs," she explained.
The children sponsored through the Heroes Resource Centre have the benefit of more time and attention. "The speech therapy programmes in other hospitals haven't enough time to really ensure there is measurable progress. Here, each child receives half an hour of speech therapy once a week," Lakshmi explained.
The dedicated volunteer teachers at the Centre work to unlock the hidden skills of these children. The extra time is paying off. Children who once had trouble focusing for more than one or two minutes are now responding to their names and learning new words, after just 6 months on the programme.

"Some of the children sponsored under the Heroes Resource Centre have expanded their vocabulary from one word to two. Some children's IQ levels have improved, while we have also seen behavioural improvements and better attention from another two children," Lakshmi said.
With more funding, the Heroes Resource Centre can support more children with delayed speech development. They could also expand the services they offer to include physiotherapy, behavioural therapy and a range of other techniques, to improve the quality of life of the children currently supported under the programme.
"We have had to struggle to find funding from the beginning. It would be a huge benefit too if these children, who currently attend after-school sessions, could attend the morning sessions with the other children of Navodaya School, which would help them develop their social skills. That can only be achieved with more support. We could even support more deserving children," Lakshmi said.

The Heroes Resource Centre is funded by Colombo Cinnamon Round Table 4, a non-profit club which engages in community service activities. Colombo Cinnamon Round Table 4 is linked to the global Round Table International service club.
"The Heroes Resource Centre was founded out of a desire to give children with autism the best chance of being self-sufficient. The children enrolled in the centre come from deserving families, who otherwise would be unable to afford the type of tailored education programmes that children with autism need," said Chairman of the Colombo Cinnamon Round Table 4, Amir Abdeen.
"There is a great deal of stigma attached to special needs children – they are often ostracised. However as the Heroes Resource Centre shows, children with autism are in fact capable of much more than we realise. They deserve the best education and care available, so that they can become happy, productive members of society. We hope that with the generosity of the public, we can expand the Centre even more."
For more information, or for donations, please contact the Community Service Convenor of Colombo Cinnamon Round Table 4, Farzan Najmudeen on 0773110521.