---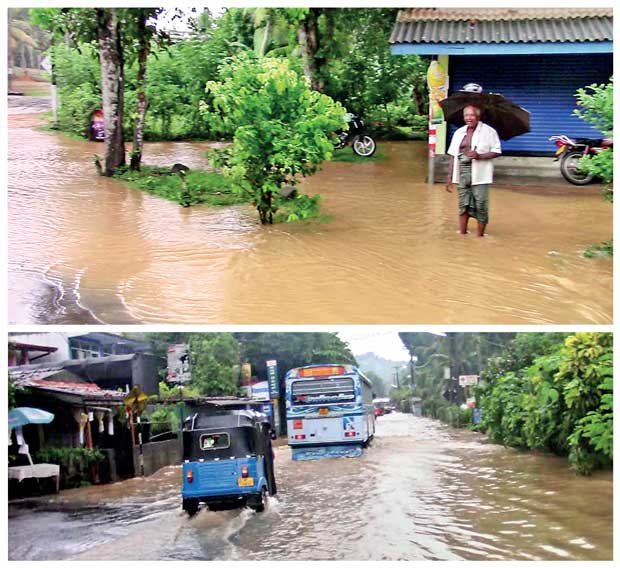 As the Meteorology Department forecasts more rains in the coming days, experts point out the flaws in city that cause flooding

With the onset of South-West Monsoon, heavy rains are pouring over the Southern and Sabaragamuwa Provinces.

Humans cannot change nature and its behaviour, yet they can adapt to the changes in nature, thus minimizing harm from natural disasters. The country is now under red-alert and people are advised to remain safe from hazards and floods.

The Ratnapura and the Kalutara Districts reported the highest number of deaths of the total 91 deaths reported last afternoon.

More than 16,759 families and 61,315 individuals had been affected by the floods and 110 persons had gone missing by yesterday evening, the Disaster Management Centre said.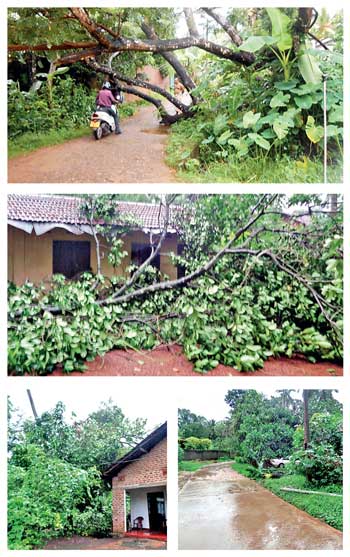 The Meteorology Department yesterday warned an increase in rain during nights and said that rains would lessen by Sunday.

Meanwhile, it warned the fishing community that very strong winds and rough seas would prevail in the shallow and deep sea areas off the coast from Kankesanthurai to Batticaloa via Trincomalee.
"South - West monsoon conditions are establishing all over the country, hence showery and windy condition are expected to continue over the south-western part of the country. Showers or thundershowers will occur at times in the Western, Sabaragamuwa, Southern, Central and North-western provinces. Heavy falls (More than 150 mm) can be expected at some places. Showers or thundershowers will occur at several places elsewhere in the afternoon (Especially in the Eastern and Uva Provinces).

"Fairly strong winds at times (up to 50kmph) can be expected over the island. There may be temporary localised strong winds during thundershowers. The general public is kindly requested to take adequate precautions to minimize damages caused by lightning activity," the Meteorological Department said in its forecast yesterday.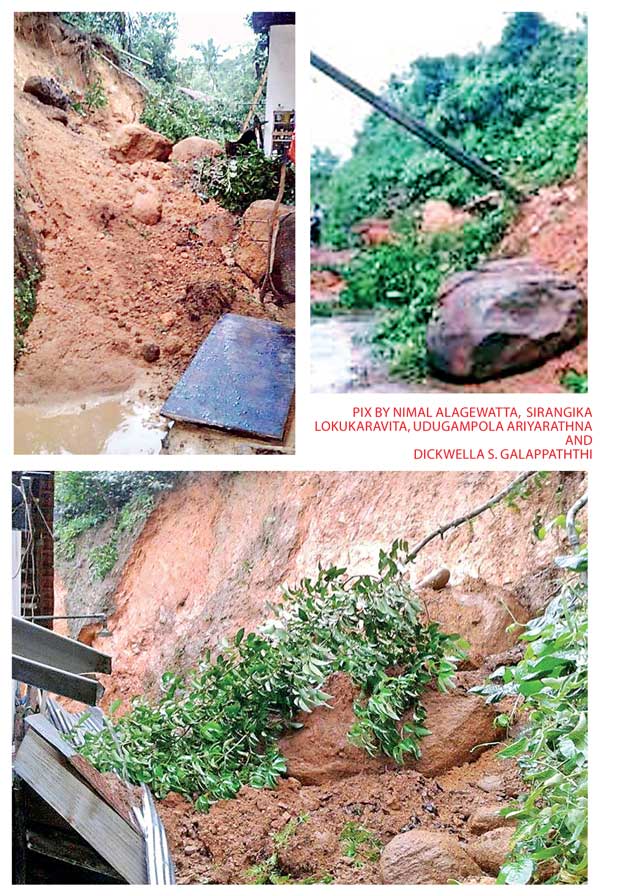 FLOOD Warning
The Disaster Management Centre (DMC) recorded that the water levels of the Kelani River had been rising and reached the flood alert around 5 a.m. yesterday.

A minor flood situation was expected yesterday's morning hours in the Kelani River due to the heavy rains pouring over the upper stream. The lowland areas adjacent to the Kelani River in Kolonnawa, Biyagama, Kelaniya, Kaduwela, Dompe, Hanwella, Padukka and Avissawellla Divisional Secretaries are warned of flooding.

The Gin Ganga has already reached the flood warning levels and the public close to the banks of Kelani, Kalu and Nilwala Rivers are advised to be prepared to take safety measures in case of flooding.

Possible threat of Landslides
According to the National Building Research and Organization (NBRO) report yesterday, the Kegalle, Ratnapura, Galle and Kalutara Districts had been identified as possible areas for landslides, rock falls and cut slope failures as the rains are continuing.

People residing in mountain areas, man-made cut slopes and all the roads in the Ratnapura District were warned over possible landslides. This included Ratnapura, Elapatha, Pelmadulla, Kuruwita, Ehaliyagoda, Kiriella, Imbulpe, Ayagama, Kahawatta, Kalawana, Kolonna and Nivithigala Divisional Secretariat.

Colombo's flood fears
Drainages are filled with waste, while rainwater runs wild on the road in Colombo city. The slightest rains can flood the main roads, cause heavy traffic jams and damage public and private property; the busiest junctions in Colombo and suburbs are under heavy traffic caused by rainwater accumulating on roads.

Armour Street, Maligawatte, Panchikawatte, Dematagoda, Punchi Borella and many other critical places in the heart of the city are blocked after every downpour.

An anonymous and experienced driver
"The drainage system is blocked and many shabby little shops have been built on drainage cover, these areas flood because the drainages are filled with litter and blocked. When it rains, the road is the only place, where adequate space is available and then the water spreads all over the road creating unnecessary traffic that is pretty much avoidable if the drainage systems functioned properly," a driver in a reputed company travelling on a daily basis around Colombo summarized the issue on his viewpoint.

"Retention pits in drainage will reduce floods"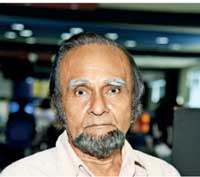 - Lalitharaja Muthukumarana (Former Architect, Urban Planner)
"Flash floods and all happening due to the wrong drainage system. Ninety percent or more of Colombo is covered with concrete, interlocking tiles, concrete pavings, buildings or something artificial and as a result millions of gallons of rainwater goes to the sea without being absorbed by the earth, flowing straight from the road to the concrete drains."

Concrete drainages have blocked water absorption to earth. In those drainages, retention pits are a must where the water collects. If the drainage lines are opened from the bottom, the soil absorbs all water and if retention pits are added to drainages we will be reducing the risk of runoff accumulation and flash floods in cities. Saturating soil with water can be started by locating retention pits at domestic level.

"The Municipality is watering roadside trees with bowsers instead of using rain water. If this system is going to continue, in 20 years' time this country will be a desert because ground water supply will run out," he said.

"Without water, the ground gets parched and dried. The existing groundwater table is also drying up without regular renewal of surface water adding to it."

"Three factors are responsible for the runoff accumulation in Colombo."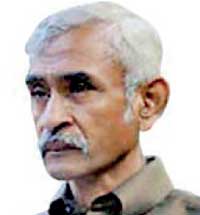 - Jagath Gunawardena - Environment Lawyer
Three interconnected factors are responsible for the floods and run- off accumulation in Colombo city.
Key factors which cause flash floods:

1 Destroying wetlands in and around the city - Usually the run -off accumulates in those wetlands and albeit the wetlands are filled and blocked, the lower points of high grounds get filled and water accumulates, with nowhere to run off. And if that point is refilled, a totally new place could be flooded as the excess water will find a new place - the unfortunate effects of landfills.

2 Drainage - Lack of a well-planned drainage systems is yet another cause of floods. The bottoms of many canals are lower than the sea level; therefore the water doesn't flow downwards at the high tide and those drainages cannot reduce the water level as quickly as expected. If heavy rains fall, as drainage doesn't carry the water, it accumulates.

3 Weak absorption - No one has ever paid significant attention to this. The runoff results in rainwater flowing on the soil. Another portion gets absorbed into the soil. Another portion is held by trees. In cities like Colombo, there is no chance for this third kind of water retention, as there are buildings instead of trees. Buildings cannot hold water. On the building-free spaces, the land is covered with concrete and tar, therefore, the absorption is immensely weak. The bulk of rainwater doesn't get absorbed into the earth. The construction of too many buildings in a limited area is another crucial fact behind run off accumulation.

Explaining how the other countries minimise harm from excess water, he said:
"People are advised to collect rainwater for later use in dry weather in many countries. The purposes are to halt wasting water and decrease runoff. We are able to adopt the method in our country, too. Usually, the runoff accumulates in areas heavily crowded with buildings and roads, and are covered with concrete or tar.

"In my point of view, the total of above three factors is responsible for the runoff accumulation in Colombo. Rainwater filled streets are resulted by polythene stuck, disturbed and unmaintained drainage systems. Even the slightest rain produces a large volume to roads and existing drainages. These factors should be taken into serious consideration in planning and building new cities in future," he said.

Colombo and suburban areas are loaded with wetlands, and filling those produces unnecessary floods. The bottoms of drainage system in Colombo and suburbs (Kirullapone and Nugegoda) are lower than sea level and salt-water intrudes through these canals during high tides, like at Heen Ela.
"Even the Parliament Complex area is prone to this. Lately, some small ponds were made to lower the risk, yet salt-water seeped to the bottom. We objected to this digging at the earliest stages. Inability to foresee the situation worsens it. We warned related authorities some 20 years ago, and that's exactly before the floods of 1992 which occurred due to land fillings. The President then decided to prohibit filling of lands and paddies.

The floods in Sedawatte, Angoda, Mulleriyawa and Kotikawatte are caused by the filling of wetlands. Even Diyawanna Oya is located in a flood plain.

"Improper constructions and waste management issues are also contributing factors."
- Bharatha Perera - Former Director of Property Management and Revenue Division - RDA
"The public is not warned about how to respond to water-related hazards as floods and run – off accumulation. In the colonial era, there were 15 feet broad but shallow and spacious drainage systems in Colombo that could successfully handle huge capacities of water, especially in places like Wijerama Mawatha. Present land use has made it impractical to build drainages of this size. Building spacious grounds is a useful method to control floods. Improper constructions, human habitations on canal banks and the waste management issues are also contributing factors."

"The solutions for runoff management could work for transport problems too. Recently I studied with the rain water collecting program in Australia. They have an automated mechanism for collecting rainwater and storing them in houses. The water is stored and purified after flushing the first volumes of washed up dirt and waste of roofs. The surplus is released to drainage after storing the full volumes for domestic use.

"They even economise the rainwater yet we use well-purified water for washing clothes and watering plants. Using the existing plumbing system has constricted us for adopting new water management methods. Some middle-class people and villagers consume rainwater and collect in domestic tanks and pots, but city dwellers are not doing it. Wetlands are priceless and wetlands are the reason why we have fresh water even in coastal areas.